Find below customer service details of Moe's Southwest Grill. Besides contact details, the page also offers a brief overview of the fast casual restaurant chain.
Head Office
5620 Glenridge Drive NE
Atlanta, GA 30342
United States
Support
Phone: 1-877-663-7411 (general)
Phone: 1-800-227-8353 (franchise queries)
Email: nil
______
About Moe's Southwest Grill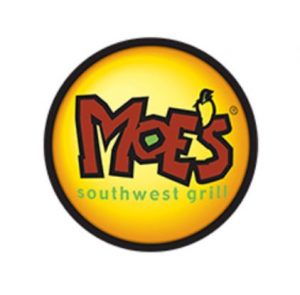 Moe's Southwest Grill is a Mexican fast food restaurant chain founded in 2000. Headquartered at Atlanta, Georgia, Moe's currently operates in more than 700 locations across the United States. The fast food casual restaurant also has presence in Turkey and Russia. Moe's, which stands for Musicians Outlaws and Entertainers, is owned and operated by Focus Brands. Popular for the fresh Southwestern food, mostly influenced by Spanish and Mexican cultures, Moe's has an extensive variety of items. From burritos, tacos to nachos, Moe's menu has many favourites.
Much of Moe's restaurants are run by franchise owners. The quick serve restaurant chain has most stores in the state of Florida, followed by Georgia, New York, North Carolina and South Carolina. Other states include Alabama, Arkansas, California, Connecticut, Delaware, Illinois, Maryland, Michigan, Mississippi, Missouri, Ohio, Oklahoma, Tennessee, Texas, Utah and Virginia. Food lovers can locate a Moe's through the restaurant locator on the website. Find a restaurant by city or state. You can also filter by delivery and online ordering. Love ordering food online? You can pick an item and checkout online. Moe's partners with Doordash, Grubhub, Tapingo, and Ubereats for delivery.
Know what to order at Moe's by exploring the menu online or through the smartphone app. You have burritos, bowls, stacks, quesadillas, tacos, nachos, salads, sides, salsas and drinks. For sides you have the famous Moe's guac, queso, and quinoa. When ordering your burrito, you can choose from more than 20 flavorful ingredients. You can also build your own tacos by choosing soft or hard wrap, cheese, toppings and sauces. Concerned about calories and nutrition in food? You can head to the Nutrition tab on the website to know the calories, fat, cholesterol and sodium content.
Know the offers at Moe's by following the website or receiving notifications through the Moe's app. The social media pages also regularly update on what's on demand. If you are regular at Moe's register for Rewards program to earn points on every dollar spent. To earn rewards you can scan the app or receipt at store. The points are converted to cash that you can use on your next visit. Members also get surprises on their birthdays. Download the Moe Rewards smartphone app to earn rewards, save your favourites, and receive exclusive offers.
Entrepreneurs looking to open a year-round business can take up a Moe's Southwest Grill franchise. Currently, present in 40 states Moe's is looking for ways to expand its footprint. The fast casual restaurant has franchise fee of up to $30,000 for those interested in getting started. Besides initial franchise fee, you have also royalty fees that must be paid every month. Total investment can range from $440,000 to $10,00,000. It covers the furniture, equipment, signage, insurance, marketing materials, and training needed with running the place. The length of the initial franchise term is 20 years. You can fill in the contact form to have someone from franchising team reach out to you. For complaints or queries on store locations, menu, refund, career, or others, reach the Moe's support.