Find below the customer service details of Famous Dave's. Besides contact details, the page also offers a brief overview of the restaurant chain.
Head Office
12701 Whitewater Dr Ste 190,
Minnetonka, Minnesota, 55343,
United States
Support
Email: guestservices@famousdaves.com
Email: loyalty@famousdaves.com
______
About Famous Dave's
If you are in the Midwestern pa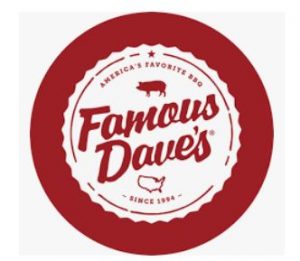 rt of the United States and are craving for a good barbeque, head to Famous Dave's. The leading chain of barbeque restaurants in the Midwestern region was founded in 1994 and has its headquarters at Hopkins, Minnesota. Famous Dave's is so called for its popular barbecued pork ribs, chicken, beef brisket and their signature barbeque sauce flavors. The chain has one purpose – to serve the best and most authentic BBQ experience possible, and to this end the pitmasters travel the country looking for the best in meats, pits, grills and smokers so as to perfect their craft.
The quality of food served at Famous Dave's is top notch. Their pitmasters select the best cuts of meat, use the freshest of spices that they hand rub on to the meats and smoke with the best hickory logs producing that unique taste that Famous Dave's is so well known for. No wonder then that Famous Dave's has over 700 awards to its credit and is considered the ultimate authority in all things BBQ.
Famous Dave's can be found at multiple locations in the American states of Arizona, California, Florida, Colorado, Idaho, Iowa, Kansas, Indiana, Illinois, Kentucky, Maryland, Louisiana, Missouri, Michigan, Montana, Minnesota, South Carolina, North Dakota, Nebraska, New York, New Jersey, Ohio, Nevada, South Carolina, Tennessee, South Carolina, Washington, Wisconsin, Texas, Virginia and Utah. They also have outlets across the globe in select cities such as Winnipeg, Abu Dhabi, Al Ain and Dubai.
The menu at Famous Dave's is extensive and diverse, and caters to foodies with different cravings. Try their appetizers that come with delicious sides and sauce. Appetizers range from traditional wings, Catfish Fingers, Southside Rib Tips, Seared Texas Beef Brisket Ends, Cheese Curds, fried pickles to devilled eggs and St. Louis Style Spare Ribs.
One of the most popular items on Famous Dave's menu is the famous feast platter. These are platters serving up generous helpings of spareribs, chicken, beef brisket and pork accompanied by coleslaw, fries, beans, sweet corn and corn bread muffins. You can also custom build your own feast.
Sandwiches and burgers tickle your taste buds at Famous Dave's. You can either build your own fantasy sandwich or burger, or you can choose from the amazing choices on the menu such as Georgia Chopped Pork Sandwich, BBQ Pulled chicken Sandwich, Texas Beef Brisket Sandwich, Dave's Famous Burger and the Ultimate Burger, among many others. All come with a choice of sides, sauce and pickles. One can choose a wholesome and healthy salad with choice of sides, veggies, dressings and breads.
Famous Dave's also has a niche menu for melt-in–your- mouth desserts with sweets such as bread pudding, Peach cobbler, hot fudge brownie, cheesecake and other delectable cakes and puddings. They have a kid's meal menu called Lil Wilbur with all the popular favorites in smaller servings. The menu is vast and contains many more options of meats, breads, sauces, dressings and beverages.