Find below the customer service details of Smokey Bones. Besides contact details, the page also offers a brief overview of the casual dining chain.
Head Office
2999 NE 191st St Ste 500, Aventura,
Florida, 33180, United States
Support
Email: help@smokeybones.com
Email: feedback@smokeybones.com
_______
About Smokey Bones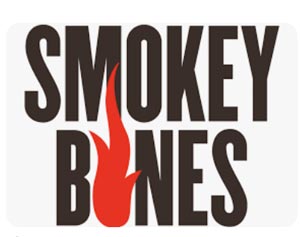 Barbeque enthusiasts believe that smoking and grilling are the only ways to enjoy good meat. Seconding this opinion is Smokey Bones, an American casual dining restaurant chain in the Eastern States of the US. Smokey Bones is a subsidiary of Barbeque Integrated Inc and comes under the ambit of Sun Capital Partners. It was founded in 1999 with its key base at Aventura, Florida. Smokey Bones is the most preferred choice of BBQ lovers in 16 Eastern States of the US in 57 cities. The chain operates from over 66 locations, with the most popular ones in Florida, Pennsylvania and Ohio.
Smokey Bones is known for its great bar and fire grill. The grill masters at Smokey Bones are experts in the field of open flame cooking and have curated a wide variety of simple yet delicious recipes that have patrons coming back for more. The steaks and slow cooked pork are the in-house specialties and the hickory logs lend a unique flavor to the meats cooked on it. The Smokey Bones bartenders make a mean drink and are particular about temperature and ingredients. This, combined with the ambience and lively music make this the place to be in.
The menu contains a wide variety of flavor-filled dishes including appetizers, wings, salads, soups, lunch bowls, burgers, BBQ platters, pasta, fire grilled favorites, sandwiches, kids menu, sides, desserts, drinks and family meals. Every item on the menu contains allergen information to help you decide something suited to your needs. Those with gluten allergies can opt for items from their gluten free menu.
The most popular items at Smokey Bones are on their featured menu and include favorites such as King Wings, Brisket Poutine, Pork Shank, Bone -in Ribeye, Green Bean Casserole, Buttered Green Beans and Fried Apple Pie. Try the appetizers at Smokey Bones with specials such as Loaded BBQ Nachos, BBQ crowd pleasers which contain smoked chicken wings and a whole load of sides, Korean Pork Belly Pops, Skillet Cornbread, Pretzel Sticks, Loaded Nachos, Fried Pickles and Loaded Fries.
Try their spiced wings in different combinations, delicious salads such as Chicken Caesar, Steak, Shrimp, Nutty Chicken and Garden Green Salad. Smokey Bones is also the place for hearty soups, Bisque bowls, and stew bowls. If you are in the mood for a hearty lunch, choose the lunch bowls from Smokey Bones restaurant. These are perfect combinations of proteins, carbohydrates and veggies, all drenched in a dressing of your choice.
Burger lovers have it made at Smokey Bones with a wide choice of classic burgers such as Signature BBQ Burger, Good Seed Veggie Burger, Bacon Cheeseburger, Morning Glory Burger, Mushroom Swiss Burger and the Triple stack burger. You could also build your own burgers with your choice of patty, fixings and sides.
By far the most popular item on the Smokey Bones menu are the BBQ Platters with choice of hand pulled pork, Beef Brisket, Turkey Breast, BBQ Chicken, Baby Back Ribs and St, Louis Ribs- all cooked-on fire grills and slow roasted to perfection. If you are yet to visit a location, visit the website to locate a restaurant nearest to you.