Find below the customer service details of Brookshire's in US, along with an overview of the supermarket chain.
Head Office
Brookshire Grocery Company
P.O. Box 1411
Tyler, Texas 75710-1411
United States
Support
Phone: 1-888-937-3776
______
About Brookshire's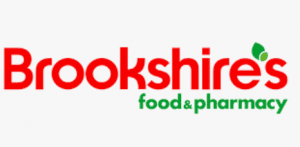 Brookshire's is a Texas based privately held supermarket chain with its headquarters in Tyler, Texas. It was founded in 1928 and since then has become a favorite with shoppers in Texas, Louisiana, Arkansas and Oklahoma, with over 200 operating stores. Brookshire's has built up a legacy in customer and community service.
The stores offer a great variety of high-quality products and produce, that are fresh and locally sourced. Choose from the best in bakery, dairy, deli, frozen food, groceries, meat, seafood, produce, general merchandise, health and beauty products. In addition, you could browse through the various categories such as animal and pet supplies, apparel, accessories, baby, toddler, arts, entertainment, beverages, electronics, hardware, food, home, garden, office supplies, toys, games, vehicles and parts.
Shopping for food at Brookshire's can be personalized to your dietary requirements and allergies. You could pick up products that are dairy free, egg free, fat free, gluten free, halal, kosher, low fat, low sodium, organic, peanut free, sugar free and vegan.
One thing that truly sets Brookshire's apart from other grocery store chains is its focus on quality. The company promises the customer the best in quality. It works closely with its suppliers to ensure that all the products sold in its stores are fresh , locally sourced and sustainably manufactured and produced. Brookshire's is able to maintain this high level of quality because it operates its own bakery, meat processing facility and dairy production which allows it to completely control the quality. One can also buy a number of premium products and the Brookshire's line of organic and natural whole foods, which include artisanal cheese and local coffee. Brookshire's offers products in a wide range of price points serving customers with different budgets.
The Brookshire's pharmacy offers convenience, value and personal care of professional pharmacists. You can pick up your generic medicines here, as well as fill out your prescription medication needs at the pharmacy. You can also get pet medicines and general immunizations here. The pharmacy app helps you order your prescriptions, track their status and set up reminders.
Brookshire's stresses customer satisfaction and has implemented a number of initiatives to ensure the customer has a positive experience while shopping. Customers can sign up for the Brookshire's Rewards card which allows them to earn points on their purchases, which can then be redeemed for discounts on future purchases. In addition, Reward Card members have access to exclusive discounts and special promotions.
Shopping at Brookshire's is very convenient and one can either go physically and shop or order online and get it home delivered. Curbside pickup is also available. So, if you are looking for fresh produce, premium meats or household staples and groceries at reasonable rates, stop by at the nearest outlet of Brookshire's. To make shopping at Brookshire's even more convenient, they have a mobile app that can be downloaded from the App Store or Google Play Store and shopping can be an anytime and from anywhere experience.