Contact BSNL: Customer Care Toll Free of BSNL Phone, Broadband
Contact BSNL: Find below customer care details of Bharat Sanchar Nigam Ltd (BSNL), including phone and address. You can reach the below contact for new connection, cancellation, telephone, broadband or other queries on BSNL services. Besides contact details the page also offers information and links on BSNL products.
BSNL Head Office
Bharat Sanchar Bhavan
Harish Chandra Mathur Lane
Janpath,  New Delhi-110 001
BSNL Email
[email protected]
Customer Care Toll Free Numbers
General
Dataone Broadband '1800-424-1600'
PSTN Call Center '1500' (in select states)
Sancharnet Help Desk '1957'
CellOne all India Help '1800 180 1503' or '1503'
BSNL Landline
For queries on BSNL landline contact the call center at 1500 or 1800 345 1500.
BSNL Mobile
For queries on BSNL mobile contact the call center at 1503 or 1800 180 1503.
BSNL WLL
For queries on BSNL WLL contact the call center at 1500.
BSNL Broadband Helpline
For queries on BSNL broadband contact the call center at 1504 or 1800-345-1504.
BSNL Web Hosting
For queries on BSNL web hosting contact the call center at 1957.
Address
Data Networks
8th Floor, Telecom Bldg,
Bangalore 560 001.
Ph:  080 – 2220 0806.
Fax: 080 – 2225 0600.
[email protected]
BSNL Video/Audio Conferencing
Email: [email protected]
Fax: +91-11-23737760
Email: [email protected]
Fax: +91-11-23737760
BSNL Web Conferencing
Toll Free : 1800-111-233
Ph No. : 011-45092300
Ph No. : 011-45092311
E-mail : [email protected]
BSNL e-Track Fleet Management
1800 425 1425
Complaints
Complaints can be booked by dialing "198". This toll free service is available in every telephone system. Grievances can also be booked on "12727"(for Circle Office) or "1095" (for District Office).
Pay BSNL Bills Online
You can pay your BSNL landline or mobile bills online. You can also download a duplicate bill. To access these features click here.
_____
BSNL Services
Bfone Telephone, EPABX, ISDN, Tarang WLL Service, MPLS VPN, Broadband, Leased Line, Telex Telegraph, Sancharnet Internet, Intelligent Network, I-Net, HV-Net, RABMN, INMARSAT, KU-Band, Transponder, CellOne Mobile Service
About BSNL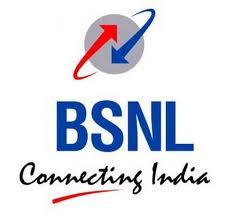 Bharat Sanchar Nigam Limited has its headquarters in the capital, Delhi, and is one of the largest cellular service provders in India. As one of the country's oldest telecommunications company, BSNL has a customer base of 81.49 million as on 2009. BSNL plans to increase its customer base to 160 Million by March 2014. BSNL today has its broadband customer base at 3.56 Million. According to the website, BSNL is currently world's 7th largest Telecommunications Company.
Last year BSNl started its 3G services in 290 cities and acquired more than 6lakh customers. BSNL apparently has the largest 3G network in India. In India, BSNL services are found all over the country except Mumbai and Delhi. However, the Department of Telecommunications (DoT) recently said it wanted to revive a proposal for the merger of both BSNL and MTNL. For more information on BSNL visit the website at www.bsnl.in