Find below the customer service details of Williams Sonoma. Besides contact details, the page also offers a brief overview of the retailer of home furnishings and cookware.
Head Office
3250 Van Ness Avenue
San Francisco, CA 94109
United States
Support
Phone: 877-812-6235
Email: [email protected].com
______
About Williams Sonoma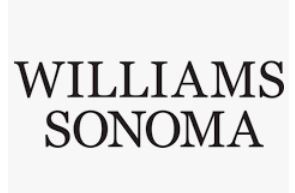 Williams Sonoma was founded in 1956 as an American retail company specializing in French cookware. Charles E. Williams, the founder of Williams Sonoma was particularly impressed by the cooks on his Europe tour seeing what the French, German, and Swedish cooks were using in their kitchens. Gradually, it evolved into a company selling kitchen furnishing, cookware, and home furnishings. Headquartered in San Francisco, California, it has over 625 stores across the world. While it distributes to more than 60 countries, it has stores across several countries including the United States, Canada, Mexico, Korea, Australia, and the Middle East.
You can shop by product category, material, or brand on the website. Besides its own products, you will find brands like All-Clad, Le Creuset, GreenPan, Shan, Staub, Calphalon, SCANPAN, and Global among other prominent brands. Those who want to shop my material can choose Stainless-Steel Cookware, Nonstick Cookware, Ceramic Nonstick Cookware, Cast-Iron Cookware, Copper Cookware, Induction Cookware, and Carbon Steel Cookware. For any passionate chef and baker, Williams Sonoma is the ultimate place to shop from. You can find cookware sets, frypans and skillets, pancakes and crepe pans, saucepans, and all cookware accessories. There are all kinds of tools and accessories available for successfully setting up a bar.
If you are looking to pick up a gift, you can browse the coffee table and cookbooks section. There is furniture available for different sections of your home. From a sofa, recliners, and dining tables to bar stools, drawer organizers, and other decorative pieces for your home – you can find everything online. If interior decoration is not on your mind at the moment, and you'd invest in decorating the outdoors, you can select from a wide range of outdoor furniture including ovens and grills, patio umbrellas, garden decor, indoor garden kits, chicken coops, and tent.
There is a standard shipping and processing charge applicable on all orders you place on Williams Sonoma. The front door parcel delivery includes two types- standard shipping and the next-day delivery. The standard shipping takes 4-5 days for the delivery of your order. The shipping rates that include the processing, handling, packing, and delivery of your order will be calculated based on your order amount. There is another unlimited flat rate shipping on truck delivery. This is mostly applicable to furniture and some other items. All your items will be shipped out at once when the items are ready for delivery.
Most items bought from Williams Sonoma can be returned within 30 days of purchase with the original receipt. Return requests can be made online and returned to the shipping address. One can also call the customer care number for the return of furniture items. Another way to return the products bought from Williams Sonoma is to return the items to your local Williams Sonoma store. It should be mentioned here that the Home products bought from the website of Williams Sonoma cannot be returned to the store.
If you become a member of the Williams Sonoma Reserve, you would be able to enjoy several exclusive benefits. You can purchase the membership online from the Williams Sonoma Reserve at an annual membership of $99. With the membership valid for one year from the date of purchase, you would be able to enjoy all benefits for a year. With the membership, all eligible items qualify for free standard shipping. You will also get occasional member-specific promotions, which they will notify you about via email using the email address you've provided. Your membership also comes with four free virtual classes and a free subscription to the Williams Sonoma Recipes app. For queries or complaints on store locations, payment, refund, cancellation or others, reach the Williams Sonoma customer service.