Find below the visitor support details of Scotiabank Arena, Toronto. Besides contact details, the page also offers a brief overview of the stadium.
Address
Scotiabank Arena
50 Bay Street, Suite 500
Toronto, Ontario M5J 2L2
Support
Phone: 1-416-815-5500 (general)
Phone: 1-416-815-5982 (fan services)
Phone: 647-694-0454 (complaints)
Email: [email protected] (book suites)
_____
About Scotiabank Arena
Scotiabank Arena is a popular sports and entertainment destination in Toronto, Ontario. The arena, formerly called Air Canada Centre, was opened in the year 1999. Owned by Maple Leaf Sports & Entertainment, the stadium regularly hosts basketball, ice hockey, lacrosse, family shows and concerts. Currently, it is home to NBA's Toronto Raptors and NHL's Toronto Maple Leafs. Spread across 665,000 sq ft, the state of the art facility is located on Bay Street in downtown Toronto. The multipurpose arena can be easily accessed through bus, train or taxi. The Union Station, one of the busiest railways stations and a major transportation hub connecting Go Transit and TTC subway system, is located just minutes away from the arena. There are also ample parking spaces around the venue. Fans with disabilities will find four on-site accessible parking.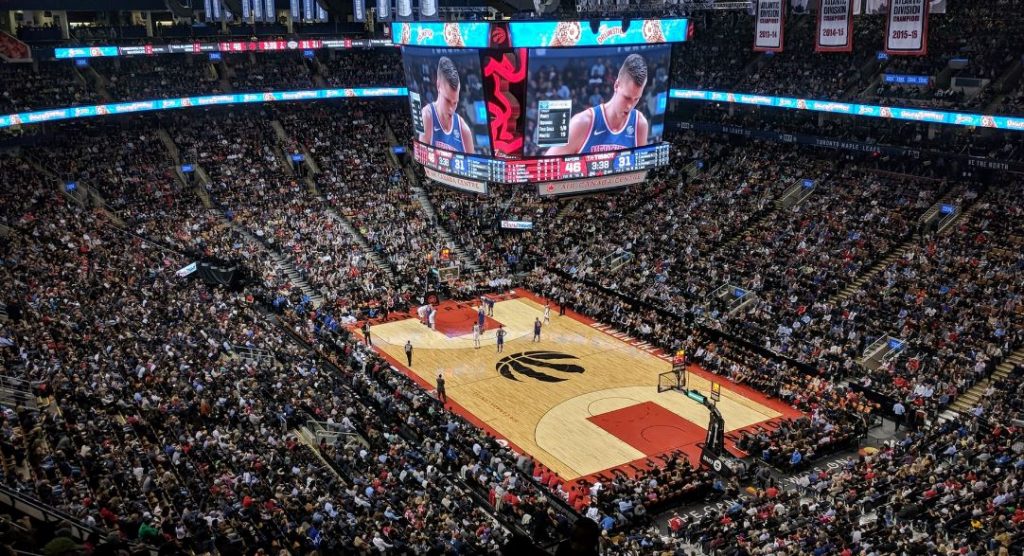 There have been more than 2,600 events held at Scotiabank Arena. Among the major events has been the 2016 NHL World Cup of Hockey, 2016 NBA All-Star Weekend, and the 2015 IIHF World U20 Championship. Some of the best in the music and entertainment industry as well have had large gathering here. You can know all the current and upcoming matches and events on the official website. If its basketball or a concert, the stadium can seat up to 19,800 fans. For hockey matches it can accommodate up to 18,800. Fans looking for premium seating can book from 1,020 club seats, 65 executive suites and 16 loge suites. The suites offer a great view of the court and include comfortable seating, catering and access to a VIP entrance. There are three restaurants and a number of kiosks and concession stands for a quick bite or meal.
Tickets for NBA or NHL games can be purchased directly from the club. You can also visit the Ticket Office located near Gate 1 for booking a ticket for an event or game. If picking tickets at Will Call, you might need to present a valid Photo ID. Tickets for a number of events and games sometimes are sold on Ticketmaster. You can access the interactive seat chart and proceed to book a ticket through credit card. Note that gates open one hour prior to start of all games. For concerts, the gates generally open 60 minutes before the start. Fans with general admission tickets must enter through Gate 2B (Bay Street). Do read the arena's code of conduct online before planning your trip. As for the list of prohibited items, you are disallowed from bringing large bags, bottles, sticks, weapons, fireworks, skateboards, professional cameras and video recording devices. If you need any assistance or have to report a lost and found item, you can approach fan services located at Level 100 (Gate 1) and Level 300 (Section 301).