Find below the visitor support details of Huntington Place, Detroit. Besides contact details, the page also offers a brief overview of the convention center.
Address
1 Washington Boulevard,
Detroit, MI 48226,
United States
Directions: Google Maps
Support
Phone: 313-877-8777
Email: info@huntingtonplacedetroit.com
_______
About Huntington Place
Huntington Place is a state-of-the-art convention center located in Detroit, Michigan. First opened in the year 1960, the convention center was originally named Cobo Hall in honor of former Detroit Mayor Albert E Cobo. The venue got the current name after the merger of Huntington National Bank and TCF Bank in 2019. Ranked among the top 20 in the nation, Huntington Place regularly hosts conferences, conventions and tradeshows. The popular North American International Auto Show (NAIAS) has been held here for several years. Owned by the Detroit Regional Convention Facility Authority (DRCFA), the venue annually welcomes more than 1.5 million visitors. The world-class facility is spread across 723,000 sq ft and boasts of 225,000 sq ft meeting space that includes 100 meeting rooms. You also will find a 40,000 sq ft Grand Riverview Ballroom, 8,000 sq ft kitchen and three-story Glass Atrium spread across 30,000 sq ft.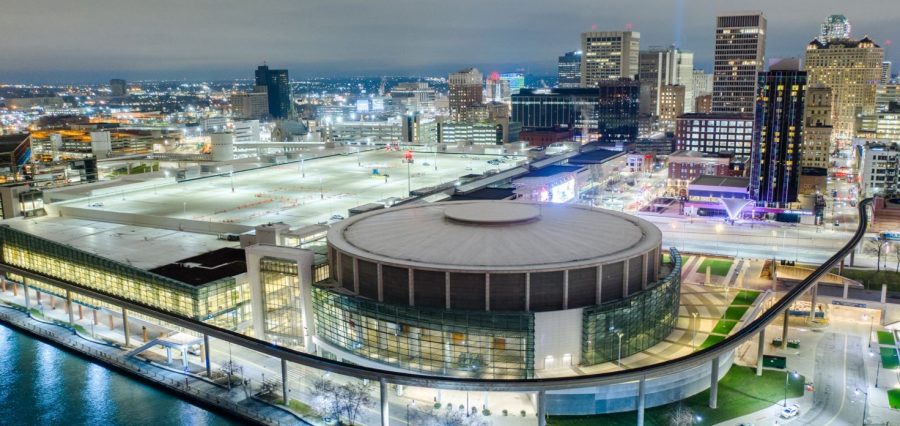 Located by a riverfront in the heart of downtown Detroit, Huntington Place can be comfortably reached by bus, metro or cab. You can connect through the Detroit People Mover, which is an automated light rail system operating on an elevated track or through the Detroit Q-Line Rail. The Detroit People Mover's station is situated on the fourth floor of Huntington Place. Through the light rail you can easily connect to Ford Field, Comerica Park and other attractions. Further, there is FAST buses that operate every 15-30 minutes. The Detroit Metro Airport is about 16 miles from Huntington Place. If you are driving on your own automobile, you will find close to 2,250 parking spaces at the venue. Hours of operation vary according to the event. All parking areas have handicapped parking spaces and wheelchair accessible facility.
You can access the floor plans on the website to know the meeting rooms, exhibit halls and food courts. There is a business center located in the main concourse/lobby. Services you can avail include copying, faxing and computer access. If you want to connect to the Internet, note that the entire facility has free high-speed Wi-Fi. Other amenities include ATM, mailing services and access to in-house permanent restaurants. If you plan to attend an event, you are advised to pre-register online, carry less bags and note the list of prohibited items. For registration, you can reach out to the respective organizer of the event. There is a Calendar published on the website showing the upcoming events, along with dates. Should you need to request wheelchair or report lost and found item, approach the guest service booths that you can locate throughout the convention center. For general queries, feedback or complaints, you can reach out to the customer service via phone or email.