Find below the customer service details of Poorvika Mobiles. Besides contact details, the page also offers a brief overview of the electronics retail chain.
Head Office
Poorvika Mobile Pvt Ltd
Admin office No.30, Arcot Road,
Kodambakkam, Chennai 600 024
Support
Phone: 044 – 42666666
Phone: +91 73586 75385
Email: [email protected]
Email: [email protected]
______
About Poorvika Mobiles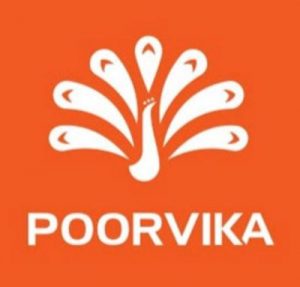 In the world of online shopping, offline smartphone and gadgets shopping outlets struggle to mark their place in the market. Poorvika Mobiles is one of the few chains which has managed to not only be a successful retail chain but also mark its presence both online and offline. The multi-brand retail house is based in Chennai, India and has spread out its elegant retail shops across major Indian states. It started off its operations in 2004 which was founded by Uvaraj Natarajan and today, it has over 390 retail shops in 60 cities in India. Tamil Nadu, Maharashtra, Karnataka, Kerala to name a few, adds to its title as one of the largest retail chains. The founder introduced the tag line "think mobile, think Poorvika" which has lived up to its name with sheer team coordination and fundamental retail shop business model.
Walking into any Poorvika Mobiles outlet, you can easily notice the well trained staff doing their customer welcome job very actively. They boast about their staff recruitment with pride and they do not disappoint with their professionalism and high level of knowledge about the products. To put these into numbers, they have over 5 Crore satisfied customers and it is still growing. Their products range from smartphones, accessories to other electronics like computers/laptops, TVs and smart devices. Major smartphone brands like Apple, Samsung, Vivo, Oppo, Xiaomi, OnePlus, Realme, and Redmi are all readily available with their latest models.
Apart from the class-apart retail shops, the website also serves customers with 2 hour, same day, and next day delivery option along with store pick up option based on your location. The delivery service is managed solely by Poorvika Mobiles and they make sure that proper identification of the buyer is carried out before delivery making it a very safe experience. All the products available at Poorvika come with brand/manufacturer warranty and they provide a proper GST bill along with every purchase. The shop also takes care of the cost to consumers making the products available at unbeatable pricing. You can avail no cost EMI options from select bank's credit or debit cards while most of the other payment options like cash, UPI and card.
Discounts and cashbacks are also part of their daily sales which come from time to time with regard to the occasions. Irrespective of the various discounts offered, they do not compromise with the service quality or provide valid bills of purchase along with the products. Poorvika can also be approached by you in case you want to exercise your warranty and they would guide you with all the necessary steps to claim your warranty on the product. You can also visit their YouTube and Instagram page to find out short unboxing or informative videos about the product you are looking for, though the shop experience at Poorvika is class apart and would not leave you with any doubts while getting your new smartphone.