Find below the customer service details of Drukair. Besides contact details, the page also offers a brief overview of the flag carrier of Bhutan.
Head Office
Drukair Corporation Ltd
Paro town, Paro,
PO Box 1219, Bhutan
Support
Phone: +975 8 271856/ 57
Email: [email protected] (general)
Email: [email protected] (booking)
______
About Drukair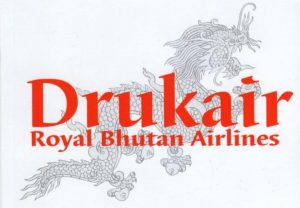 Drukair is the national airline of Bhutan, the landlocked country sandwiched between India and Tibet. Launched in the year 1983, the airline operates a fleet of 5 aircraft to about 14 destinations. Paro International Airport is the main base from where it operates all flights. The airline, also called the Royal Bhutan Airlines, is owned and operated by the Government of Bhutan. It has a modern fleet of aircrafts that offer both Business and Economy class seats.
The list of destinations where Drukair currently operates include Dhaka, Bagdogra, Delhi, Gaya, Kolkata, Guwahati, Kathmandu, Bangkok, and Singapore. Within Bhutan, it connects Paro, Bumthang, Gelephu and Yongphulla. You can search for flights using the booking form available on the website. Additionally, you can also see schedule and track flight status. Tickets can be booked through a travel agent or Drukair office. If you prefer to book online, the Drukair website will allow you to do just that. You can book a ticket online using any major credit card. A confirmation of ticket and details will sent to your registered email address.
Existing ticket holders can manage their booking on the web. Online check-in opens 72hrs to 4hrs before departure. If you prefer to check-in at the airport, just proceed to the Drukair counter inside where the formalities will be taken care. While for many countries a visa is required for travelling to Bhutan, those from India do not need a visa. A passport with minimum 6 months validity is all that is required to travel. Visit the Forms section on the website if you are looking for self-declaration form, online health declaration form, medical form or student concession form.
Coming to baggage, all passengers are allowed to carry one hand baggage with max weight of 5kg. As for checked baggage, on international routes the airline allows one bag with weight of 30kg for Economy class. And Business class passengers can carry up to 40kg. Note the list of prohibited items to enjoy a smooth check-in process. If you have a missing or lost baggage to report, proceed to the Drukair counter where you can fill up a form to make the claim.
Want to modify your booking? For Economy class fliers, the airline allows change of date 4 days before the intended travel. There will however be a fee if you change the date within the first 3 days. As for cancellation, you can get 90% of refund if ticket is cancelled before 30 days of travel date. From 10-30 days, you can get a refund of 75%. For those cancelling within 10 days, only 50% of refund is credited. If you purchased your ticket through a travel agency, you are advised to contact the respective agent for cancellation and refund. For those who purchased ticket online, the refund will be credited within 14 working days.
Are you a frequent flier? Register for Drukair's frequent flier program called HappinesSMiles. Members of the program can earn miles every time they travel with the airline. The accrued miles can be redeemed for new flights or upgrades. There are three tiers in the membership – Silver, Gold and Platinum. You can enroll to the program online or at the airport counter. For queries or complaints on payment, refund, cancellation, or lost baggage, you can reach out to the Drukair customer service via phone or email.