Are you a gadget aficionado? If you are one and have been based in India then Reliance Digital is your haven for all things tech. It is one of the largest consumer electronics retailers in the country that operates through both brick-and-mortar stores and online channel. The stores are spread across key regions such as Andhra, Delhi, Uttar Pradesh, Gujarat, Karnataka, Kerala, Maharashtra, Tamil Nadu, Telangana, West Bengal, Orissa, Assam and Jharkhand. The company serves through a network of more than 8,000 Reliance Digital and Jio stores. The stores showcase products from over 200 national and international brands. Some of the top brands listed include Samsung, LG, Apple, Toshiba, OnePlus, HP, Lenovo, Dell, Xiaomi, RealMe, Oppo, Sansui, Daikin, IFB, Acer, Microsoft, Canon, Nikon, Bajaj, Kent, Havells and Hindware, to name a few.
Reliance Digital offers a huge selection of products, such as audio and video products, digital cameras, durables like air conditioners, refrigerators, washing machines, computers, laptops, and tablets and peripherals, as well as a wide range of accessories and kitchen appliances. The company is owned and operated by Reliance Retail which also runs ResQ, the service arm of Reliance Digital. Products are even sold under its own label called Reconnect. In addition, the company has signed a contract with various prominent national and international brands for exclusive manufacturing and distribution of their products within India.
If you have recently purchased a product from Reliance Digital and wish to return or exchange, keep reading to know more.
Know the Return and Cancellation Policy
Reliance Digital has a very transparent return policy. You can cancel the order before it is invoiced for shipment. Once an order is invoiced, packed and 'Out for Delivery', it cannot be cancelled. You can track your order under 'My Order' section of your account on the website or app and also via the link sent to your email.
Once the cancellation is accepted you will receive an email and the amount paid will be refunded to you within 3 to 7 business days from the date of acceptance of the cancellation request. The refund amount is credited back through the same mode of payment used during the purchase. It can also be added to your store credit account which can be used for subsequent purchases, if you choose to do so. The modes of payment accepted by Reliance Digital are credit card, debit card, Internet Banking, store credit, cash on delivery and digital wallet.
If you wish to return an order, note that it can be returned only if the product received is different from what was ordered; is received in a physically damaged condition; or if the product or accessory is missing. Products such as smartphones, laptops, mobile phone accessories, consoles and PC games are labelled as non-returnable. The return window for replacement varies for different product categories.
How to Request Cancellation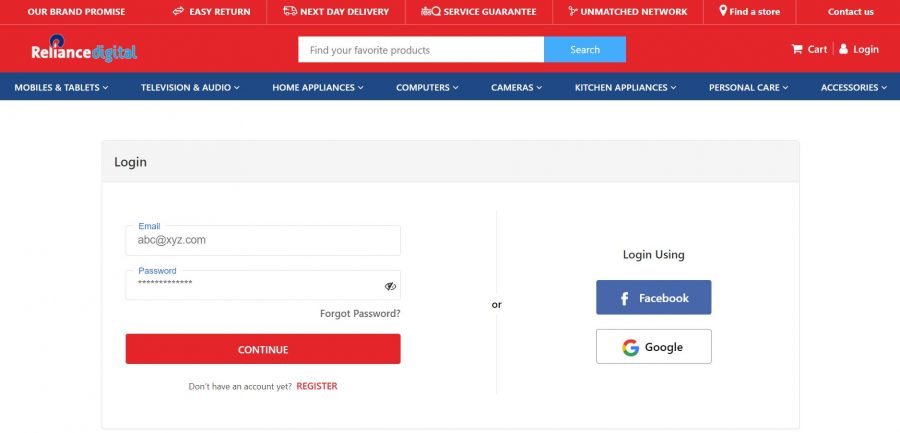 For those shopping online, note that products can be cancelled partially or fully only before the shipment is 'Out for Delivery'. To cancel your order, follow these steps:
– Login to your registered account and navigate to the 'My Account' option.
– Click on 'Cancel Order' and select products you wish to cancel.
– As soon as the order is cancelled, the refund amount is sent through the original method of payment for all pre-paid orders.
Replacement can only be requested within 7 days from the date of delivery. Also, if a product is received in physically damaged condition or damage upon delivery, the same must be reported within 24 hours to be eligible for a replacement. And if an item was physically purchased at a Reliance Digital store, you can visit the outlet with the original invoice and product to have your concern addressed.
If you have more questions related to cancellation, replacement, return or refund, you can connect with the customer support at: [email protected]. To speak on phone, you can dial 1800 889 1055.
Conclusion
An easy and hassle-free return policy is key for the success of any online retailer, especially those in the consumer electronics space. As a well known brand, Reliance Digital has always strived for long-time customer retention and loyalty towards the company's products and services. Most returns are accepted without any questions asked. However, in the event of a package being tampered or item missing, a ResQ engineer will be assigned to evaluate and approve the request. In any case, reach out to the customer support for better clarity. On the failure to receive a resolution, you can escalate the case to a specialist within the organisation. Do let us know your experience in the Comments section below.