Find below the customer service details of Flair Airlines. Besides contact details, the page also offers a brief overview of the Canadian airline.
Head Office
4032-1000 Airport Rd,
Edmonton, Alberta,
T9E 0V3, Canada
Support
Phone: 1-833-711-2333
Web: Chat Support
______
About Flair Airlines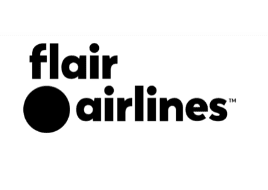 Flair Airlines has revolutionized the way people in Canada travel and has brought air travel within the reach of the common man. This low-cost airline was founded in 2005 with headquarters in Edmonton, Alberta, and began scheduled flights to various destinations in Canada, The USA and Mexico from 2017. Living up to its slogan, Plane and Simple, Flair Airlines operates both scheduled passenger flights and chartered services, with its fleet of Boeing 737 aircraft. It is Canada's only independent ULCC or Ultra Low-Cost Carrier, which makes flying affordable and accessible to all Canadians.
Just because of the low cost, it does not mean that Flair Airlines compromises on comfort, safety or quality on its flights. The airlines have a stellar record of safety and reliability. Flair Airlines has rapidly expanded its fleet to improve route network and frequency of its flights, and now offers affordable travel to over 35 destinations in Canada and North America. With the addition of 13 new Boeing 737 Max 8 Aircraft, the total number of aircraft has increased to 22 and Flair Airlines has improved its reach to further destinations.
The airlines have two major types of aircraft – Boeing 737 Max 8 and Boeing 737 -800. The Boeing 737 Max 8 is a fuel-efficient aircraft with Advanced Technology Winglets that improves fuel efficiency due to its more effective wing span design. The engines are LEAP -1B design with Carbon fiber fan blades that makes its engines less noisy and more efficient. Overall, the Boeing 737 Max 8 saves fuel and lowers carbon emission to make it very planet friendly. This aircraft has a twin engine with single aisle design and can seat 189 passengers. The next fleet of aircraft owned by Flair Airlines is the Boeing 737 -800. It is also a twin engine, single aisle jet that can seat 186 passengers.
The reason for Flair Airlines being affordable is because of its tag of being a ULCC or Ultra Low-Cost Carrier. Ticket prices are unbundled – this means that you pay for what you use and are not burdened with additional compulsory add on features. This allows one to pick up tickets very cheaply, thus making air travel within everyone's budget.
In Canada, Flair Airlines has flights to various destinations in Ontario, New Brunswick, Quebec, Prince Edward Islands, Alberta, British Columbia, Saskatchewan, Nova Scotia, NewFoundland and Manitoba. In the United States, one could fly on Flair Airlines to different destinations in Alaska, Arizona, California, Florida, Illinois, Nevada, New York and Tennessee, while in Mexico, one could fly to Baja California Sur, Jalisco and Quintana Roo.
Booking a ticket on Flair Airlines is easy and the whole process very transparent. There are no hidden costs involved as the flight price included government taxes and airport improvement fees. For an additional charge, you could add on extra baggage, budget in for flight change, cancellation, preferred seating, priority boarding and group booking.
Existing ticket holders can skip the airport queues and check-in on web. The online check-in facility opens 24 hours before the scheduled flight. Passengers on flights can carry one cabin bag that can weigh up to max 7kg for free. If you have check-in baggage, you can pay for same at airport or online. As for cancellation and refund of tickets, the same varies according the number of days. According to the website, a $49 fee is applied if your departure is within 7 days. However, if you cancel within 24 hours of booking, you will get full refund with zero cancellation fee. Cancellation or amends to tickets can be made online.