Find below the customer service details of An Post, Ireland. Besides contact details, the page also offers a brief overview of the postal service provider.
Head Office
General Post Office
O'Connell Street
Dublin 1 D01 F5P2
Support
Phone: +353 1 705 7600 (post and parcels)
Phone: 0818 20 50 60 or 01 705 7200 (State Savings)
Phone: +353 1 705 8000 (An Post Money)
Email: [email protected] (general)
Email: [email protected] (An Post Money)
______
About An Post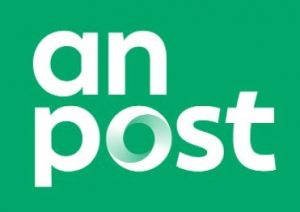 An Post is the main provider of postal services in Ireland. Established in the year 1984, the entity is fully owned by the Government of Ireland. Headquartered at Dublin, An Post employs close to 12,000 in different capacities to manage the operations. An Post currently provides postal services, courier, logistics and financial services. For the year ending 2020, An Post reported a revenue of €915m, with solid performance seen in parcels and ecommerce services. Operations are managed through a strong network of retail, processing and delivery points. The 'Post Office' network in fact has close to 940 offices, a majority of which are contractor operated. On an average, each day it handles close to 2 million post items.
To send a post or parcel, visit any nearest An Post outlet. You can locate one on the website by town or country. Further, you can filter search by post office, PostPoint or parcel locker. There are tools available online to get an estimate of the costs and timeframe. And if your mail or parcel has already been dispatched, you can track same using the reference number online. Calculating postage and tracking can also be done through the app on Android or iOS. An Post has services designed for both individuals and businesses. For those who want to send a parcel at the comfort of their home, you can now buy your postage label online and drop item off at nearest post office. The 'Click & Post' is designed to help you buy postage labels or book a return online.
Currently, you can choose between Standard Post, Registered Post, Express Post and International Courier. The standard post across Ireland is delivered mostly by next working day. International locations can take 3 to 7 working days. If you are sending important documents, choose Registered Post which will give you an acknowledgement of receipt. It also comes with an insurance in the event of loss or damage. Of course, for faster delivery you have Express Post that comes with additional costs. International delivery is handled in 1-5 working days under Express Post. The cost of delivery depends on the category that it falls to, whether it is Letter, Large Envelope, Packet or Parcel. Letters and postcards cannot weigh more than 100gm. Large envelopes can weigh up to 500gm. While Packets are restricted to 2kg, with Parcels you can ship items weighing up to 20kg. Note that there will be customs handling of items imported from countries outside the EU. If you have to return your package, you can now do at over 900 post offices, PostPoints and parcel lockers across Ireland.
Most postal service providers provide a simple savings/current account and money transfer services. With An Post as well you can open a current account for your everyday banking needs. The current account comes with debit card and online banking facility. Then you have the Currency Card that allows you to purchase and top up 16 currencies on a single Card. Visit any nearest An Post outlet to apply for a Currency Card. There are no commissions charged for foreign currency transactions. That is not all, you can even avail money transfer services. Choose Postal Money Order to send monetary gifts to an address or to pay bills. To send money instantly and to addresses outside Ireland, you have Western Union. You can transfer money swiftly to recipients in more than 200 countries. The fee varies according to the amount.