The Royal Caribbean Group, previously known as Royal Caribbean Cruises, is a world-renowned cruise-holding organisation. Originally incorporated in Liberia in 1997, the company is currently headquartered in Miami, Florida. Being the second-largest cruise-line operator internationally, the company also owns Silversea Cruises and Celebrity Cruises.
As of the current day, Royal Caribbean owns a fleet of 25 ships, which sail to over 500 destinations worldwide across 66 different countries. Besides that, the cruise line also offers a variety of dining options and entertainment activities for travellers of all ages. As a result, Royal Caribbean Cruises has always been a popular choice for couples, families, and singles to enjoy a relaxing gateway or an action-packed adventure.
Additionally, the organisation also invests robustly in providing excellent customer service, ultimately making your cruise vacation one to remember. So, if you are ready to be a part of Royal Caribbean's exceptionally talented team, then you can apply for your dream job right away.
How to Apply For Job Online?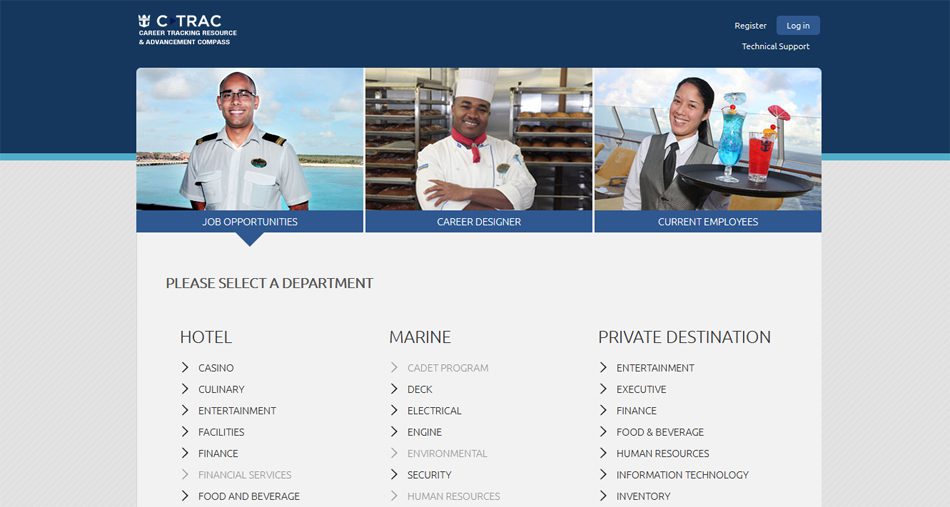 If you are looking for job opportunities at Royal Caribbean Cruises, then applying for a specific position using the steps mentioned below can prove helpful.
Start your application process by visiting the official website here.

On the landing page, under "Job Opportunities," choose the type of department you want to work at. The options include hotel, marine, and private destinations.

Once you have selected a department, you will be asked to choose between sub-departments. For instance, if you have chosen the "Finance" department under "Private Destination," then the sub-options will include Customs Operations Specialist, Office Admin, Finance Manager, Finance Specialist, and Custom Operations Agent.

After you have chosen a sub-department, a pop-up window will open explaining the responsibilities of the role along with an "Apply Now" button. Once you have read through the description of the role, click on the "Apply Now" option.

You will be asked to provide a valid email address for verification. Keep in mind that this email address will be used as the primary source of communication.

Once you have verified your email address, you will be able to submit your CV/resume along with your cover letter.

After you have successfully submitted your application, you will receive a confirmation message on your email address. Additionally, if your application is short-listed for the hiring or screening process, you will receive a follow-up message from the company.
What are the Popular Job Positions Available?
Currently, some of the most popular available job positions with Royal Caribbean Cruises include Sous Chef, Pastry Chef, Sound Technician, Activities Host, Financial Controller, Payroll Purser, Barista, Housekeeping Supervisor, Crew Relations Specialist, IT Support Specialist, Hotel Storekeeper, Massage Therapist, Fitness Instructor, Electrical Engineer, Deck Cadet, Engine Cadet, Security Staff, Marine Administrative Assistant, Finance Specialist, Executive Office Admin, Disc Jockey, HR Specialist, Island Technology Officer, Assistant Storekeeper, and Maintenance Technician.
Interested individuals can also apply for a job position at Royal Caribbean Cruises through multiple third-party job portals such as Indeed, Monster, LinkedIn, and Glassdoor. It is necessary that the applicants first create their accounts on the aforementioned websites before proceeding to track the vacant job positions.
What are the Employee Benefits and Perks Offered?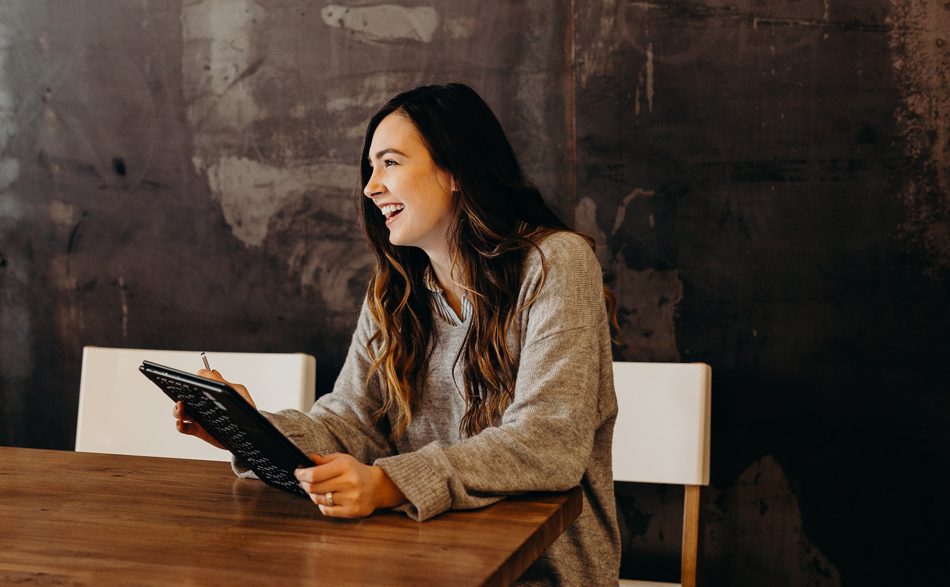 Being one of the largest cruise lines in the industry, employees working at Royal Caribbean are subjected to fantastic compensation benefits and perks. It should be known that Royal Caribbean contracts vary depending on the role you are performing. For instance, the senior-most roles will generally have a 4-month contract period, while other positions can vary between a 6- and 8-month contract period.
Additionally, the company advises that due to the round-the-clock nature of guests that are on board their cruise ships – seven days a week – employees may not get a full 24-hour period off from work. However, proper steps are taken by the company to ensure that every employee gets enough time to rest, participate in enjoyable events, or even visit ports.
Some of the notable benefits enjoyed by the employees of Royal Caribbean Cruises are as follows.
Health and Wellness: Employees working at Royal Caribbean are provided with a myriad of insurance benefits, such as medical, dental, and vision insurance. Dental insurance includes expensive procedures such as bridges and crowns, while vision insurance includes laser eye surgery as well. Life insurance involving death benefits, short-term/long-term disability insurance, and pet insurance are also provided.
Paid Time Off: Employees are provided with vacation leaves, sick leaves, and holidays. Additionally, 12 weeks of paid parental leave are also offered.
Retirement Benefits: Every Royal Caribbean employee is subjected to retirement savings via the 401(k) plan. By using this plan, employees can contribute a portion of their paycheck, and the money will be invested in a variety of stocks, bonds, and other investments. The company also offers to match a portion of the employee's contribution. Additionally, an employee stock purchase plan option is also offered.
Cruising Benefits and Rental Discounts: Employees are provided with discounts on merchandise, cruises, and other related products and services.
Tuition Reimbursement: Royal Caribbean employees are also eligible for tuition reimbursement for approved educational programmes. As a result, they can enhance their career portfolio and enjoy long-term success.