Contact 7-Eleven: Customer service, phone of 7-Eleven
Contact 7-Eleven: Find below customer service details of 7-Eleven, including phone and address. You can reach the below contact for complaints or queries on 7-Eleven stores, jobs, franchise enquiries, location details or other questions. Besides contact details, the page also offers information and links on 7-Eleven products and services.
7-Eleven Head Office
7-Eleven, Inc.
One Arts Plaza
1722 Routh St., Suite 1000
Dallas, TX 75201, United States
Phone:  972-828-7011
7-Eleven Customer Service
Phone: 1-800-255-0711
Phone: 1-800-782-0711 (franchise queries)
International Contacts
Below are numbers of 7-Eleven customer service support around the world.
Australia: (03) 9541 0711
Canada: 1-800-255-0711
Denmark: +45 3947 8484
Hong Kong: (852) 22-998-150
Japan: 03-6238-3711
Korea: 1577-0711
Malaysia: 03-2142 1136
Mexico: +52 (81) 8158-0711
Norway: +47 815 00 909
Philippines: 724-10-31
Singapore: 1800-891-8100
Taiwan: 0800-008711
Thailand: 1800-226-671
_______
7-Eleven Store Locations
Click here to locate a 7-Eleven store nearest to your address. Stores can be searched by city, state or zip code. Further, search results can be refined by selecting categories such as Gas, Wings & Pizza, ATM, Bill Payment, Money Transfers, Check Cashing etc. Most stores are open 24 hours, and 7 days of a week.
About 7-Eleven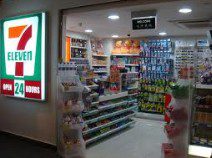 7-Eleven was founded in Dallas, Texas, in the year 1927. 7-Eleven got its name because the stores were open from 7 a.m. until 11 p.m. Today, the world's largest convenience store chain, 7-Eleven has close to 45,000 stores in 16 countries. Over 9,000 stores are located in North America. Besides US and Canada, 7-Eleven stores are found in  Japan, Taiwan, Thailand, South Korea, China, Malaysia, Mexico, Singapore, Australia, Philippines, Indonesia, Norway, Sweden and Denmark.
The leader in convenience retailing, 7-Eleven was the first to operate 24 hours a day. In its stores, some 60 million donuts and pastries are sold every year. Further, it sells close to 13 million Slurpee beverages each month. Since its launch, it has sold close to 6.5 billion Slurpee drinks. Some 2,500 different products are found in each 7-Eleven store.
Besides food and beverages, the variety of products/services available at 7-Eleven include the sale of mobile phone reload cards, ink cartridge refill, photocopying, fax, automated teller machine (ATM), lottery tickets and much more. In 2010, the company had sales close to $63 billion.
7-Eleven was named No. 2 on Forbes magazine's 2011 list of Top Franchises for the Money. It also stands No. 3 on the Entrepreneur magazine's Franchise 500 list for 2012. Hispanic magazine lists 7-Eleven on its Hispanic Corporate Top 100 Companies that provide the most opportunities to Hispanics.