Find below the customer service details of Target Field. Besides contact details, the page also offers a brief overview of the ballpark.
Address
1 Twins Way
Minneapolis, MN 55403
United States
Support
Phone: 1-800-33-TWINS /89467 (tickets)
Phone: 612-375-7454 (season tickets)
Phone: 612-659-3400 (feedback)
Email: [email protected] (feedback)
Email: [email protected] (store)
______
About Target Field
Target Field is a baseball stadium in Minneapolis, Minnesota, opened in the year 2010. The stadium, which serves as the home for MLB's Minnesota Twins and NCAA's Minnesota Golden Gophers, has a seating capacity of 38,500. As a result of the naming rights going to retail giant Target Corporation, the ballpark is named Target Field. Located in downtown Minneapolis, visitors can reach the stadium by bus or light rail (Metro Blue Line and Metro Green Line). The Target Field Platform 2 is just a two minute walk. The 2nd Ave N & 5th St N, 5th St Transit Center Gate C and 7th St N & Twins Way are the closest bus stations. If travelling on your automobile, you will find about 7,000 parking spaces adjacent to Target Field. You can reserve parking online to avoid the rush during game days.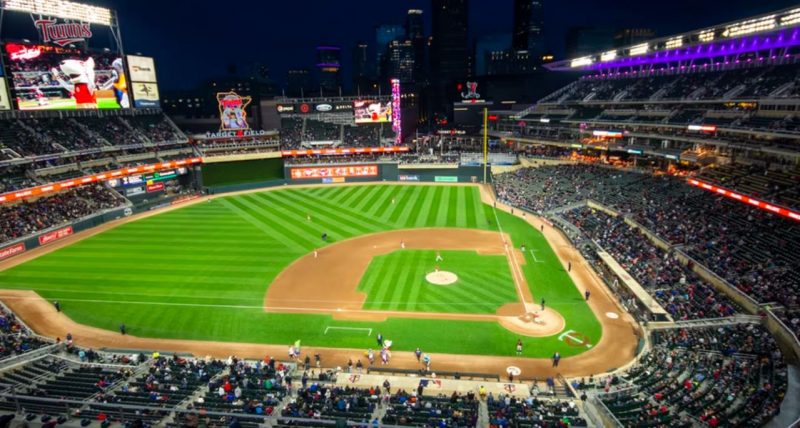 Gates will open 1.5 hours before scheduled first pitch for all Monday to Thursday games. On weekends the gates open 2 hours before first pitch. Tickets for games can be purchased online or at the Box Office on Target Plaza. The Box Office is open from 10am to 4pm, Monday to Friday. For best seating and confirmed reservation, explore the full season tickets. You also have 40 game, 20 game and Flex plans. The season ticket pricing varies according to seating area. As a member, you enjoy regular season and spring training presale, postseason ticket priority, special prepaid parking options, exclusive entrances, discounts on food and merchandise, and much more. Login to your account to view ticket inventory, submit wish list, track season tickets and even sell a ticket on StubHub. An easier way to store tickets and access them any time is through the MLB Ballpark app. You will need an MLB account to view or manage tickets, forward a ticket or even purchase a new one.
For fans who want a premium seating experience, Target Field offers a range of options. You can choose between the Champions Club, Roof Deck, Delta Sky360, or Delta Sky360 Suite. Premium seating members gain access to exclusive area before and after match, premium seating tickets for all regular season home games, gourmet dining service and dedicated concierge service. Premier suites can accommodate up to 16 guests. Guests enjoy incredible views, outdoor ballpark seating, HD televisions and a lounge for eating or relaxing. The prices vary according to the suite type and game. There is a seating map published online showing the suite locations, along with the roof deck, terrace level and mezzanine level. Fans can shop for Twins-branded jerseys, merchandise and collectibles at Twins Clubhouse Store located next to gate 29.
Guests with disabilities or those needing assistance can approach the guest service centers located at section 113 on the Main Concourse and at section 204 on the Terrace Level. You can approach the desks for wheelchair assistance or to report lost and found item. Note that all lost articles will be held for 30 days. The information guide is useful for fans visiting the stadium for first time. The stadium prohibits visitors from bringing backpacks, multi-compartment laptop bags, professional cameras, bats, lawn chairs, fireworks and noise making devices, to name a few. Know all the ongoing and upcoming games on the official website. Target Field also hosts football and outdoor concerts.