Find below the visitor support details of Krestovsky Stadium (Gazprom Arena), Russia. Besides contact details, the page also offers a brief overview of the sports arena.
Address
Futbol'naya Alleya,
1Sankt-Peterburg,
Russia, 197110
Directions: Google Maps
Support
Phone: +7 931 0001258
Email: [email protected] (ticket)
Email: [email protected] (general)
_______
About Krestovsky Stadium
Krestovsky Stadium is a popular football stadium in St Petersburg, Russia, with a seating capacity of 68,000. Also known as Gazprom Arena, the state of the art facility opened in the year 2017. It is currently home to the Zenit St. Petersburg professional football club. Several matches of the Russia national football team as well are held here. Located in the heart of the city, the stadium can be easily accessed by metro, bus or taxi. There are three metro stations within walking distance. Parking for vehicles is available in the vicinity as well. There are two-tier parking lots surrounding the stadium. However, without a car pass you cannot enter the facility.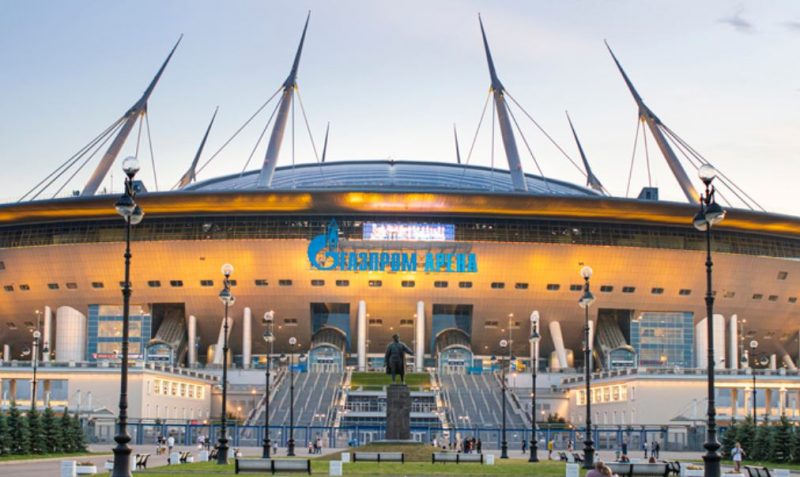 Did you know? Krestovsky Stadium is one of the most visited stadiums in Eastern Europe. It boasts a retractable roof that gives the flexibility to host not just football matches, but also concerts, exhibitions and special events. You can track the upcoming matches, concerts or events on the official website. Additionally, tours are available if you are interested in exploring the interior and exterior of the stadium. The stadium tour will take you through the dressing room, the bench, players' tunnel and the field. There is also a museum showcasing the history of the club. You can book one online or by speaking to the stadium's support.
As for game tickets, you can purchase one at the box office or through the club's website. Online purchases can be done through major credit cards. The rates vary according to the game and seating area. Upon confirmation, an email will be sent with a digital copy of the ticket. If you are not able to make it, you might be able to return the ticket no later than 2 hours before the match for a refund. Zenit fans can also purchase season passes to never miss a game. Season ticket holders also enjoy discounts on merchandise, shopping and other privileges. Do read the rules of conduct and items permitted before you plan your trip for a match. Details are available under the Help section of the website.
To enjoy a match or event in a more comfortable setting, there are VIP hospitality options you can explore. You have Diamond, Gold and Silver clubs with a variety of privileges. The clubs offer padded seats, high quality food and catering, and stunning views. You also enjoy separate entrance to the stadium. The VIP boxes are located at the first and second storeys of the stadium. For a quick meal or casual meeting, you will also find a number of restaurants and cafes. You can reach the stadium's helpline for any queries or complaints.