Contact Defy Appliances: Find below customer service details of Defy Appliances, including phone and email. Besides contact details, the page also offers a brief overview of the company. Reach the customer service below for support, complaints or feedback.
Head Office
135 Teakwood Rd,
Jacobs, 4052, Durban,
South Africa
Customer Service
Phone: 086 100 DEFY (3339)
Phone: +27 31 460-9711
Phone: +27 31 460-9738
___
About Defy Appliances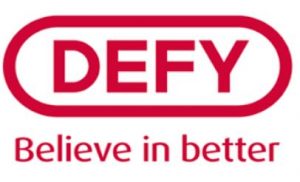 Defy Appliances is a manufacturer and distributor of domestic appliances in South Africa. Founded in the 1920s, the company operates as a subsidiary of Arçelik Group. Headquartered in Durban, Defy Appliances manufactures products from its three factories located at Durban, Ladysmith and East London. It also operates sales and service centers in major provinces across the country.
Defy's product lineup includes stoves, microwave ovens, cookerhoods, hobs, refrigerators, laundry/dishwashers, air conditioners, blenders, coffee machines, kettles, mixers, stand fans, steam irons, toasts and vacuum cleaners. You can purchase the products at a brick and mortar store or via popular online retailers. If you have purchased a Defy product, you can register same on website to keep track of purchase, service or warranty. There is also a Manuals section for those needing help with usage. If you need help with repair or replacement of parts, reach the nearest Defy service center for assistance. For more information or queries on payment, cancellation, warranty, repair or others, reach the Defy Appliances customer service.