Contact UPS: Customer service, phone of United Parcel Service
Contact United Parcel Service (UPS): Find below customer service details of United Parcel Service, including phone and address. You can reach the below contacts for queries on shipping packages/freight, cost, locations, package status, claims or complaints on UPS' services. Besides contact details the page also offers information and links on UPS products.
UPS Head Office
55 Glenlake Parkway NE
Atlanta , GA 30328
United States
UPS Customer Service (USA)
Phone: 1-800-PICK-UPS (1-800-742-5877)
Email: [email protected]
Email: [email protected] (for tracking)
Other Contacts
Phone: 800-833-9943 (UPS Infonotice)
Phone: 800-333-7400 (freight services – ground)
Phone: 800-443-6379 (freight services – air)
Phone: 800-782-7892 (international services)
International Contacts
Below are phone numbers of UPS offices around the world. If your country is not listed below, visit the UPS website for contacts and details.
Asia Pacific / Middle East


Australia

: (61) 131 UPS (877)


China

: 800-820-8388
(86-21) 3896 5555

Hong Kong: 852-2735-3535
India: 1800 22 7171
Indonesia: 62-0807-1-877-877
Japan: 0120-27-1040
Malaysia: 1800-1800-88
New Zealand: 0800-742-587
Pakistan: +92 42 111 669 877
Philippines: 63-2-853-3333
S.Korea: 1588-6886
Singapore: 1800-738-3388
Sri Lanka: 941 233 7773
Taiwan: 0800-365-868
Thailand: 66 2762 3300
Vietnam: 1800 588 877
UAE: 800-4774

South America
Brazil: 0800-770-9035
Colombia: (57) 1 2940600
Mexico: (5255) 5228-7900

Europe


Austria

: 0810-006630


Belgium

: 078-250-877


Czech Rep

: +420 800-181-111


Denmark

: 35 25 80 80


France

: 0821-233-877


Germany

: 01805 882 663


Ireland

: 1-890-99-55-00


Italy

: 02 30 30 30 39


Netherlands

: 0900 2255 877


Russia

: 495-961-2211


Spain

: 902-88-88-20


Sweden

: 020-788 799


Turkey

: 444 00 33


UK

: 08457-877-877

Africa
Ethiopia: 251-11-6621305
Egypt: 16004
Nigeria: 234-1-2705577
S.Africa: + 27-11-922-9200
_______
Track Packages
To track packages and freights sent by UPS click here. You need to enter the tracking or InfoNotice number to track the package. The same can also be done by reference, email, and SMS.
UPS Locations
Click here to locate a UPS store/office nearest to your city. Locations can be searched by country, street address, city, state or zip code. Search results can be refined by location type such as UPS Store, UPS Customer Center, UPS Drop Box, UPS Alliance Locations and Authorized Shipping Outlet.
Calculate Cost/ Time
Click here to calculate time and cost for a package or freight you are sending through United Parcel Service. Users need to just type the destination, origin, shipment date, and weight for estimate.
Schedule Pickup
To schedule a pick-up for your UPS package or freight click here. Users must provide the address, date & time, number of package(s) and weight. There may be additional charges for pickups on weekends and holidays.
Complaint/Claims
To report a lost or damaged package click here. The tracking number of the package must be provided to report a package problem.
About United Parcel Service (UPS)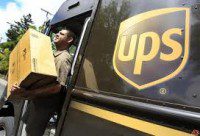 United Parcel Service (UPS) was founded as American Messenger Company in the year 1907. Today UPS is a multi-billion dollar corporation having operations in more than 220 countries and territories. The global leader in logistics serves about 8.5 million customers daily. In 2010 UPS had revenue of $49.6 billion. The same year it delivered close to 4 billion packages and documents. On a single day UPS website has an average 20.7 million page views. Headquartered in Atlanta, Georgia, UPS employs close to 400,000 people worldwide. For Europe, Brussels (Belgium) stands as UPS' headquarters. For Asia, the UPS headquarters is located at Singapore.
Talking about numbers, the UPS Store alone operates some 4,600 stores; there are 1,000 Customer Centers, 16,000 Authorized outlets and 40,000 UPS Drop Boxes. Further, UPS has some 1,800 operating facilities. While there are close to 95,000 four wheelers and two wheelers delivering packages on ground, for air UPS has some 225 aircraft. Daily there are 942 domestic flights serving 380 domestic destinations and 815 international flights to 327 international destinations. UPS' key services are: logistics and distribution, transportation and freight, freight forwarding, international trade management, customs brokerage, expedited mail services, among others.
For packages within the United States, UPS offers services such as UPS Express Critical, UPS Next Day Air (next business day), UPS 2nd Day Air, UPS Ground (1-5 business days) and UPS 3 Day Select. For international packages, there is UPS Express Critical, UPS Worldwide Express Plus (1-3 business days), UPS Worldwide Express, UPS Worldwide Saver, UPS Standard and UPS Worldwide Expedited. For freight, UPS offers  same-day and time-critical freight services.
UPS was named "most admired" in its industry by Fortune and one of the Top 10 most reputable companies by Forbes magazines.