Contact Olympus: Find below customer service details of Olympus, including phone and address. You can reach the below contacts for queries on Olympus digital cameras, binoculars, lenses, voice recorders, accessories or other questions. Besides contact details the page also offers information and links on Olympus services.
Olympus Head Office
Olympus Corporation
Shinjuku Monolith, 2-3-1 Nishi-Shinjuku,
Shinjuku-ku, Tokyo 163-0914, Japan
Phone: (81) 3-3340-2111
Olympus Head Office (US)
3500 Corporate Parkway,
PO Box 610, Center Valley,
PA 18034-0610, USA
Phone: +1-484-896-5000
Olympus Customer Service
Phone: 1-888-553-4448 (digital cameras)
Phone: 1-800-622-6372 (film cameras/recorders)
Phone: 1-800-798-2777 (photo printers)
Online Store Support
Phone: 1-800-201-7766
Email: [email protected]
International Contacts
Below are phone numbers of Olympus offices worldwide.  You can reach these numbers for office locations, repair centers, warranty or other queries.
Australia: 1300 659 678
France: 008 006 710 83 00
Germany: +49 40 23773-0
Hong Kong: (852)2376-2150
India: +91 22 61420400
Malaysia: 03-6411 0000
Mexico: 9000-1280/1281
Russia: 8 (495) 926-70-71
Singapore: 1800-6596-787
South Africa: +27 21 4242978
UAE: (971) 4-266 3200
UK: 0800 111 4888
______
Olympus Online Store
Click here to purchase Olympus products online. Purchases can be made by Visa, MasterCard, American Express and PayPal. The Olympus store will accept exchanges or returns within 30 days after the date of delivery. Ground delivery will ship via UPS, FedEx, or USPS mail.
Some of the Olympus items found on the online store include Cameras (E-System DSLR, Micro Four Thirds-Pen, X Series, S Series, TG Series, V Series), Lenses (Zuici Digital Lenses), PCM Recorders, Digital Recorders, accessories for camera and lenses, Bincoulars (Magella, Pathfinder, Tracker, Trooper, Outback, Roamer), Underwater lenses and housing accessories, and more.
Downloads
To download manuals or software for your Olympus product click here. You can find here links for digital cameras, voice recorders, photo printers, adapters, card readers and more.
Retail Stores
Click here to locate a Olympus retail store nearest to your city. You can visit a retail store to purchase a new digital camera, audio recorder, binoculars or accessories.
About Olympus Corporation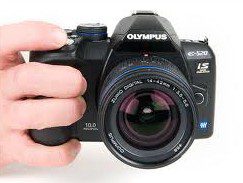 Olympus was founded as Takachiho Seisakusho in the year 1919. The Japanese corporation, founded by Takeshi Yamashita, currently employs close to 40,000 people worldwide and has offices across Asia and Europe. Olympus manufactures equipments and devices for medical, healthcare, imaging, information, and other industrial markets.
The leader in precision machineries and instruments is headquartered in Tokyo, Japan, and currently operates in five business segments. Formerly known as Olympus Optical Co. Ltd, the company had revenue of ¥847,105 million as of March 2011.
Olympus offers a wide range of products that include digital SLR systems, digital cameras, voice recorders, film cameras, binoculars, medical endoscope and surgical products, dental products, microscopes, Genome, Proteome and Cellome products, industrial scopes, among others.