Contact Delta SkyMiles customer service (phone, fax)
Contact SkyMiles: Find below customer service details of Delta Air Lines' frequent flier programme SkyMiles, including phone and address. You can reach the below contacts for queries on new membership, mileage credit, transfer/purchase of miles, award tickets or other queries. Besides contact details the page also offers information and links on SkyMiles services.
SkyMiles Customer Service
Phone: 1-800-323-2323
Phone: 1-800-221-1212 (reservation)
Fax: 404-773-1945
International Contacts
Argentina: 0 800 333 0224
China: 40081-40081
Denmark: 38487774
France: 01 57324295
Germany: 069 380789307
Italy: 02 69430744
Japan: 0570-077733
Mexico: 5279 0940
Singapore: 6336-3371
Spain: 91 2718164
Thailand: 0 2254 0789
UK: 020 34506425
By Post
Delta Air Lines, Inc.
SkyMiles Account Support, Dept. 654
P.O. Box 20532
Atlanta, GA 30320-2532
____
Join SkyMiles
Click here to join SkyMiles today. Once logged in, members can check and print boarding passes, manage itineraries, redeem mileage, get weekly offers and more. If you are already registered click here to access your SkyMiles account.
Request Mileage Credit
If any miles were lost or not credited to your account click here to request mileage credit. It can take between 30 and 90 days for a qualifying mileage to be recorded.
About SkyMiles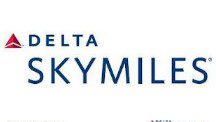 SkyMiles is a frequent flier programme of Delta and is the world's largest loyaly program. Members can earn miles while flying on Delta, Delta Shuttle, or Delta Connection carriers. Miles can also be earned with more than 100 SkyMiles partners. Airline partners include Aeroflot, Air France, China Airlines, KLM, China Southern, China Eastern, Kenya Airways, Jet Airways, Kingfisher Airlines, Malaysia Airlines, Virgin Australia, Alitalia and more.
Miles can also be earned during hotel stays at brands that include Hilton, InterContinental, Marriott, Baymont Inn, Accor Hotels, Wyndham, Hyatt, Taj Hotels, Best Western, LaQuinta, Shangri-La and more. Further, miles can be accumulated while renting cars from Hertz, Alamo, Avis, Budget, Europcar or Sixt. There are also credit card programs that offer membership rewards for SkyMiles members. The partners include Diners Club, HSBC, Citibank Visa / MasterCard and American Express.
After accumulating reward miles, members can be redeem them for airline tickets, mileage upgrades, car rentals, hotel stays, merchandise and gift cards. And those who've reached Medallion status, they enjoy a range of benefits that include complimentary upgrades, companion upgrade, priority wait-list, same-day standby, mileage bonus, waived baggage, priority boarding, priority check-in, priority baggage handling and more. Medallion status levels include: Silver, Gold, Platinum and Diamond.
Delta Airlines is the world's largest airline and currently flies to over 350 destinations in nearly 70 countries, serving more than 170 million passengers each year. Delta is headquartered in Atlanta and employs more than 80,000 people worldwide.
In 2010, frequent flyers redeemed more than 230 billion miles in the SkyMiles program for more than 11 million award redemptions.