Switzerland is a dream destination for every traveler. When we think of Switzerland, the images of Alpine hills and green valleys instantly pop up in our heads, and what's better than to experience the heavenly views of Switzerland through a lake cruise?
Lake Lucerne, also known as the Lake of Four Cantos, is the principal lake of central Switzerland. This famous lake is surrounded by steep limestone mountains and promises a majestic view of thick forest and vast expanses of clear blue water. To experience the natural wonder and beauty of the Swiss landscape, there are regularly scheduled cruise services and other exciting activities in the lake area.
Timings & Ticket Info
Lake Lucerne is open 24 hours, and you can visit any time of the day. However, visitors are recommended to choose daylight, preferably between 11:00 am to 5:00 pm, to get the best view of the lake. It takes about 2 hours to complete a cruise or ferry trip; hence select a suitable time for the cruise and plan your visit accordingly.
No entrance fee is required to visit Lake Lucerne; however, you need to buy tickets to avail the cruises and take a tour of the beautiful lake. You can book the tickets online before your visit or buy them at the ticket booth on the boat. The ticket price starts from CHF 21.80 for a one-way trip from Lucerne to Fluelen. You can then take a train to return to Lucerne. A short round trip costs CHF 56 and takes up to 2 hours. A day pass costs CHF 77 and allows you to travel a full day on the lake and in any direction.
You can also book combo tickets if you plan to explore any mountain excursion along with the cruise trip. Combo tickets include traveling to places like Rigi, Beckenried, Pilatus, and Treib-Seelisberg at a discounted price. Another great way to save a few extra bucks is to buy an annual pass and enjoy a year full of free travel to Lake Lucerne. The ticket includes all types of cruises and gives you promotional offers on charter cruises. There are two categories of the annual pass priced at CHF 399 and CHF 299.
How to Reach
If you are taking a car, drive to Lucerne. It takes around 50 minutes to drive from Zurich to Lucerne. You can park your car at the underground train station of Bahnhof and then walk up to the pier. The parking areas have three spots, each with specific charges. Choose the one according to your suitability and availability. However, the most effortless public transportation to reach Lucerne is by train to Lucerne, Bahnhof. You can straight walk towards the water by exiting through the main entrance. This way, you can avoid the hassles of finding a parking spot.
Things to Do in and Around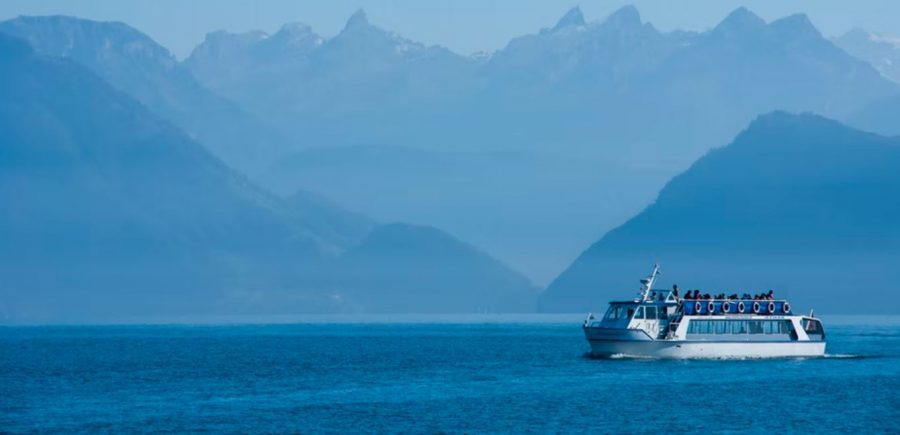 Besides marveling at extravagant sceneries from cruises, Lucerne and its nearby places have much more to offer. For starters, book a half-day tour to Zurich with Lake Cruise and a unique attraction of a trip to Lindt Home of Chocolate. Visit the city's top attractions, including the Opera House, National Museum, Old Town, and the newly launched chocolate house. In the Home of Chocolate, you can taste as much chocolate as you wish and experience the world's highest free-standing chocolate fountain.
Moreover, you can choose from various tour options the tour companies offer. Examples include the Rhine Falls Tour from Zurich, the Swiss Alps Day Tour, Zurich Old Town Walking Tour, and many more. Viator, which is a marketplace for tours and activities, has a number of day trips you can explore.
How to Get Help
The office of Lucern's official tourism is located at Zentralstrasse 5 CH-6002. You can visit the information center for assistance or call +41 (0) 41 227 17 17. For queries via email, you can write to to [email protected]