7-Eleven is a well-known convenience store brand that originated in the USA that has spread to most parts of the world. 7 – Eleven has made its mark in Taiwan too, and is currently the largest convenience store chain in Taiwan with over 6500 stores across the country.
Introduced in Taiwan in 1979, 7-Eleven has earned itself the unique nickname of 7-Eleven Food Heaven. This is because these stores play a significant role in the society of Taiwan and are hubs of social activity. 7-Eleven stores often have city café sections where one can sit down and have a snack or sip on a drink or beverage. The stores operate long hours, many open 24×7, and are the first choice of Taiwanese shoppers at all times of the day or night. Most 7-Eleven stores are located next to hotels and are frequented by travelers and hotel guests to savor the unique snacks of Taiwan.
How to Contact For Help
If you are a regular at 7-Eleven and have a query or feedback, here is what you can do. For store-related queries, you can call 0800-008711. If it is specifically on online shopping, you need to call (02) 2721-4234.
Prefer sending an email? This is the email (711ec@sp88.com) to send your comments. 7-Eleven has its regional headquarters located at Dongxing Rd Fl 2 No 65, Taipei City, Taiwan.
Store Loved Across Taiwan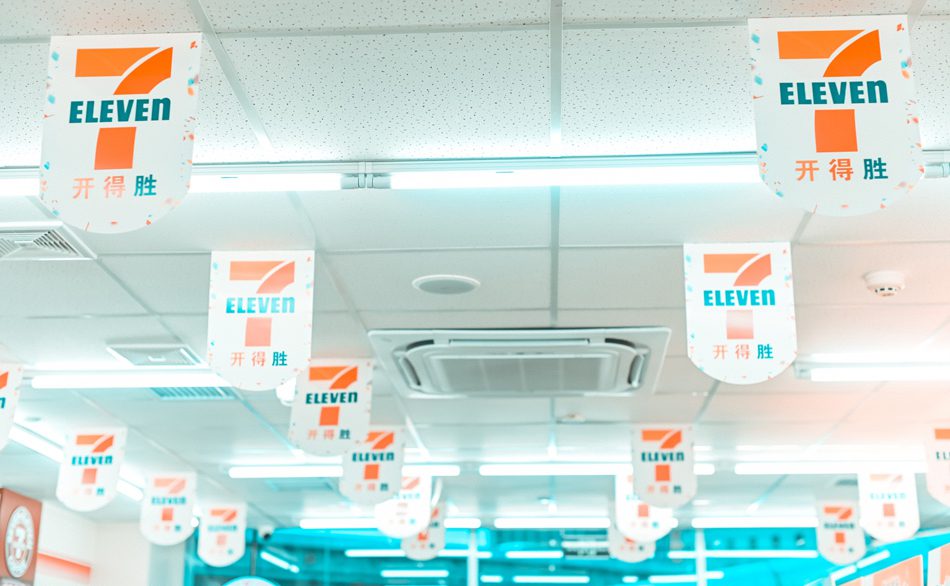 While 7-Eleven has seen success across the globe, it has a unique success in Taiwan as it has adapted to the needs of the Taiwanese people and integrated itself into the social fabric of the country. As in most south eastern countries, the Taiwanese are hardworking people who are always on the go and do not have time to linger over meals.
7-Eleven is a savior to the Taiwanese population as it offers a wide range of freshly prepared meals that one can pick up quickly and eat on the go. One of its innovations- the self-checkout kiosks, have become a big hit with the Taiwanese, as it helps speed the check-out process. Along with being very convenient, these meals are affordable and high on quality and flavor.
The Taiwanese 7-11s have a unique local character and stock special Taiwanese treats that attract both locals and visitors to its portals. The first thing you smell on entering a 7-11 is the aroma of oden hot pots. You can browse the aisles for local delicacies such as fish skin crisps, tofu, onigiri, sandwiches, squid balls, Chinese tea eggs, a variety of microwave meals, instant noodles and many more specialties. There are fresh fruit and vegetables, beverages, dairy products, daily needs, beauty and health products and anything else one may need for day to day living. This makes The Taiwanese 7-11 outlets a one top shop for groceries, drinks and local needs.
The staff at the 7-11 stores are helpful and very friendly, making shopping there a pleasure. They have a customer loyalty program that rewards customers for every purchase they make. So, they enjoy a very loyal customer base. 7-11 Taiwan is very committed to reducing its carbon footprint and has taken up a number of socially responsible initiatives to reduce environmental degradation such as the plastic -free hot food carriers , innovative packaging material and recycling efforts.
All 7-11 outlets in Taiwan accept all digital payment formats, making it easy and quick to check out. If you feel the need to pay with cash, there are ATMs at convenient locations in the outlets.