The Dubai International Airport has been one of the major landmarks of the UAE, connecting the federation of seven emirates to the rest of the world. Established in 1960, it is also one of the most popular international airports, welcoming more than 89 million passengers every year.
Spread across a total area of 7,200 acres, the Dubai Airport consists of three terminals, namely – Terminal 1, Terminal 2 and Terminal 3. The Terminal 1 primarily caters to international flights and has an overall capacity to handle 20 million passengers annually. It is also connected to the Concourse D of the airport.
Terminal 2 also handles international flights, but its capacity is quite limited at 5 million passengers annually. Lastly, Terminal 3 exclusively helps in the operations of all Emirates Airlines Flights (arrival and departures). Additionally, Terminal 3 is also connected to three concourses, namely A, B and C.
What are the Available Parking Options
When you arrive at the Dubai International Airport, you will have access to long-term as well as short-term parking options. Short-term parking options can be obtained at all three terminals – with both 'Premium' and 'Economy' options – except for Terminal 3 which only offers a single rate.
Similar opportunities can be obtained for long-term parking options as well. Additionally, passengers can make use of free parking space at the DWC (Dubai World Central) for both arrivals and departures.
Whether you are waiting for your flight or just have arrived at the Dubai International Airport, there are plenty of amenities available within the airport premises that will make you feel right at home. To start things off, there are multiple airport lounges, where you can have a hearty meal, sip some beverage or simply reinvigorate yourself with a massage.
You also get access to a slew of well-known restaurants serving top-notch quality food. Outlets such as KFC, Starbucks, McDonald's, Jacks Bar and Grill and Burger King have you covered if you want a quick bite to eat. Not to mention, there are also sleep and shower facilities within Terminal 1 and Terminal 3.
How to Book Parking Online at Dubai Int'l Airport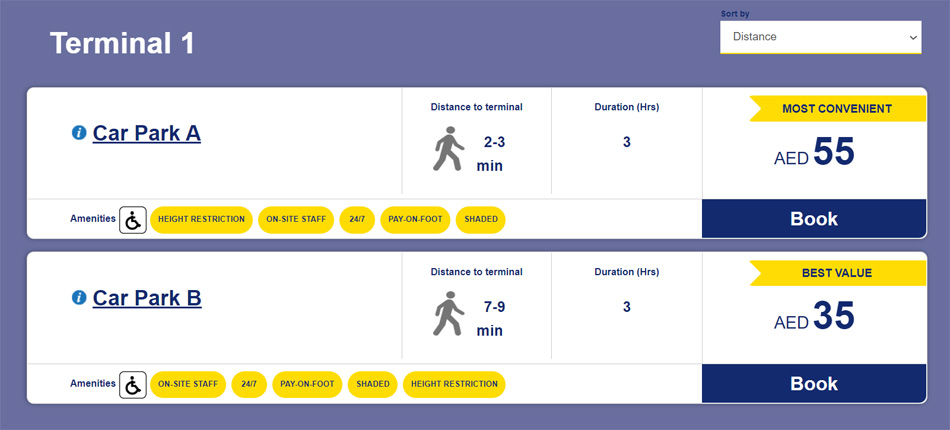 To ensure that you get access to your parking space the moment you arrive at the Dubai Airport, follow the recommended steps below to book yours today.
Begin the booking procedure by visiting the website here.
Proceed to select the terminal you are wanting to park your vehicle. Then select your arrival date and time along with your departure date and time. You can also check the price list for parking at each terminal here.

Once you have entered your details, click on 'Get Quote' and the online system will provide you with a range of parking options to choose from. Select the parking space you prefer based on the price that is being charged, the distance to travel from the terminal and the various facilities that are on offer (on-site staff, pay-on-foot, shaded, etc).

After you select 'Book' for your choice of parking space, you have to enter your personal information on the next page. These include your name, email address, mobile number, vehicle information and so on. Additionally, if you have a promo code, then you can enter the same in the 'Add Promo Code' box and then click 'Apply'.

On the subsequent web page, you will have to pay for your parking ticket online. Once the payment is successful, you will receive a confirmation message on your registered email address. Proceed to print that confirmation ticket and carry the same with you when you arrive at the airport.
What is the Cancellation and Refund Policy
The authorities at the Dubai International Airport allow parking reservations to be cancelled or amended up to 24 hours before the start of your booking period. Also, remember that amendments may require additional charges or result in refunds based on changes that will be made.
To cancel or amend your parking booking, you have to visit the official 'Manage My Bookings' page here. Proceed to enter the email address that is used for booking the parking space along with the booking reference number. From there, you can make the changes.
Apart from that, you can also get in touch with the Dubai Airport authorities by calling +971 4 224 5555. The contact centre is open round the clock.
Third-Party Parking Options
If you are looking for third-party parking options within the vicinity of the Dubai International Airport, then you can proceed to book your parking space via ParkMe. Some of the parking garages around the airport include the VIP parking space at Le Meridian Hotel (500 parking spaces) as well as the Premier Inn Hotel (72 parking spaces). Both places offer long-term as well as short-term parking options. It is also compulsory that you pre-book your parking space before your arrival.