Target is the seventh-largest retailer in the United States, featuring a robust brand reputation and a wide selection of products at convenient locations. Originally founded in 1902 as the Dayton Dry Goods Company by George Dayton, the company is currently headquartered in Minneapolis, Minnesota.
Over its lifetime, Target has become synonymous with comfort, quality, and affordability. Showcasing shopping categories that range from groceries and apparel to home goods, Target has established itself as a go-to store for millions of customers in the US. With its efficient supply chain and up-to-date technology, Target enables customers to purchase items quickly and conveniently from their mobile devices or at stores.
Target also caters to its customer's needs by offering promotions, discounts, specialised delivery services, etc. And with a workforce of more than 440,000 employees, the company ensures that customer service remains a top priority. So, whether customers are looking for everyday essentials or on-trend fashion pieces for every season, Target has the inventory prowess to provide them with the goods that they require.
How to Apply For Job Online?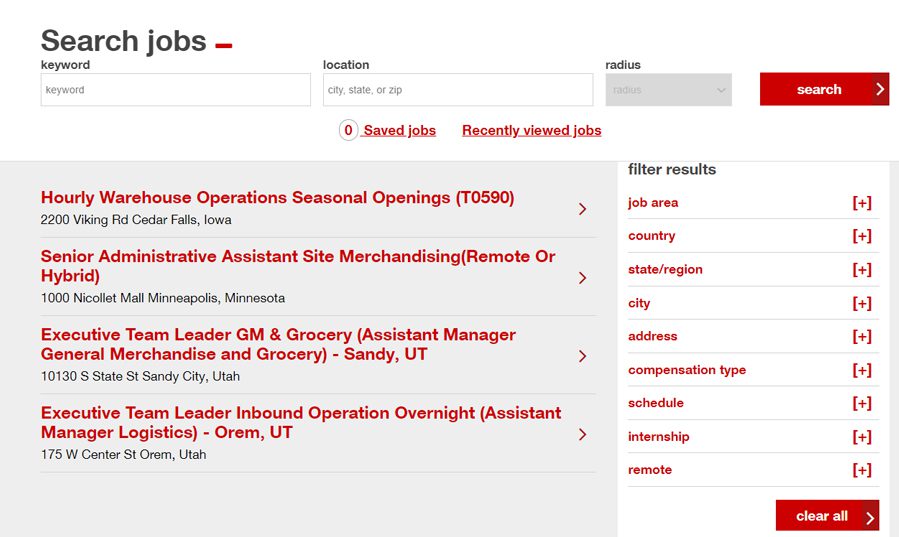 Working at Target is all about believing in collective power and enjoying continuous learning and development. If you share similar values and want to take your career forward, then follow the below-mentioned steps to apply for a job at Target.
Start the online application process by heading over to the official website here.
On the landing page, click on "Browse Job Listings". Additionally, you can also filter your choices by using metrics such as keywords, location, and radius.
Proceed to browse through the available job postings and click on the one that intrigues you the most.
A new web page will open stating the job description, responsibilities, and required qualifications. If you are satisfied with what you see, click on "Apply Now". Otherwise, you can select "Save Job" to revisit at a later date.
If you have decided to apply, you will have the option to auto-fill your application using your resume or manually. Additionally, if you have a LinkedIn account, you can use your account to directly apply for the job position.
In the next step, you will be required to sign in or create a Workday account using your email address. Keep in mind that this email address will be used as a primary source of communication, so make sure you use your personal email ID and not a shared one.
Once logged in, proceed to fill out your application form (either via your resume or manually).
After successful submission of your application form, you will receive a confirmation message on your email address. Additionally, if your application is selected for the hiring process, you will receive a follow-up message from the company asking you to set up the interview process.
What are the Popular Job Positions Available?
Some of the popular job positions that one can explore at Target are Cashier And Checker, Warehouse Worker, Retail Sales Associate, Stock Clerk, Sales Associate, Store Manager, Graphic Designer, Operations Manager, Administrative Assistant, Security Officer, Data Scientist, Software Engineer, Merchandiser, Forklift Operator, and HR Generalist.
With that being said, interested individuals can also apply at Target via multiple well-known third-party job portals such as Glassdoor, LinkedIn, and Indeed. Job seekers are recommended to first register themselves on the aforementioned platforms before deciding to track down desirable job offers.
What are the Employee Benefits and Perks Offered?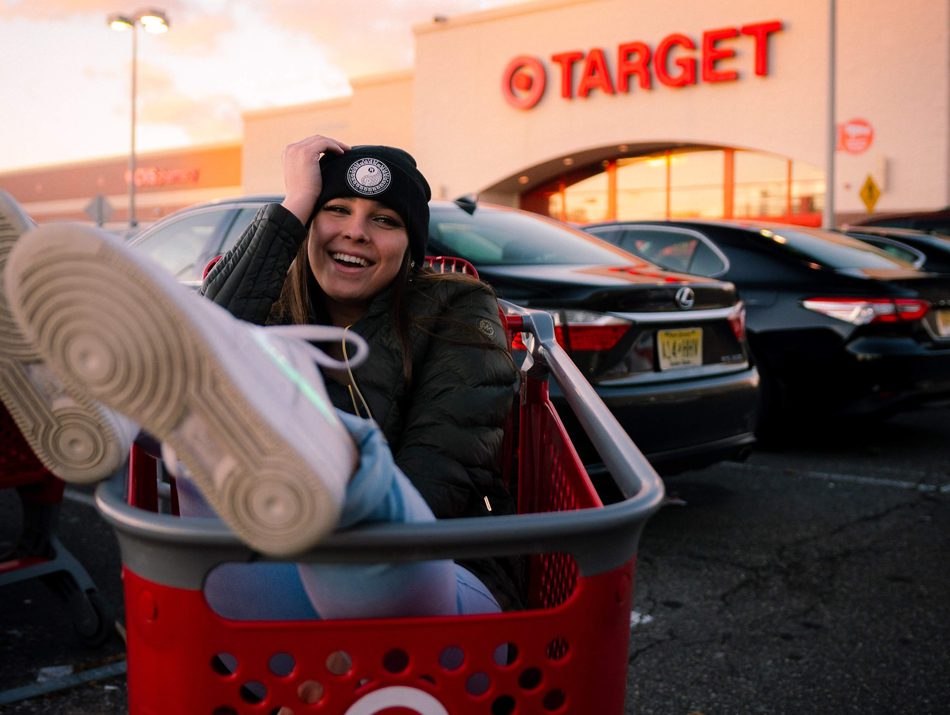 At Target, employees are expected to foster a culture where they can grow and care together. The company consistently invests in its employees, thereby giving them opportunities not only to grow professionally but also to make a difference for Target and its surrounding communities. Such vision allows them to attract and retain top talent over the years while also meeting their evolving needs. Some of the most essential employee benefits provided are listed below.
Physical Health: Eligible employees working at Target in US receive comprehensive health benefits, which also include vision, medical, dental, and more. Additionally, employees are also entitled to 24×7 virtual healthcare visits and access to a free well-being and fitness platform.
Mental Health: When it comes to mental health, employees are also supported with 24×7 access to trained clinicians through the company's employee assistance programme. A self-paced cognitive-based therapy programme is also available for employees at no extra cost to cover concerns relating to sleep, anxiety, and substance misuse.
Education Assistance: With industry-leading education assistance benefits, employees are supported with continuous learning so that they can build skills for a lifetime. The company's "Dream To Be" programme, in conjunction with Guild, allows employees to have access to tuition-free options across 250 business-aligned programmes from over 40 schools.
Competitive Pay: Since Target recruits and retains a highly engaged and diverse team of individuals, the company offers not only competitive pay but also variable pay programmes to all eligible team members for their stellar performance.
Financial Well-Being: At Target US, employees are provided with a 401(k) plan with matching contributions of up to 5 per cent of eligible earnings. Additionally, employees also enjoy a 10 per cent discount offer on merchandise and a 20 per cent discount on Target's wellness items.