Contact Exide Industries (India): Find below customer service details of Exide India, including phone and address. You can reach the below contact for queries or complaints on Exide batteries, store locations, service centers, warranty or other questions. Besides contact details the page also offers information on Exide's products and services.
Exide Head Office
Exide Industries Limited
Exide House, 59E Chowringhee Rd
Kolkata-700020
Phone: 033-22832120/33
Exide Customer Care
Have a complaint, query or feedback on Exide batteries or other products? Reach the customer care at the below number.
Phone: 1800-103-5454
Regional Offices
Chennai: 044 – 22500726
Mumbai: 022 – 26465283/84
Kolkata: 033 – 22843137
Delhi: 011 – 23627095
Service Centers
Delhi: 011 – 41845031/32
Chandigarh: 0172-5000014
Lucknow: 0522 – 4041896
Kolkata: 0522 – 4041896
Guwahati: 0361 – 2655436
Bhubaneshwar: 0674 – 2431847
Mumbai: 022 – 27750277
Ahmedabad: 079 – 26856697
Chennai: 044 – 26495008
Hyderabad: 040 – 64554697
About Exide Industries (India)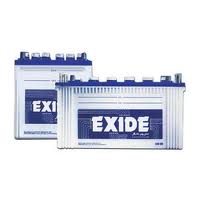 Exide began in India as Associated Battery Makers (Eastern) Ltd in the year 1947. The company was christened as Exide Industries Ltd in 1995. A leading manufacturer of storage batteries, Exide has six manufacturing facilities across India. The company sells automatic batters under the brands Exide, SF, Sonic and Standard Furukawa. As for industrial batteries, it sells products unders brands Index, SF, Ceil and Power Safe. The company also manufactures high-end submarine batteries. Some of Exide's subsidiaries include Espex Batteries Ltd, Chloride Power Systems and Solutions Ltd, Chloride Alloys India Ltd and Chloride Metals Ltd (CML).
Exide is headquartered in Kolkata and has offices spread out across all major cities in the country. The leading manufacturer of lead acid batteries in India and South Asia is the sole supplier for submarine batteries to the Indian Navy. Exide's products are used in several industries that include Railway, Defense, Mining, Hospitals, Airlines, Tele-Communications and Power Stations. As of 2011, Exide employed over 5,000 people and has over 3000 authorized dealers across the country. In 2011, the company had gross sales of Rs 5,558 crores.