Find below the customer service details of Ameris Bank. Besides contact details, the page also offers a brief overview of the banking company.
Head Office
3490 Piedmont Rd,
NE Ste 1550 Atlanta,
GA 30305-4800,
United States
Support
Phone: 866-616-6020 (general)
Phone: 855-249-8131 (mortgage)
______
About Ameris Bank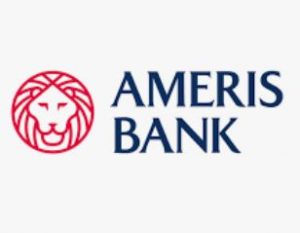 Every person, family and business needs a bank that they can trust and count on in times of need. Ameris Bank, a banking and financial services company, provides that confidence and trust to thousands of customers in the Southern Eastern and Mid-Atlantic states of the United States. It was founded in 1971, with its headquarters in Atlanta, Georgia. Ameris Bank is a subsidiary of Ameris Bancorp, a bank holding company that services the states of Georgia, Alabama, South Carolina, North Carolina, Tennessee, Virginia and Maryland. It has on rolls close to 3000 employees, ready to help the customer with financial services and solutions.
Ameris Bank was built on the belief that every person has boundless potential and that with proper planning and financial health, they could achieve whatever they dreamt of. This dream could range from simple shopping to huge, life-changing plans, and Ameris Bank has pledged support to render advice, insight, resources and necessary tools to turn those dreams to reality. They think out of the box in providing solutions to their customers and are not limited by traditional boundaries. They will go that extra mile to get their customers the required help.
No wonder then, that Ameris Bank has played a crucial role in supporting and building up the communities they operate in. It has seen them through good times and rough times- ensuring that the community thrives and succeeds. What started as a one-location bank with a capital of $1 million currently operates from over 180 locations and has a current revenue of $534 million – that shows how far it has come in earning the trust of the customers.
Ameris Bank now services customers from across the United States through online banking. It provides full banking services to its banks in Alabama, Florida, North and South Carolina, and Georgia. In the other locations, it provides only mortgage services. Ameris Bank is the preferred option for businesses, personal banking and for wealth management.
For businesses – both large and small, Ameris Bank provides checking services, savings accounts, certificates of deposit, money market services, online banking facility and mobile banking. Customers can also avail of the borrowing services such as commercial lending, SBA lending, equipment financing, agri-business lending, municipal lending, premium financing and avail of lines of credit. Ameris Bank also provides residential builder financing, warehouse participation financing and wholesale lending. Businesses can also avail of credit cards for ease of doing transactions.
One can go to Ameris Bank for all treasury services such as payables, receivables, account management, fraud prevention and employee benefits. Individual customers can avail of the checking and savings services, student banking and at-work banking facilities provided by Ameris Bank. They can apply for debit cards and use the digital banking facility. Those with large estates, wealth and inheritances, can make use of the bank's expertise in wealth management and plan for optimum use of funds and resources. One can plan for retirement and steady income plans that Ameris Bank advises to its customers.