OhioHealth is an American not-for-profit healthcare organization, headquartered in Columbus, Ohio. Founded in 1891, the system consists of around 12 hospitals featuring more than 200 ambulatory sites, home health, hospice, medical equipment, and other related services.
As of the current day, OhioHealth has a presence in 47 Ohio counties, employing a total workforce of more than 35,000 physicians, volunteers, and associates. Such a large employee base allows the system to churn in a combined net revenue of more than $4.3 billion.
The vision of OhioHealth has been to enhance the lives of Ohio residents while also being the most trusted healthcare organisation in the state of Ohio. The healthcare system's success depends on four crucial values: excellence, compassion, integrity, and stewardship.
OhioHealth was recognized as one of the top ten best healthcare systems in the United States for three years in a row by Thomson Reuters. It was also named in the "Top 100 Best Companies To Work For" by Forbes from 2007 to 2018.
How to Apply For Job Online?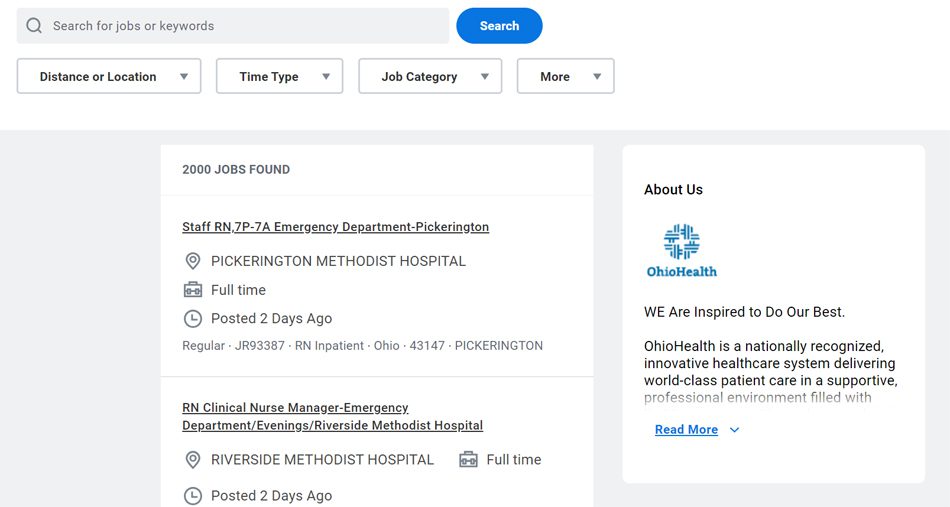 If you are passionate about working in the healthcare industry and want to be part of a team that is responsible for delivering world-class patient care, then landing a job at OhioHealth can be beneficial. To kickstart your application process, follow the below-mentioned steps judiciously.
Begin your journey by visiting the official website here.
On the landing page, you will be asked to choose between different career paths that you would like to follow. The options will include clinical and non-clinical careers, physician careers, and careers at the South-Eastern Medical Centre.
Once you have decided the career trajectory that you want to follow, click on "Search Now".
A new web page will open showcasing the available job openings. Browse through the available list of jobs to find the one that suits your skillset the most.
After you have found the ideal job listing, click on the job title. You will then be given a rundown of what the job responsibilities include, the minimum qualifications you require to apply, and the time and department you have to work for.
If you are happy with the job description, proceed to click on "Apply". You will have the option to apply directly with your resume or fill in the details manually. Additionally, you can also apply using your LinkedIn account.
In the next step, you will be asked to create a WorkDay account, after which you will be able to successfully apply for the job.
Once you submit your application successfully, you will receive a confirmation message in your email.
What are the Popular Job Positions Available?
Some of the popular career options available at OhioHealth include Registered Nurse, Nurse Practitioner, Administrative Assistant, Pastor, Clinical Pharmacist, Graphic Designer, Phlebotomist, Executive Assistant, Speech Language Pathologist, Clinical Research Associate, Pharmacy Technician, Pharmacy Assistant, and Medical Assistant.
Having said that, job applicants can also apply for OhioHealth through third-party, well-known job portals such as Glassdoor, LinkedIn, Indeed, and Flex Jobs. We recommend interested individuals to first register themselves on the aforementioned platforms before tracking the open job positions.
What are the Employee Benefits And Perks Offered?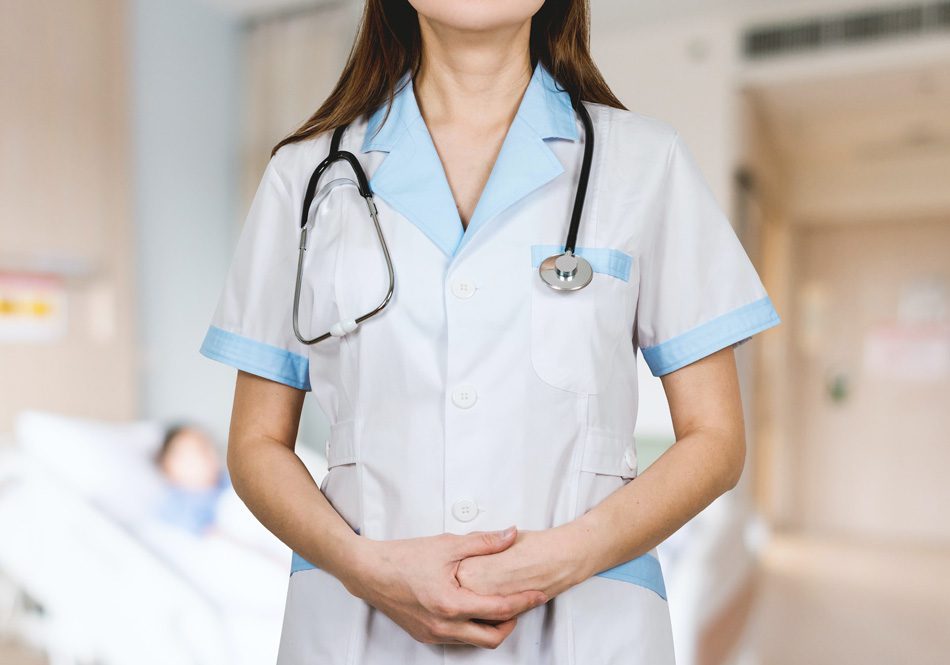 Working at OhioHealth can be a dream come true for many individuals, especially because of the range of benefits and perks they offer to their employees. From medical assistance to financial support – OhioHealth ensures that its employees stay healthy and productive all year round. Some of the most noteworthy benefits provided are listed below.
Medical Assist: OhioHealth offers a variety of medical insurance plans to its employees that include HMO (Health Maintenance Organization), PPO (Pension Payment Order), and POS (Point Of Service). Additionally, the company also offers an HDHP (High Deductible Plan) combined with an HSA (Health Savings Account), so that out-of-pocket medical expenses can be covered.
Insurance: Employees working at OhioHealth get access to dental and vision insurance. Additionally, life and long-term disability insurance plans are also provided. Plus, permanent life insurance with LTC (Long Term Care) is added to provide help to the families of employees in case of accidental death. Apart from the aforementioned insurance benefits, employees also enjoy accidental injury expenses, hospital indemnity insurance, critical illness insurance, and insurance for managing cancer.
Retirement Benefits: Employees who are hired at OhioHealth before 2012 will be entitled to OhioHealth's Cash Balance Retirement Plan along with the traditional 403(b)/401(k) Retirement Savings Plan. On the other hand, employees who are hired after 2012 will be subjected to OhioHealth's Annual Retirement Contribution apart from the usual Retirement Savings Plan.
Financial Benefits: At OhioHealth, employees will have the opportunity to open up multiple flexible spending accounts so that they can save money before paying taxes. This is to ensure that life savings are available during life's difficult moments. Additionally, employees are entitled to student loan relief benefits, associate discounts, education benefits, and purchasing financing benefits.
In addition to the above-mentioned advantages, OhioHealth offers its employees various well-being programmes, employee assistance programmes, adoption assistance, pet insurance, and auto and home insurance.