Touted to be the best of British hospitality, Hilton UK is a place where comfort meets luxury. Known for their luxurious accommodations, award-winning amenities, and stunning customer service, Hilton hotels offer visitors a world-class experience.
The company boasts a massive portfolio of over 160 hotels across the country that can suit users based on their budgets and needs. From the affordable Hampton by Hilton to the beautiful Waldorf Astoria Edinburgh – accessibility is a key feature for all Hilton UK hotels – making them ideal for leisure and business travellers alike. So, whether you are in for a family vacation or an opportunity to explore a new culture, staying at one of Hilton's properties in the United Kingdom will give you pleasure like no other.
Hilton UK is also a fantastic place to work, especially for individuals who are looking to explore the hospitality industry and take their careers further ahead. Additionally, working at Hilton UK can also help you enhance your communication and networking capabilities within the industry, ultimately benefiting you at a later stage in your career.
How to Apply For Job Online?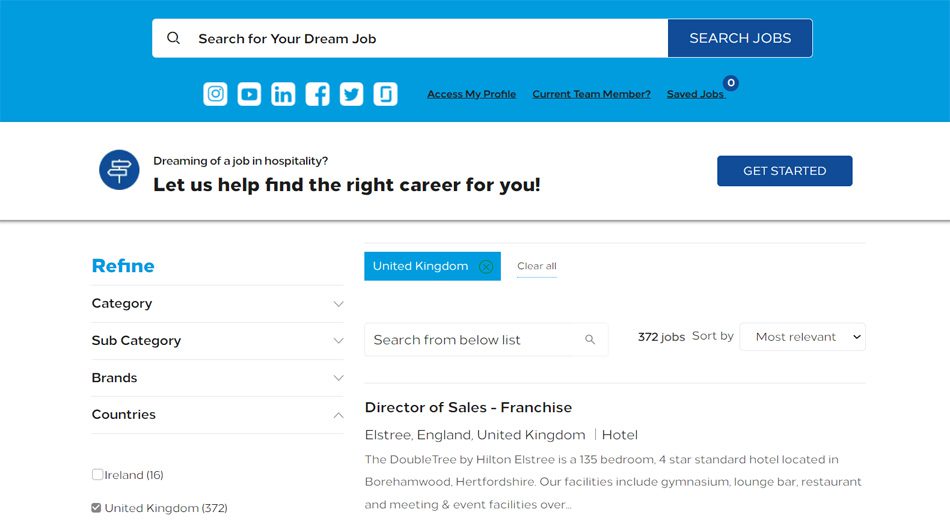 Applying for a career opportunity at Hilton UK requires following some meticulously crafted steps, which can be found mentioned below.
Begin the online application process by visiting the official website here.
On the landing page, you will be presented with two primary career paths to choose from – "Hotels" and "Corporate". However, if you are looking for university programmes and campus recruitment, then the "University" option will be more suitable for you.
Once you have selected your preferred career path, a new web page will open showcasing the list of available jobs ready to be applied for.
On the left-hand side of your screen, under the option "Refine > Countries," select "United Kingdom". Additionally, you can also refine your results based on brand, state, city, employment type, and hotel.
Proceed to browse through the available options, and if any specific job catches your interest, click on the job title. You will be provided with a thorough description relating to the job that you have selected, such as your salary, benefits, key responsibilities, qualifications required to apply for the job, and some additional information.
If you are satisfied with the job terms and conditions offered, then select "Apply Now".
You will be redirected to another website where you have to first accept the privacy agreement and then sign in to your Hilton account. If you do not have an account, you can register one using your email address. Additionally, you will also have the option to sign in directly via your LinkedIn account (if you have one).
After that, proceed to apply for the job position using your resume or CV. Also, you can add a cover letter to make your application stand out from the rest.
Once you have successfully submitted your application, you will receive a confirmation message on your registered email address.
Lastly, keep an eye out for any follow-up email from the company, confirming your application selection and the need to set up the personal interview process.
What are the Popular Job Positions Available?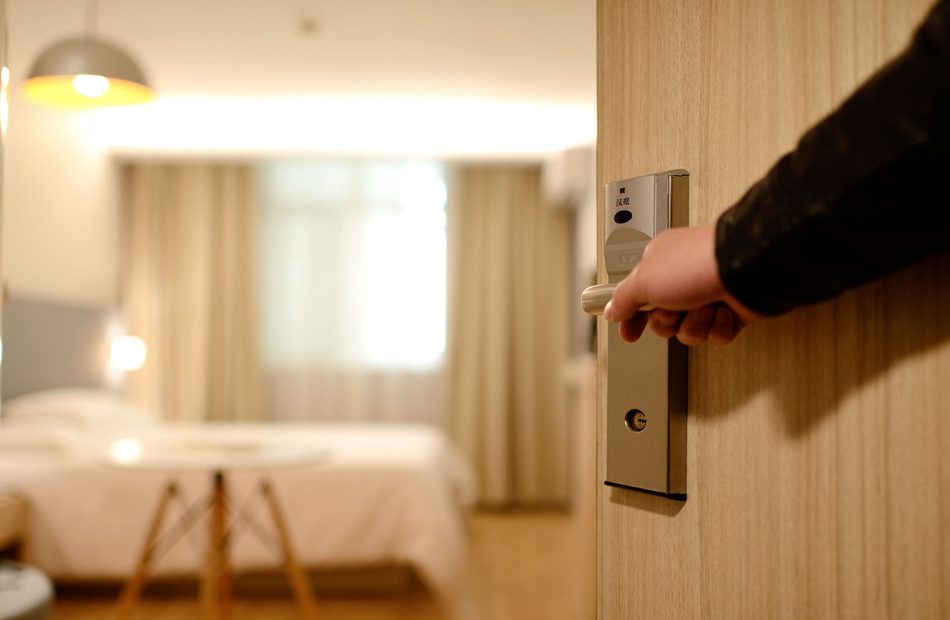 Some of the most popular career options that one can explore at Hilton UK are Housekeeper, Hotel Manager, Server, Chef, Receptionist, Food And Beverage Manager, Guest Services, General Manager, Front Desk Agent, Bartender, Security Officer, Security Manager, Personal Trainer, Finance Manager, HR Generalist, Electrician, Customer Relations Officer, and Accountant.
It should also be known that job seekers can alternatively apply at Hilton UK through well-known third-party job portals such as LinkedIn, Glassdoor, and Indeed. However, job applicants are requested to first register themselves on the aforementioned platforms before deciding to explore the open job positions.
What are the Employee Benefits and Perks Offered?
Working at Hilton UK comes with a whole slew of industry-leading benefits that are not only limited to financial aid but also include assistance that can support your professional performance and well-being. The company always ensures that it takes care of its employees in the same manner as its guests, ultimately propagating a positive and competitive internal work culture. Some of the notable perks that you should know about have been mentioned below.
Financial Wellness: At Hilton, employees are provided with multiple avenues of financial assistance, including the Employee Stock Purchase Plan (ESPP), a retirement readiness programme, financial literacy webinars, and access to same-day earnings using DailyPay.
Go Hilton: With the "Go Hilton" programme, employees and their families can create unforgettable memories with deeply discounted stays at hundreds of Hilton hotels and resorts around the world.
Parental Support: Hilton ensures that employees are supported in their personal life journeys through programmes such as adoption assistance, generous paid time off, industry-leading parental leave, and a personalised Parent Concierge.
Professional Recognition: Recognising and celebrating the dedication and contribution of employees to the company is a core part of the Hilton culture. Such is the reason why programmes such as "Team Member Appreciation Week" and "CEO Light And Warmth Award" showcase personal and professional milestones.
In addition to the above-mentioned advantages, Hilton employees are also entitled to four-week ($5,000) or one-week ($2,000) sabbaticals and $25/month gym memberships.