Contact FedEx: Phone numbers of FedEx customer service
Contact FedEx: Find below customer service details of FedEx couriers, including phone and address. You can reach the below contact for queries on FedEx locations, drop off points, freights, FedEx tracking, cargo, home delivery, FedEx international priority, courier rates, stores, ground tracking, pickup locations or other queries on FedEx services.
FedEx Head Office
FedEx Corporation,
3875 Airways, Module H3 Department 4634
Memphis, TN 38116
United States of America
FedEx Customer Service
Phone: 1-800-GoFedEx (1-800-463-3339)
Phone: 1-800-238-4461 (TDD service)
Reach the above FedEx phone numbers for customer support of FedEx shipping, freight tracking, complaints or other FedEx queries
International Customers
Phone: 1-800-247-4747
Billing Inquiries
Phone: 1-800-622-1147
Fax: 1-800-548-3020
Reach the above FedEx phone number for FedEx billing queries
Cargo Claims
Phone: 1-800-463-3339
Fax: 1-877-229-4766
Reach the above FedEx phone number, fax for FedEx cargo claims

Freight Services
Phone: 1-800-332-0807
Reach the above FedEx phone number, fax for FedEx freight services
FedEx International Phone Numbers
Below given are the customer service phone numbers of FedEx worldwide. You can contact the respective country for complaints or queries on FedEx services
ASIA

Australia
P: 13-26-10
P: +61132610
New Zealand
P: 0800-733339
P: +6492565382
Indonesia
P: 0 800 1 888 800
P: 6221 75998800
India: 1 800-22-6161
Fiji: 679 722 933
Cook Islands: 682 23361
Hong Kong
P: (852) 27303333
Macau: (853) 703333
Peking: 400 886 1888
Thailand: 6622298900
Korea: 080 023 8000
Philippines: 632 855 8484
Taiwan: 0800-075-075
Shanghai
P: 400 886 1888
P: 8621 5257 4620
Guangzhou
P: 400 86 1888
P: 8620 8763 2866
Malaysia
P: 1800-886363
P: +603 7721 1388
Singapore
P: 1800-7432626
P: (65) 67432626
Cambodia
P: 855 23 426 931
P: 855 23 21127
Vietnam
P: 1800 585835
P: 848 3948 0370
Ho Chi Minh: 848 200 747
Hanoi: 8448249-054
Japan
P: 0120-003200
P: (81) 43-298-1919

EUROPE

Austria: 0800 123 800
Belgium: 02 752 75 75
Denmark: 70 233 332
Estonia: 8002345
Finland: 010 800 515
France: 0820 123 800
Germany: 01803 123 800
Ireland: 1800 535 800
Lithuania: 8800 20200
Luxembourg: 8002 35 55
Netherlands: 0800 0222 333
Norway: 63 94 03 00
Spain: 902 100 871
Sweden: 0200 252 252
Switzerland: 0848 1 33339
UK: 08456 070809

LATIN AMERICA

Argentina: 011-5411-4630-0300
Brazil: 0800 703 3339
Chile: 011-562-361-6111
Dominican Rep: 1-809-565-3636
Jamaica: 1-876-960-9192
Mexico: 011-525-55-228-9904
Panama: 1-507-271-3838
Puerto Rico: 1-787-793-9300
Trinidad: 1-868-645-2579
Uruguay: 011-598-2-628-0100
Venezuela: 011-58-212-205-3333

MIDDLE EAST/AFRICA

Bahrain: 973-17-334448
Israel: 1-700-700-339
Kuwait: 965-1802233
Saudi: 9661 463 3999
UAE: 800 33339
S. Africa: 27-11 923 8000
_________
Track FedEx Shipments
Click here to track your FedEx shipment. You can track your package through tracking number, door tag numbers or order numbers.
FedEx Locations
To locate a FedEx office nearest to your street click here. You can filter results through zip code, address, city, state or phone number. You can also filter your search by types of locations such as FedEx staffed, FedEx Office, FedEx self service, FedEx Authorized ShipCenter or by FedEx services such as Express drop-off, Express Hold, location that accepts cash, airport location, FedEx Return System, packing services or Direct Mail services.
Schedule Pick Up
Want a FedEx ground staff to pick a package from your address? Click here for access to pickup
Calculate Rate/Transit Time
To calculate rates or transit time required for your shipments click here. You need to enter from/to details along with the weight and number of packages to get transit time and rates. You can also get rates and transit times for freight services.
Claims For Damage
Want to make a claim on a shipment made through FedEx? Click here to submit a claim online. You will also need to upload supporting documents for the claim you make.
Packaging Services
You can have FedEx pack your shipment with fitting boxes and cushioning materials to protect items in transit. You can choose from FedEx standard packing, custom packing and high-tech packing (for laptops, mp3 players etc). Call 1-800-463-3339 for more details. You can also write to packagingservices (at) FedEx.com for enquiries.
My FedEx Rewards
As a member of FedEx rewards you can earn points every time you use FedEx to send your shipment. You get access to exclusive offers and promotions. FedEx reward points expire in two years after the date you earned them. You can redeem your points for a reward. For more details click here
About FedEx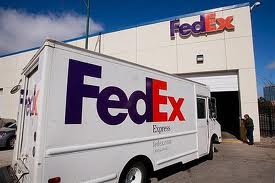 FedEx was founded by Frederick Smith in the year 1971 as Federal Express Corporation. FedEx currently handles over 8.5 million shipments each day. The world's largest express transportation company, FedEx, delivers parcels to more than 220 countries. Headquartered in Memphis, Tennessee, FedEx has about 1,800 offices worldwide in addition to over 6,000 Authorized ShipCenters and 43,000 Drop Boxes. FedEx has close to 700 aircrafts serving more than 300 airports worldwide. In fact FedEx website has over 32 million unique visitors a month and orders for more than 20 million packages each month. The company employs some 290,000 people across the world.
In Asia, FedEx serves more than 30 countries and operates about 400 flights each week. Hong Kong is the Asia Pacific headquarters. In Europe, FedEx covers some 75,000 post codes and has hubs at Paris, UK and Cologne. When it comes to Latin America, FedEx serves more than 50 countries with about 100 flights per week. In 2010, FedEx was featured in Fortune magazine's "World's Most Admired Companies". In addition, the company was listed for three consecutive years for "100 Best Companies to Work in America". Also it won the 2010 World Air Cargo Award for "International Express Operator of the Year".
FedEx Corporation's subsidiaries include FedEx Express, FedEx Trade Networks, FedEx Ground, FedEx Freight, FedEx Custom Critical, FedEx Officie, FedEx Services, FedEx TechConnect and FedEx SupplyChain. Some of the company's past acquisitions include Parcel Direct, ANC Holdings Ltd, Tianjin Datian W Group, Tiger International, Inc. and Prakash Air Freight Pvt Ltd.
FedEx services: FedEx services in US include FedEx SameDay (international delivery on same day); FedEx SameDay City (delivery within city); FedEx First Overnight (delivery next morning); FedEx Standard Overnight (delivery next day afternoon); FedEx 2 Day (2 business days); FedEx Express Saver (takes 3 business days); FedEx Ground (low cost ground delivery to businesses); FedEx Home Delivery (ground delivery to homes); and FedEx SmartPost (low-weight packages).
International package services include FedEx International Next Flight; International First; International Priority (3 business days); International Economy (5 business days); International Priority DirectDistribution; International MailService; and International Ground (ground delivery to Canada). For freight, FedEx has services such as SameDay Freight; SameDay City, First Overnight Freight; Ground Multiweight (bulk shipments); Freight Priority, Freight Economy; Custom Critical and Trade Networks. International freight services include International Priority Freight (1-3 business days); International Economy Freight (5 working days) and more. If you dint know, through FedEx Express one can also send dangerous goods such as aerosol sprays, airbags, ammunition, car batteries, perfume, paints, cologne, dry ice, fireworks, gasoline and more.