Obtaining a new SIM card can be easy, but activating it and possibly starting to use the same isn't as straightforward as most people think it to be. This is because each mobile wireless carrier has its preferred method for SIM card activation, which not only adds to the confusion but also makes the process more tedious.
Such is the reason why having a trusted source to provide you with all the required information for activating your SpeedTalk Mobile prepaid SIM is always appreciable. Hence, we have created this in-depth guide containing all the essential steps you need to follow before you can start using your SpeedTalk Mobile prepaid SIM right away.
But, before we get into the details, let's have a closer look at SpeedTalk. Simply speaking, SpeedTalk is an MVNO (Mobile Virtual Network Operator) based in the United States, where the company is responsible for leasing wireless data and telephone services from T-Mobile US, and ultimately providing the same to its customers. It should be known that the types of devices supported by an MVNO will be similar to its parent cellular network provider. As of the current day, the company offers 4G/LTE and 5G subscription services to its customers, at competitive prices.
How to Activate SpeedTalk Mobile Prepaid SIM Online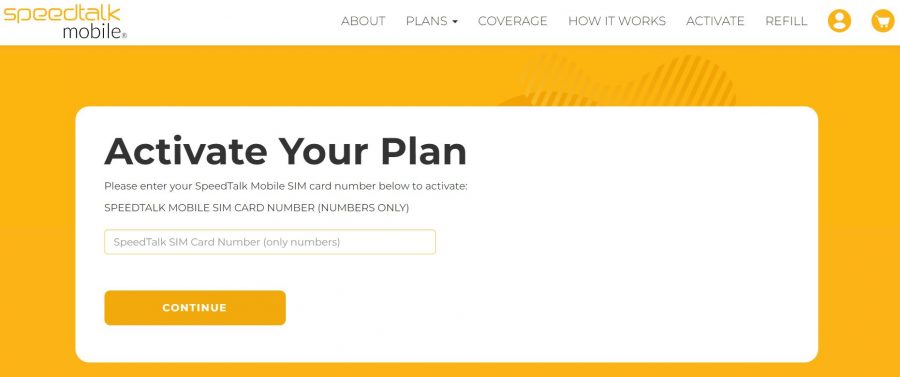 In case you want to activate your prepaid SIM online, be sure to follow the below-mentioned steps.
After you've obtained your SIM card in the mail, proceed to visit the official activation webpage.
You'll be prompted to enter the 19-digit SIM number for starting the activation process. You can find this number on the back of your SIM card or its packaging. Once you're done entering the number, be sure to click 'Continue'.

In the next section you'll be greeted with the 'Activate' option, whereupon clicking you have to enter your ZIP code. After that, you also have to enter your name, address, state, city and any other required details. Besides, you also have to provide your contact details like your email ID as well as your alternate phone number, so that you can be reached easily.

Finally, after filling up all the required fields, you have to select 'Continue'.

In the subsequent step, you have to choose a plan for your prepaid SIM card. In case you're using a pre-loaded SIM, then you don't need to pay for your plan online. However, if you don't have a pre-loaded SIM, be sure to pay for your monthly plan subscription by transacting the required amount online.

Lastly, after successful payment of your monthly subscription plan, your prepaid SIM will be activated.
Once your prepaid SIM is activated, don't forget to put the same into your mobile phone and turn the device on. Setup APN or Access Point Name on your device and you can now start using your SpeedTalk prepaid SIM.
How to Activate Prepaid SIM Via Phone
If you're planning to use the SpeedTalk phone support for activating your prepaid SIM, then make sure you visit the helpline numbers at 1-310-707-0000 or 1-866-701-5577. The helpline is open seven days per week 365 days a year and the hours of operation are between 4:30 AM to 8:30 PM PDT.
You can obtain any type of support from the helpline, be it a SIM activation or receiving APN settings on your mobile device.
Sadly, SpeedTalk Mobile doesn't have any official stores located in the United States. However, if you need online support regarding any issue that you might be facing, be sure to fill out the online form here. The support team will get back to you as soon as possible.