San Francisco Bay Ferry is a passenger commuter service in the San Francisco Bay, considered to be a major transportation system. The ferry system connects people across San Francisco to communities of the East Bay, like Berkeley and Oakland, as well as locations in Marin County and along the North Bay. San Francisco Bay Ferry is just one of many ferries that can be found on the West coast of North America and is a vital means of transport. One of the oldest ferry companies in the country, the ferry service starts at 6am and ends by 9pm.
The company operates both traditional ferries, including the largest double-ended ferry boat in the world, and hybrid ferries. While San Francisco Bay Area Water Emergency Transportation Authority owns the ferry, the privately-owned Blue & Gold Fleet operates it. They have 13 vessels and 9 terminals. San Francisco Bay Ferry offers a variety of services that can help you get around the Bay Area. Whether you need to commute to work or school, or just want to explore the area, the ferry service can help you get where you need to be. They provide Wi-Fi, a snack bar, and more.
Certain terminals offer free parking in limited numbers. Other terminals charge for parking. Parking is on a first-come, first-served basis. Only the city-run lots in the vicinity of the Vallejo Ferry Terminal are allowed to accommodate overnight parking. Each vessel features bike racks so cyclists can park their bikes. There may be limited space on some departures, so make sure to arrive early. In many terminals, you can also store your bike in a secured locker. You must store all bikes, including folding bikes, in the bike rack area on the aft deck. The crew can assist if necessary. Note that gasoline-powered vehicles are not allowed on board.
How to Book Tickets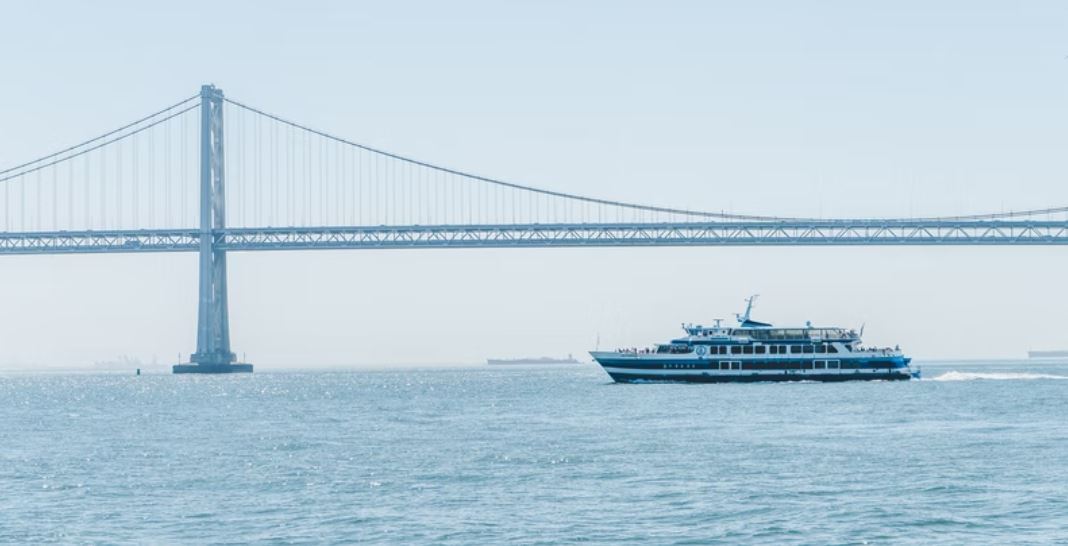 Seats on the San Francisco Bay Ferry are available on first-come, first-served basis. You can make a reservation only for special service to Oracle Park or Chase Center. You can purchase tickets in either Clipper or paper form. Clipper is a regional media platform for Bay Area transit fares. There is no better way to pay for the San Francisco Bay Ferry than with this method. The Clipper app will allow you to add value at self-service machines or retail locations, or you can get one online. Clipper is the only way to get transfer discounts if you use more than one transit provider to commute. It is highly recommended you use Clipper as it saves you both time and money.
You can purchase paper tickets at a ticket office or on board the ferry with a credit card or cash. In the case of Vallejo route, onboard tickets will not be sold when the Vallejo Ferry Ticket Office is open. San Francisco Bay Ferry offers discounted fares for school groups, while children under 5 can travel for free. And it is to note that, currently, none of their routes offer multi-use passes. As for cancellation and refund, the operator Blue & Gold Fleet may cancel voyages, change departure times, delay departures, and delay arrivals without prior notice. As such, the ticket is non-refundable, and non-exchangeable, except for canceled voyages, which are subject to refunds at the face value of the ticket. There is no replacement for lost tickets.
Ferry Terminals & Schedule
The key terminals of San Francisco Bay Ferry consist of Alameda Seaplane Ferry Terminal, Chase Center Ferry Terminal, Downtown San Francisco Ferry Terminal, Harbor Bay Ferry Terminal, Mare Island Ferry Terminal, Main Street Alameda Ferry Terminal, Oakland Ferry Terminal, Oracle Park Ferry Terminal, Pier 41 Marine Terminal, South San Francisco Terminal, Richmond Ferry Terminal and Vallejo Ferry Terminal. The popular vessels are MV Gemini, MV Hydrus, MV Pyxis, MV Dorado, MV Bay Breeze, MV Mare Island, to name a few.
Let us look at the Ferry schedules on different routes:
Alameda Seaplane – An Alameda commuter ferry connects Seaplane Lagoon with Downtown San Francisco every weekday. Riders from Alameda traveling weekdays before 9:30 a.m. should use this route.
Harbor Bay  – There is a limited departure at midday between Harbor Bay and Downtown San Francisco every weekday. The Harbor Bay Ferry Terminal is located on Bay Farm Island in the City of Alameda. Commuters from San Leandro can also take advantage of this.
Oakland & Alameda – There is daily service between Oakland, Main Street Alameda, and Downtown San Francisco. Oakland, Berkeley, and Northern Alameda County travelers will find this to be the best option. Also, this is the preferred for those on Alameda Island who commute during the weekday morning rush hour.
Richmond – There is daily service between Downtown San Francisco and Richmond. It is the most convenient option for riders in Contra Costa County.
South San Francisco SSF – There are commuter services between Oakland, Main Street Alameda, and South San Francisco every weekday. Residents of the East Bay who work in South San Francisco and Oyster Point can take this route to get to work.
Vallejo – There is a daily service from Vallejo to Downtown San Francisco with a select run to Mare Island. Passengers from Solano and Napa counties use this route.
While San Francisco Bay Ferry is often an underrated system, it provides one of the most efficient and sustainable ways to travel from city to city.
How to Contact
San Francisco Bay Ferry has its main office located at Pier 9, Embarcadero, Suite 111, San Francisco CA 94111. For queries or complaints, you can reach the support on phone at 877-64-FERRY. You can also email [email protected] To report a lost and found item, you can call 707-643-3779 (Vallejo) and 415-705-8205 (others).