The Adolfo Suarez Madrid–Barajas Airport, formerly known as the Madrid–Barajas Airport, is the primary airport serving the city of Madrid, Spain. Situated only thirteen kilometres from Madrid City Center, it is ranked as the sixth-busiest airport in Europe. And with a passenger handling capacity of more than 61 million, it is also the second-largest airport in Europe.
The Madrid-Barajas Airport was established in 1931 and is spread across 7,500 acres of space. The structure houses five terminals, namely T1, T2-T3, T4, and T4S. T1 is primarily used for international flights and therefore serves as the home base for about 40 airlines. T2 is dedicated to domestic flights and flights across Europe. T3 is only used for flights that serve passengers within Spain and its nearby regions. And lastly, T4 and its satellite terminal, T4S, serve as the most recent additions for both domestic and international flights.
What are the Available Parking Options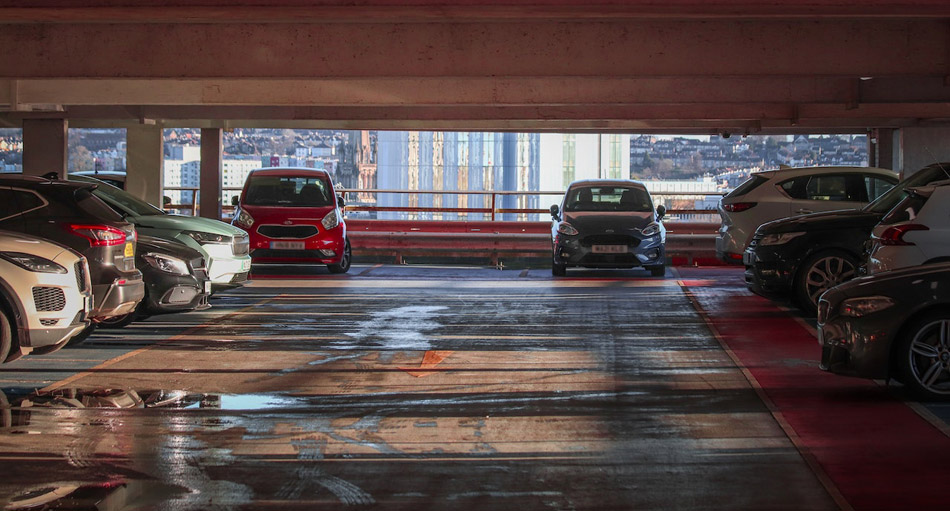 The Madrid-Barajas Airport currently houses multiple parking structures inside the buildings of the airport terminals, which are referred to as P1, P2, P4, Express Parking, Low-Cost Parking, VIP Car Park, and Long-Stay Parking. Travellers can also use these parking spaces for parking motorcycles and bicycles. As a result, the airport supports provisions for both short-term and long-term parking.
For short-term parking, you can use the usual parking spaces, known as P1, P2, and P3. Apart from that, you can use Express Parking, VIP Parking and Low-Cost Parking spaces. On the other hand, for long-term parking, it is recommended to use Long-Stay Parking Spaces. Additionally, the airport also offers free shuttle bus services for travellers from the Low-Cost and Long-Stay Parking lots to the airport.
It should be known that if you are planning to only drop off passengers at the Madrid-Barajas Airport, then the same must be carried out either by using the Express Parking lot inside Terminal T1 or via the Departures Express Car Park inside Terminal T2, depending upon from which terminal your loved ones need to be dropped off. However, do note that if you use the T2 Car Park, then you can get a discount when staying less than 15 minutes. Alternatively, when picking up passengers from the airport, you can either make use of the Express Car Park inside Terminal T1 or utilise the Arrivals Express Car Park inside Terminal T2.
How to Easily Book Parking Online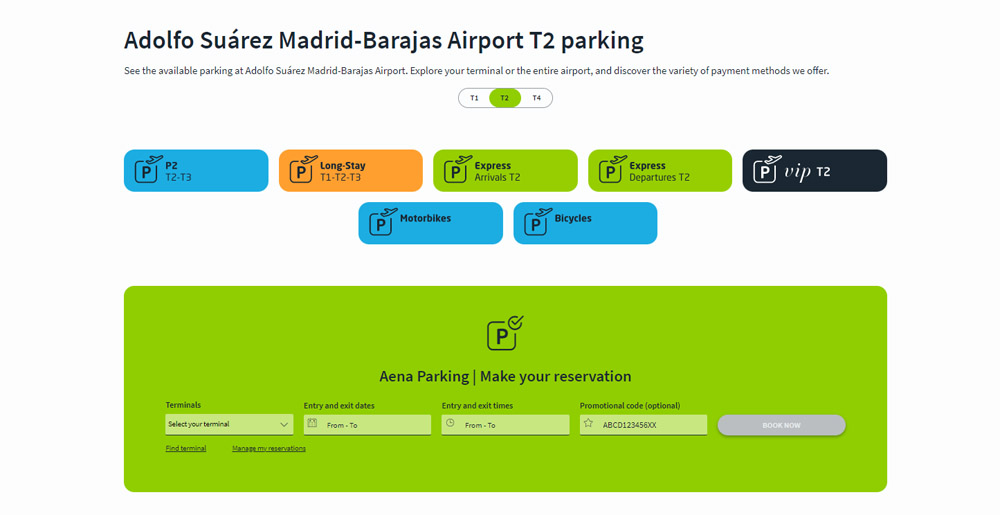 Passengers can park their vehicles at the Madrid-Barajas Airport either by booking online with no advance payment or by booking online along with the requisite advance payment. Follow the below-mentioned steps to book your vehicle's parking slot seamlessly.
Start the online booking process by first visiting the official website here.

Under the "Make Your Reservation" section, you have to first select your terminal, your entry and exit dates along with their respective timings, and any promotional code. Once done, select "Book Now".

On the next web page, the online system will provide you with a list of parking options to choose from. After you have decided, select "Book and Pay".

On the subsequent page, you have to fill out your purchase details, such as your name, email address, mobile phone number, car registration number, flight number, etc. Additionally, you can also proceed to register an account or proceed with a guest account. Then you can hit "Continue".

On the next page, a summary of your order will be showcased, and you can either proceed with it or alter it. On the confirmation page, you will be required to pay for your booking. Once you have paid the booking amount successfully, a confirmation message will be sent to your email address. You may print the confirmation message as a token of proof and carry it with you when you travel.
Do note that you can also park your vehicle at the Madrid-Barajas Airport without any prior online reservation.
What You Should Know of Cancellation
Any cancellations of prior bookings at the Madrid-Barajas Airport should be made either through the official website or by calling the Aena telephone support on (34) 91 321 10 00. When using the website, you have to provide your email address, which was used to book the parking space, along with the location.
Additionally, you can also manage your bookings by using the Aena App on your smartphone. To manage bookings, simply select the "Book Your Car Park > Do You Already Have A Booking?" option. For any other queries, you can connect with airport authorities through the official email address at aenaaparcamientos@aena.es.
Third-Party Parking Options
If you are looking for parking spaces within the vicinity of the Madrid-Barajas Airport, then you can book via third-party websites such as ParkVia and Parkos. Some of the popular parking garages include Axor Barajas Parking, Esther's Parking, Matilde's Parking, and Jose Miguel's Parking Lots.