The Langkawi Cable Car is a spectacular engineering marvel that takes you on an unforgettable journey through the lush rainforests of Malaysia's Langkawi Island. With its state-of-the-art gondolas and breathtaking views, the Langkawi Cable Car is an experience like no other.
As you ascend the steep slopes of Mount Mat Cincang, you will be treated to a panoramic view of the island's stunning natural beauty. The cable car glides over dense forests, cascading waterfalls, and the turquoise waters of the Andaman Sea, giving you a bird's eye view of this tropical paradise.
The Langkawi Cable Car is not just a mode of transportation, but a journey of discovery. As you reach the summit, you can explore the SkyBridge, a curved suspension bridge that offers a 360-degree view of the surrounding landscape. You can also visit the SkyDome, a 3D interactive display that immerses you in a virtual tour of Langkawi's history and culture.
Whether you are a nature lover, an adrenaline junkie, or a curious traveler, the Langkawi Cable Car is an experience you won't forget. So come and take a ride on the Langkawi Cable Car and discover the beauty of this tropical gem in Southeast Asia.
Here are Some Highlights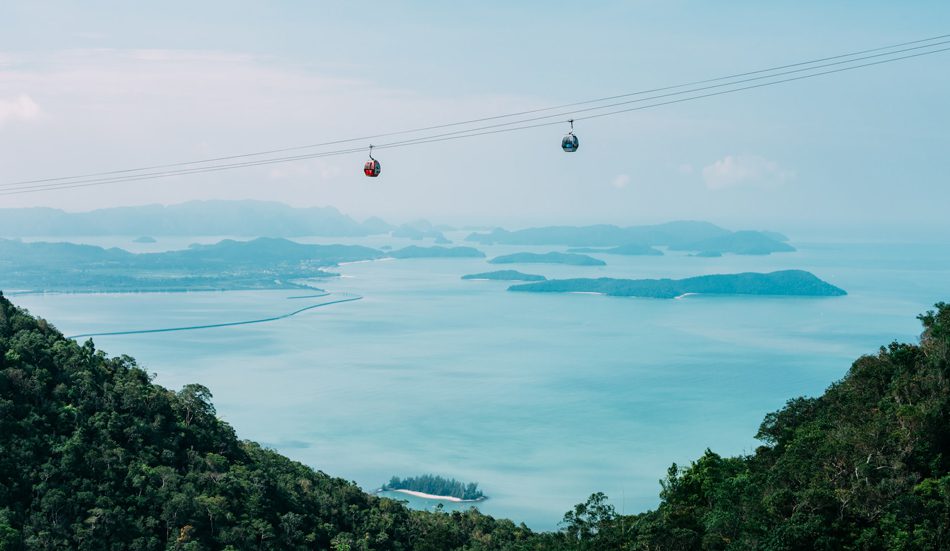 The Langkawi Cable Car is a must-visit attraction for anyone visiting Langkawi Island in Malaysia.
The Cable Car takes you on a 20-minute ride through the lush rainforests of Langkawi Island, offering stunning views of the Andaman Sea, the surrounding islands and the mountains.
At the top of the ride, you can visit the SkyBridge, a curved suspension bridge that offers a 360-degree view of the landscape. The bridge is 125 meters long and hangs 100 meters above ground level, providing a thrilling experience for adventure seekers.
The SkyDome is an immersive 3D display that takes you on a virtual tour of Langkawi's history and culture. The dome-shaped theater uses cutting-edge technology to transport you to different eras and locations.
As you ride the cable car, you may have a chance to spot some of Langkawi's wildlife, such as hornbills, eagles, and macaques.
The cable car is accessible to everyone, including those with disabilities and mobility issues. The gondolas are designed to accommodate wheelchairs, and the ride is smooth and comfortable.
Overall, the Langkawi Cable Car is a unique attraction that offers a combination of natural beauty, adventure, and culture. It sets itself apart from other tourist attractions with its panoramic views, thrilling experiences, and accessibility. If you are planning a trip to Langkawi Island, make sure to add the Langkawi Cable Car to your itinerary, as it's an experience you won't forget.
Timings and Tickets at Langkawi Cable Car
Langkawi Cable Car is open daily from 10 am to 8 pm, including weekends and public holidays. The last ride up is at 7 pm, and the last ride down is at 7:40 pm.
The ticket prices for the Langkawi Cable Car vary depending on the type of package you choose. The standard package includes a return cable car ride and access to the SkyBridge and SkyDome and costs RM 55 for adults, RM 40 for children aged 2-12 years, and RM 50 for senior citizens aged 60 years and above. Children below 2 years of age can ride for free.
There are also packages available that include additional experiences, such as a guided nature walk, a visit to the 3D Art Langkawi Museum, and a sunset dinner. The prices for these packages range from RM 80 to RM 250 per person.
The best time to visit Langkawi Cable Car is during the early morning or late afternoon, as the temperatures are cooler, and the crowds are thinner. This can also help you avoid the long queues during peak hours.
We recommend you spend at least 2-3 hours at Langkawi Cable Car to fully enjoy the ride and explore the SkyBridge and SkyDome. However, if you are planning to take part in additional experiences or activities, you may want to allocate more time.
There are special packages available for groups, such as school trips and corporate outings. These packages can include discounted rates, guided tours, and additional experiences. It's best to contact the cable car operator directly to inquire about group packages.
Langkawi Cable Car is wheelchair-friendly, and people with disabilities can ride the cable car at a discounted rate of RM30 per person. They can also bring one companion along for free.
Address, Phone and How to Reach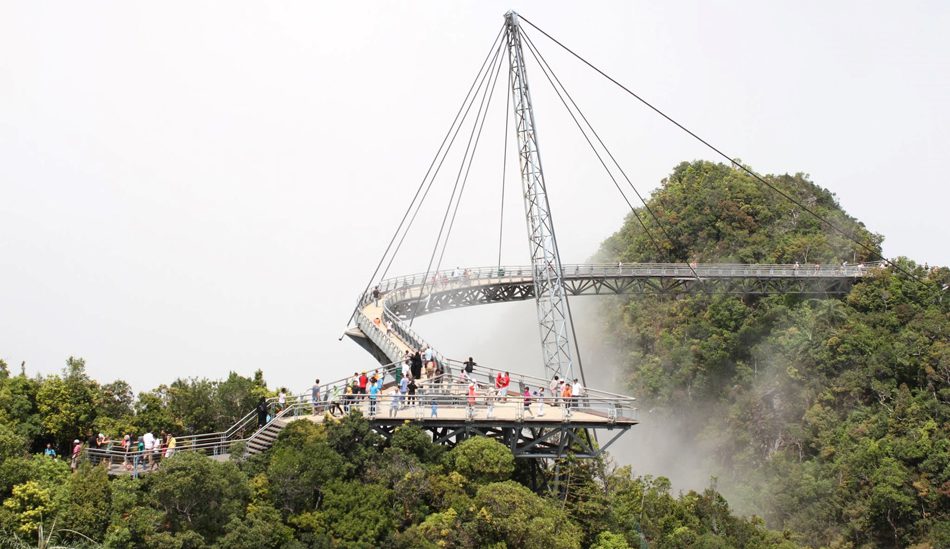 The Langkawi Cable Car is located on the island of Langkawi in Malaysia. The address is: Cable Car Station, Oriental Village, Burau Bay, 07000 Langkawi, Kedah, Malaysia.
For queries or feedback, you can call  +6 04-959 4225 /1225 or write to info@panoramalangkawi.com.
Taxis are widely available on Langkawi Island and can take you directly to the cable car. You can either hail a taxi on the street or book one through a ride-hailing app (like Grab).
If you prefer to drive yourself, you can rent a car from one of the many car rental companies on Langkawi Island. The cable car is easily accessible by car, and there is ample parking available.
Another popular option on Langkawi Island is to rent a scooter or motorcycle. This can be a fun and affordable way to explore the island, and the cable car is easily accessible by scooter or motorcycle.
Langkawi Island has a limited public transportation system, but you can take a bus from the main terminal in Kuah to the Oriental Village, which is where the cable car is located. From there, it is a short walk to the cable car station.
No matter which mode of transportation you choose, be sure to plan ahead and allow enough time to reach the cable car, especially during peak hours when traffic can be heavy.