Find below the visitor support details of St Pancras station, London. Besides contact details, the page also offers a brief overview of the railway hub.
Address
Euston Rd, Kings Cross,
London N1C 4QP, UK
Support
Phone: 03457114141 (National Rail)
Phone: 0345 322 7021 (Southeastern Rail)
Phone: +44 (0) 3432 186 186 (Eurostar)
Email: commentsstpancras@networkrail.co.uk
_____
About St Pancras station
Established in 1868, St Pancras railway station is one of the most iconic railway stations in the world. Located in the heart of London, it serves as a gateway to the capital, with passengers coming from all over the country and beyond to this bustling hub. As well as being a catalyzer for the railway industry, St Pancras is known for its grandeur, architectural beauty, and impressive amenities that provide a pleasant travelling experience for travellers. In this article, we'll explore the history of St. Pancras railway station, the major train services, transport connections, and other facilities available at the station.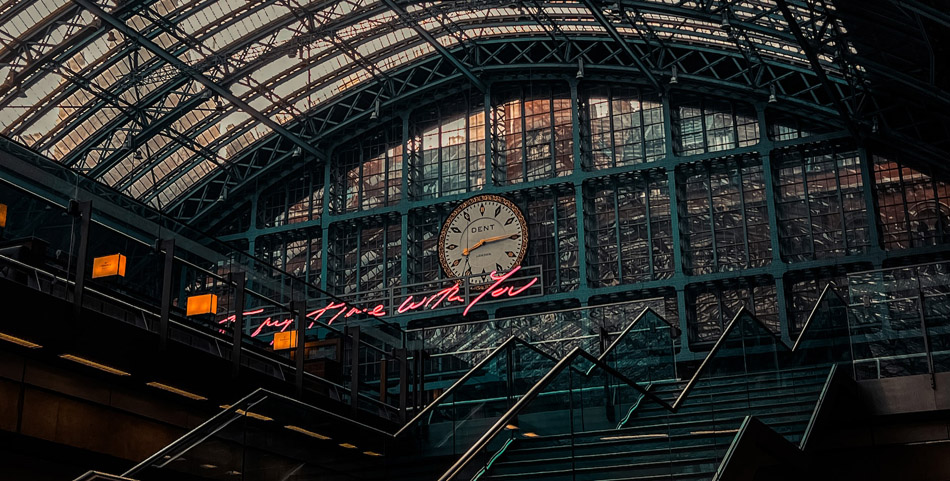 St Pancras station is a historic London terminus located northwest of the city. It is a Grade I listed building renowned for its Gothic Revival architecture. This iconic landmark is the largest station on the London Underground network and serves millions of passengers annually. It is connected by a network of underground and overground lines, meaning it is well-connected to the rest of the city. The station has undergone extensive renovation, allowing it to provide a comprehensive range of stores and services. In addition, there is a choice of bars and restaurants, making it a popular destination for visitors.
Major Train Services at St Pancras
St Pancras railway station is a major transport hub in London, serving passengers travelling to the city and beyond. Also known as St Pancras International, the station is home to several services operated by major train companies, including Southeastern, Thameslink, and Great Northern. Southeastern runs a high-frequency service between London Victoria, London Charing Cross, and London St Pancras, while Thameslink offers direct trains to and from Cambridge, Luton, and Bedford. Great Northern provides regular services to and from Moorgate, Finsbury Park, King's Cross, and beyond. Eurostar services from London to Paris and Brussels depart from St Pancras.
St Pancras railway rtation is easily accessible from anywhere in London. The station is served by an abundance of transport links, making it an ideal entry point for travellers worldwide. There are five London Underground lines – the Circle, Hammersmith & City, Metropolitan, Northern, and Piccadilly – and overground lines operated by Thameslink, Southeastern, Southern, and Great Northern. Eurostar services to Paris, Brussels, and Amsterdam are also available directly from St Pancras. All of these transport connections ensure that travellers have easy access to destinations near and far.
Facilities Available at Station
St Pancras station is not only a transport hub for thousands of passengers each day, but it also offers an impressive array of facilities for commuters, travellers and visitors alike. It has shops, cafes, bars, a food court and restaurant, and a number of other amenities. There is also a currency exchange counter and information desk, so you will never be left wanting services. In addition, passengers can benefit from the station's long-term parking, baggage storage, and bike storage facilities. Passengers with disabilities also benefit from the station's wheelchair-accessible toilets, lifts, and ramps. All these facilities make St Pancras station an ideal place for your travel needs.
Conclusion
In conclusion, St Pancras railway station is an iconic landmark in London and an important hub for international travellers. It provides a convenient and efficient way to access London from France and the rest of Europe and connect passengers to other parts of the UK. With a wide range of transport connections and impressive facilities, St Pancras station is well-equipped to accommodate the needs of modern travellers. Its unique design also makes it a great place for sightseeing and shopping.