Contact British Airways: Find below customer care details of British Airways, including phone and address. Besides contact details, the page also offers information and links on services of British Airways. You can reach the below contacts for queries on new reservation, reschedule or cancellation, baggage assistance, or others.
British Airways Head Office
British Airways Plc,
Waterside, PO Box 365,
Harmondsworth, UB7 0GB, UK
Customer Relations
British Airways
Customer Relations (S506)
PO Box 5619 Sudbury
Suffolk CO10 2PG
Phone: 0844 493 0 787(from the UK)
Fax: +44 (0) 17 8788 3195
Baggage Claims
Phone: 0844 493 0787 (from the UK)
Fax: +44 (0) 17 8788 3195
British Airways – Email (Customer Relations)
Do you have a query or complaint you would like to mail? Click here to email the British Airways customer care.
Reservations and general enquiries
0844 493 0 787 (from the UK)
Flight arrival and departure information
0844 493 0 777 (from the UK)
Tracing Lost Baggage
0844 493 0785 (from the UK)
Paper Ticket Refunds
Phone: +44 (0)20 8564 2111
Fax: +44 (0)20 8738 9353
E-ticket Refunds
Phone: 0844 493 0 787 (from the UK)
Contact Executive Club
Tel:  0844 493 0 747 (from the UK)
+44 191 490 7901 (outside the UK)
Fax: +44 (0)1787 881405
Check-In
You can check in for your British Airways flight online at ba.com; on your internet enabled mobile phone; at an airport kiosk; or at a British Airways check-in desk. To check in online click here
– Online check-in closes one hour before your flight's scheduled departure.
– By visiting ba2go.com on your mobile phone you can select seats and check in for departure or return flights. Once you have checked in you can pick up your boarding card from the airport or email the card for printing later.
– You can also check in through airport kiosks. Check in for your onward or return flight, if it's within 24 hours.
Manage Your Booking
To manage your booking online click here
Flight Status
To check a British Airways flight status click here. You can also get the same by clicking here
British Airways Destinations
British Airways flies to: Australia, Austria, Russia, Algeria, Qatar, Bahrain, South Korea, Spain, Brazil, Switzerland, USA, France, Hong Kong, India, Kenya, Jordan, Oman..click here for more.
Flight Schedule
To check British Airways flight schedules click here
Baggage Details
You are allowed one piece of hand baggage plus a laptop or handbag. Please see below for sizes. Your main piece of hand baggage is up to the dimensions 56cm x 45cm x 25cm (22in x 18in x 10in), including the handle, pockets and wheels.
Checked Baggage – British Airways allows you to check in a free baggage which depends on the class of travel. If you would like to carry an extra bag, charges apply. If you want to take bags which are larger or heavier than the guide given above, you will need to send them as cargo. For details on baggage, price, etc click here
British Airways Executive Club
If you are looking for a British Airways frequent flyer programme, then enroll for the Executive Club. You can earn Miles on qualifying flights of British Airways or its oneworld® alliance partners. Furthermore, you can also collect Miles with British Airways worldwide network of hotel, car rental, financial and shopping partners even when you're not flying.
There are three tier levels of the Executive Club: Blue, Silver and Gold. Tier Points allow you to move up through the different levels, enjoying the additional benefits each tier brings. Click here to read more.
About British Airways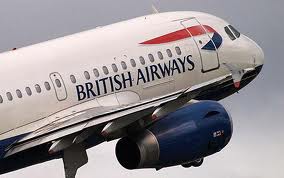 British Airways was formed in the year 1974 and is one of the largest airlines in Europe. The airline which is the flag carrier of the United Kingdom, currently flies to over 300 destinations and more than 75 countries. British Airways operates from its main base at London Heathrow Airport. It also operates from the Gatwick Airport. Between 2009 and 2010, British Airways carried nearly 32 million passengers. British Airways also operates a worldwide air cargo.
British Airways is a founding member of oneworld, the alliance of airlines around the globe, which together serves some 700 destinations. Incidentally, British Airways was one of two airlines that operated a supersonic passenger service in the year 1976. However, both Air France and British Airways ceased its Concorde operations in 2003.
British Airways four cabin classes include First Class, Club World (Business Class), World Traveller Plus (Premium Economy Class), and World Traveller Class (Economy Class). Its main frequent flyer programme is the Executive Club.
Destinations:
Americas: 41 • UK: 9 • Europe: 67 • Africa: 16
Middle East and South Asia: 15 • Asia Pacific: 7
At this year's Business Travel Awards, British Airways won the categories for Best Airline Worldwide and Best Longhaul Airline. The airline also won the award for Best Corporate Social Responsibility for the work it does within the community and environment.