In a realm where dreams take flight and horizons unravel, there exists an enchanting tapestry of impeccable service and soaring aspirations. The captivating world of All Nippon Airways (ANA) is where the symphony of innovation and hospitality orchestrates an unforgettable journey.
ANA, a celestial guardian of the skies, spreads its wings as a beacon of unrivaled excellence. With each departure, ANA weaves a tapestry of impeccable comfort and unyielding dedication, inviting passengers to embark on an adventure beyond compare.
Immerse yourself in the ethereal beauty of ANA's cabins, where the fusion of timeless elegance and cutting-edge technology creates an oasis of serenity. From the captivating smiles of the cabin crew to the meticulous attention to detail, every touchpoint resonates with the spirit of Omotenashi, ANA's cherished philosophy of wholehearted hospitality.
As the sun sets and the world beneath transforms into a mesmerizing canvas, ANA's commitment to sustainability and environmental harmony soars. Guided by a resolute vision, ANA takes strides towards a greener future, pioneering new frontiers in aviation's quest for ecological balance.
Discover a world where dreams ascend, and the sky whispers tales of wonder. Embark on a voyage with All Nippon Airways, where passion and imagination unite, and every moment is a testament to the art of flying.
How to Contact For Help
ANA has its headquarters located at Shiodome City Center Minato, Tokyo, Japan. For queries on reservation, payment or cancellation, you can call 03-6741-1120 or +81-3-4332-6868. If calling from the US, you can dial 1-800-262-2250. For other regions, here is the number to call: 800-235-9262.
If you want to report a lost or missing item, you can do same online or by approaching the airline's help desk at airport. We have a baggage guide here that should come handy.
Popular Routes of the Airline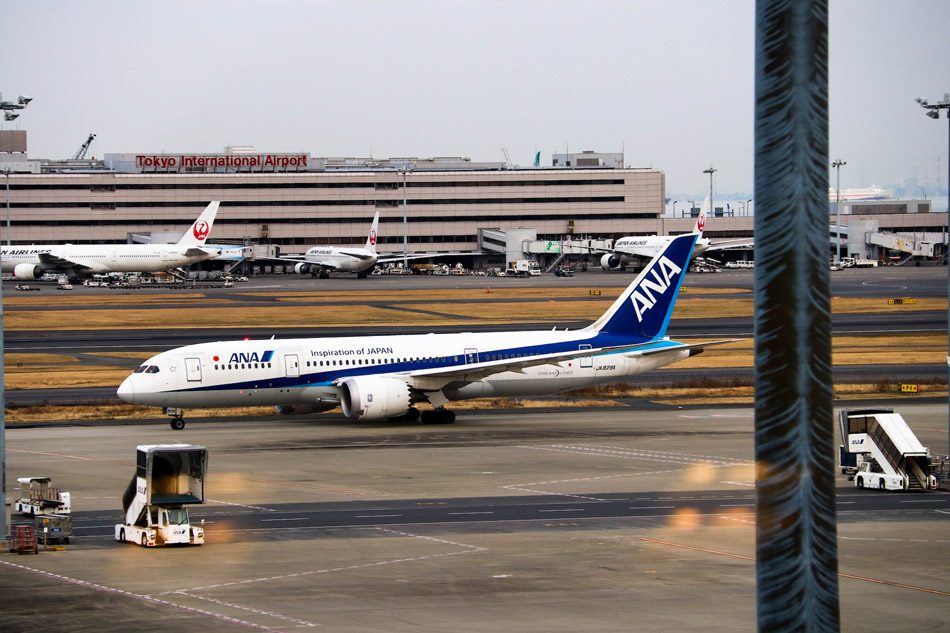 The primary hubs of All Nippon Airways are Tokyo's Narita International Airport located in Narita, Chiba, Japan, and Haneda Airport, situated in Ota, Tokyo, Japan. They serve as ANA's main base for both domestic and international flights.
The secondary hubs of ANA are Osaka's Kansai International Airport and Chubu Centrair International Airport.
As one of the largest airlines in Japan, ANA operates an extensive international network. Some of the major international cities served by ANA include Los Angeles, San Francisco, Seattle, Chicago, New York, Washington D.C., Houston, and Vancouver in North America; London, Paris, Frankfurt, Vienna, Munich, and Brussels in Europe; Beijing, Shanghai, Hong Kong, Seoul, Bangkok, Singapore, Manila, Jakarta, and Delhi in Asia; and Sydney and Perth in Oceania.
How to Book Your Flight on the Website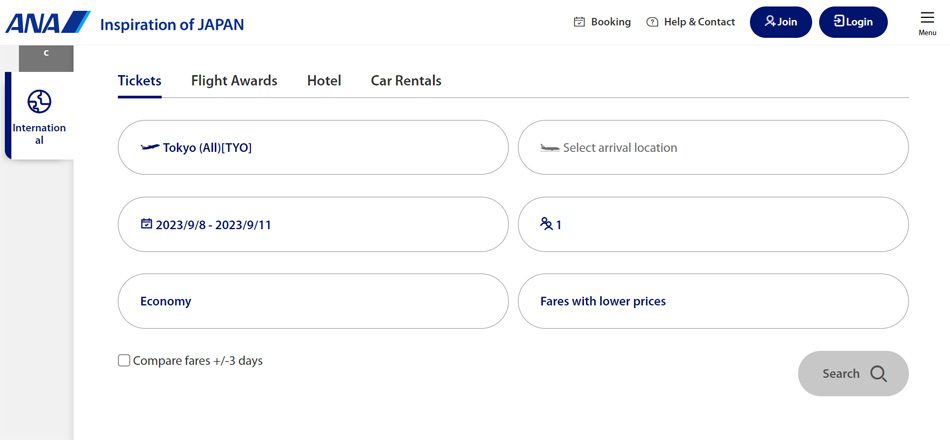 Booking flights with ANA is a straightforward process. We have outlined the steps hereunder.
Visit the ANA website.
Select your language preference and look for the 'Reserve' option located in the top menu. Enter your departure and destination airports in the appropriate fields, choose your travel dates, enter the number of passengers, and choose whether you are booking a one-way or round-trip ticket. Select 'Search'.
ANA will display available flights based on your search criteria. You can view different flight options, departure times, and ticket classes.
Select the flight that best fits your travel plans. Consider factors like flight times, layovers, and ticket prices.
Proceed to customize your booking by selecting your preferred cabin class, seat preferences, and any additional services or amenities you may require.
Enter the required passenger information, including names, contact details, and any special requests or requirements.
Carefully review your booking details, including flight itineraries, passenger information, and fare breakdown. Make sure all the information is accurate.
Proceed to the payment page and provide the necessary payment details to finalize your booking. ANA accepts various forms of payment, including credit cards and online payment methods.
After successful payment, you will receive a confirmation email containing your e-ticket or booking reference number. Keep this information handy for check-in and future reference.
Alternatively, you can also book ANA flights through travel agencies, online travel agencies (OTAs), or by contacting ANA's customer service directly.
How to Check-in For Flight
To check in for an ANA flight, you can follow these steps. Visit the ANA website or use the ANA mobile app. Look for the 'Check-in' section. Enter your reservation or e-ticket number, passenger name, and other required information. Select the flight for check-in. Follow the prompts to choose your seat, provide passport details (if required), and complete the check-in process. After completing the online check-in, you can either print your boarding pass or receive it digitally on your mobile device.
For airport check-in, arrive at the airport in advance, allowing enough time before your flight. Look for ANA's check-in counters or kiosks. Join the appropriate queue for your flight class or use any available self-service kiosks. Present your travel documents, such as your passport and e-ticket or reservation number, to the ANA staff. Follow any additional instructions provided by the staff. Once the check-in process is complete, you will receive your boarding pass.
How to Manage Booking with All Nippon Airways
To manage your booking with ANA, you first need to visit their website. Select your language preference. Navigate to the 'My Bookings' section. You can search your booking details by reservation or ticket number, or ANA Mileage Club membership number.
Once you have entered the necessary information, you should be able to access your booking details. Depending on the options provided, you can make changes to your booking, such as modifying travel dates, departure/destination airports, flight times, seat assignment, meal preferences, adding special requests, requesting flight upgrades, and adding services like extra baggage allowance, access to airport lounges, or in-flight amenities.
After making the desired changes, carefully review the updated booking details to ensure accuracy. If there are any fare differences or additional fees resulting from your changes, you may need to make payment for the updated booking.
Once the changes are confirmed and payment is processed (if applicable), you should receive a confirmation email with the updated itinerary or e-ticket.
Overview of the Frequent Flyer Program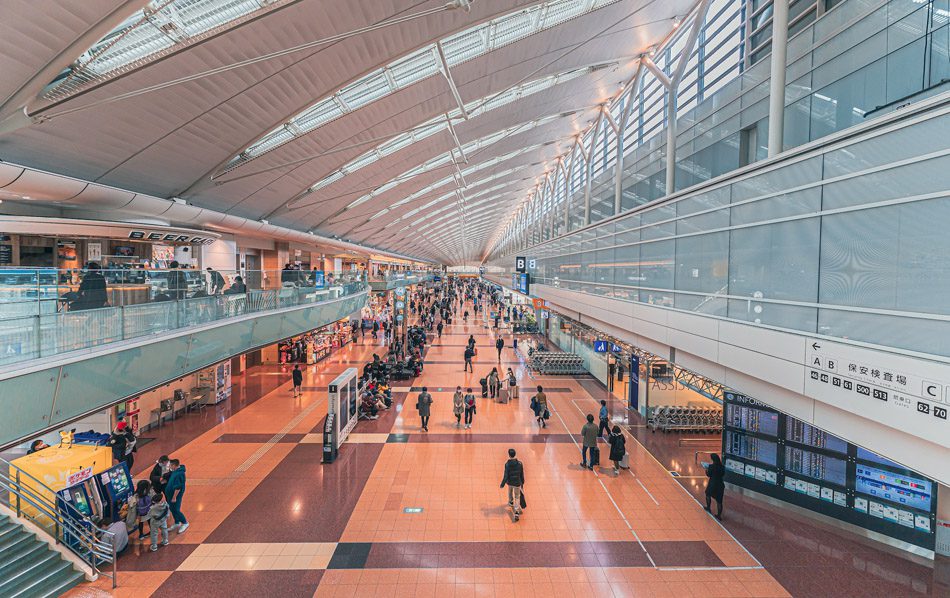 The frequent flyer program of ANA is called ANA Mileage Club. Members can earn miles for eligible flights operated by ANA, its partner airlines, and Star Alliance member airlines. The number of miles earned depends on the flight distance, fare class, and membership status. The program offers different membership tiers — Bronze, Platinum, Diamond, and Super Flyers.
Accumulated miles can be redeemed for various rewards, such as free flights, upgrades to higher cabin classes, hotel stays, car rentals, and more. Depending on the membership tier and the class of service flown, ANA Mileage Club members may enjoy access to ANA and Star Alliance lounges. Higher-tier members receive enhanced lounge privileges.
The program offers additional services, such as priority check-in, baggage handling, and boarding for its members. There are also exclusive promotions, bonus miles opportunities, and partnerships with various non-airline partners for earning and redeeming miles. You can also pool miles with family members, which makes it easier to accumulate and redeem miles collectively.
Miles earned in ANA Mileage Club have an expiration date. However, maintaining a certain level of activity within the program can extend the validity of earned miles.