The American Association Of University Women (AAUW) is one of the oldest organizations in the States, in operation since 1881, where leaders champion gender equity. The pioneers and 'trailblazers', as they love to call themselves, spread awareness about the rights of women to education, equal career opportunities, and equal pay in the workforce. They take active initiatives to open learning and earning opportunities for women who are forced to take a sabbatical for various domestic reasons and, in the process, compromise on their dreams.
AAUW designed the Career Development Grants in 1972. It was started in a bid to encourage women to advance their careers and/or switch careers anytime they needed to. Career Development Grants provide funding to women with a bachelor's or master's degree, or with a certification program or specialized training in education, medical science, social science, science, technology, engineering, or math (STEM subjects). The funds are yet not available for doctorate-level work. They give priority to women of color and those belonging to under-represented racial/ethnic and underprivileged backgrounds.
Grants up to $ 20,000 are allotted to the applicants. The grants cover the educational and living expenses of the candidates, travel costs that are restricted to professional meetings/seminars/conferences and must not exceed 10% of the fellowship, and costs of dependent child care.
Courseworks must be taken and completed at accredited colleges/universities/technical schools providing a two to a four-year program. These institutions must be recognized by the U.S. Department of Education.
Know the Eligibility and Requirements
AAUW's Career Development Grants are open to women who meet the following criteria.
You should be a US citizen (legally belonging to the country and a valid passport holder) or a permanent resident (green card holder and legally living in the country for work purposes).
You should have an earned bachelor's degree. Honorary degree holders do not qualify. This is because the degree awarding institution waives the academic requirements to obtain the degree for honorary graduates.
You should have received your bachelor's degree on or before June 30th of 2015.
The grants are for female candidates who wish to pursue a course meant to advance and further their profession/careers, and for employment purposes or to improve opportunities for the same.
It is for those who plan to enroll or have already enrolled in a bachelor's/master's degree, certification program, or have some kind of technical training.
It recognizes degrees/training in education, the social sciences, health and medical sciences, and STEM subjects (Science, Technology, Engineering, and Math)
You must be living in the United States during the grant period.
You must be applying for a course at an accredited institution (college or university of the U.S.) offering a two to a four-year program. You may also enroll at a technical school that is recognized by the U.S. Department of Education.
Grants for distance or online learning programs are given only if the concerned institute is listed and approved by the U.S. Department of Education. But the final call regarding what constitutes distance learning to receive grants will be taken by the AAUW and is binding on the applicant.
It is not an absolute requirement that you must already be enrolled in your preferred field of study or institute, but preference is given to those candidates who demonstrate their strong intent of pursuing an academic goal. If you have already enrolled for the desired course, you will need to produce and submit proof of admission to AAUW.
Members of the AAUW Board of Directors, panels, task forces, and staff, even current interns are not eligible to apply for AAUW's fellowships and grants.
Please note that grants are currently not available for those pursuing or planning to pursue their studies in law, business, medicine, or doctorate-level work. Grants are also not available to previous recipients of AAUW national fellowships or grants.
Grants are awarded on a merit basis and are subject to the availability of funds for a given fiscal year.
How To Apply and Contact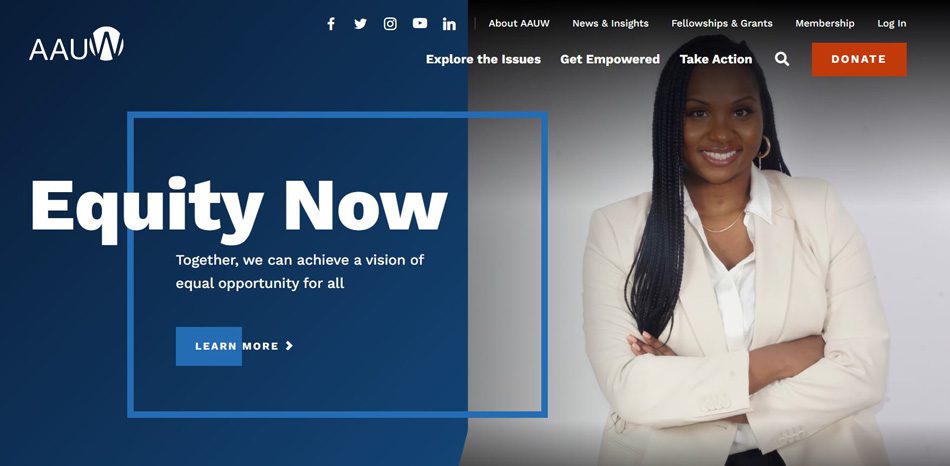 You will be considered on priority only when you can attach supporting documents that demonstrate your seriousness in pursuing the chosen field along with your application. Try and submit a recommendation from a college mentor/guide/adviser/counselor/instructor or work supervisor who can favorably outline your student profile.
Here are the steps to apply:
Click on their official link to access their application form, and create an account through their site.
You must pass their eligibility quiz test which will be reviewed by their panel members.
Attach your previous academic records along with supporting documents like a recommendation letter from a professor/mentor, your CV/resume, a written proposal, a proposed budget along with a budget narrative. Hit 'Apply'.
Online applications are open to interested candidates between August 1st and November 15th every year. AAUW emails its decisions to applicants by April of the following year. The Grant year is between July of the same year till June of the next.
The American Association Of University Women (AAUW) is headquartered at 1310 L St. NW, Suite 1000, Washington, DC 20005. For queries or help, you can call +1 202-785-7700 or write to [email protected]