Contact of Queen Victoria Market, Melbourne (phone, address)
Contact Queen Victoria Market: Find below address and support details of Queen Victoria Market, including phone and email. Besides contact details, the page also offers a brief overview of the historic landmark.
Address
Queen Victoria Market
513 Elizabeth St,
Melbourne VIC 3000, Australia
Customer Service
Phone: (03) 9320 5822
_____
About Queen Victoria Market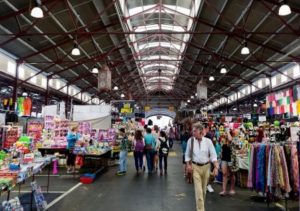 Queen Victoria Market is an open air market in Melbourne, Australia. A popular and historic landmark in the city, the market was opened in the year 1878 and is named after Queen Victoria. Located on the corner of Elizabeth and Victoria Streets, the market is open on all days, except Monday and Wednesday when it is closed. On most days, the market opens at 6am and closes at 2pm. On Friday, it goes up to 5pm. And on Sunday, the market opens at 9am and closes at 4pm. At the market, also popular as Vic Market, visitors will find everything from vegetables, poultry to handmade crafts.
Visit the Deli Hall for a variety of dips, imported sauces, cheese, chicken, venison, and even cakes, pastries and chocolates. There are also take-away meals available. There is a food court for those want to comfortably dine here. Besides Deli Hall, there is the Meat Hall, a separate section for fruits and vegetables, organics and general merchandise like clothing, shoes and jewellery. For a list of traders and the various products you can shop for, browse the official website here. If you are visiting the market for the first time, there are a number of public tours to help you explore the place. There is also a Visitor Information Centre should you need assistance. For more information or queries on store locations, payment, parking, transportation, lost and found items, or others reach the Queen Victoria Market customer service.