Fandango Media is a US-based ticketing company that was founded in 2000 by J. Michael Cline. Headquartered in Englewood, Colorado, the company is popular for selling movie tickets as well as operating Rotten Tomatoes, the review-aggregation website for both film and television.
Being the largest movie ticketing enterprise in the United States, the company handles more than 20 per cent of all movie tickets sold within the country. In 2007, it was acquired by Comcast for around $200 million.
Through Fandango, users can compare prices and know the seat availability before making a final purchase. Additionally, movie buffs can also create their personalised watchlist, so that when tickets for those movies go on sale, they will receive an email notification. Plus, you also get access to a variety of promotions and discounts throughout the year.
How to Get Deals on Fandango Gift Cards?
Fandango's official website for gift cards often runs offers such as free movie tickets or free Fandango cash on orders above a certain threshold. So, make sure you keep an eye out for the same before you pull the trigger on a new gift card.
Besides the official website, you can also save money by purchasing Fandango gift cards at discounted prices from third-party retailers. Some of the most notable websites include Raise.com and CardCash.com. At Raise, you can get up to a 10-12 per cent discount on your gift card purchase, while on CardCash, the rate is up to 10 per cent.
How to Buy Fandango Gift Cards Online?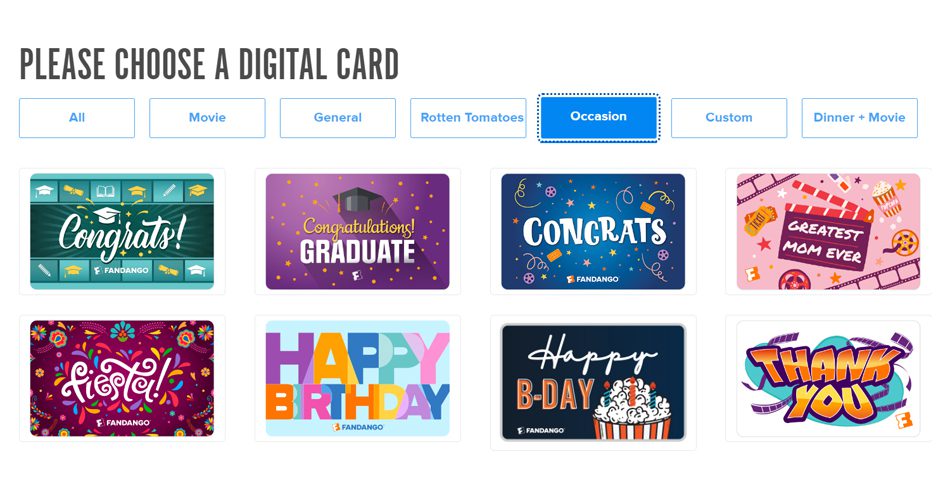 Fandango gift cards are a great way to surprise someone special, especially if he or she is a serious movie aficionado. To buy one, follow the suggested steps provided below.
Begin your purchasing process by visiting the official website here.
On the landing page, select the design of your gift card. You can choose from movie designs, designs based on occasions, etc.
Once you have chosen your gift card design, hover your mouse cursor over it, and you will be able to select between either an email card (eGift card) or a mail card (physical gift card).
After selecting your preferred mode of delivery, a new web page will open where you have to select your gift card amount. Gift card denominations range from $15 to $100.
In the next step, you have to select the gift card quantity. You can purchase up to 50 gift cards on a single order, but your total cart value should not exceed $2,000 in a single order.
Once done, you can then personalise your gift card by providing the recipient's name, email address (for eGift cards) or mailing address (for physical gift cards), and your personalised message. Additionally, for eGift cards, you can even upload your own image instead of the default one and even record an audio message.
After that, you have to provide the delivery instructions. For physical gift cards, you can select the shipping procedure. However, for eGift cards, you can choose to either send the gift card instantly or schedule delivery at a later date.
In the subsequent step, click on "Add To Cart > Checkout," and proceed to enter your payment and billing information. Supported payment options on the platform include PayPal and credit cards from major providers such as Visa, MasterCard, Discover, and American Express. Lastly, click on "Submit Order".
Once your payment is successful, you will receive a confirmation message on your email address. Additionally, your gift card will be delivered to the recipient in due time.
How to Redeem Fandango Gift Cards Online?
The best part of having a Fandango gift card is that – you can redeem it not only via the Fandango website and smartphone app – but also through the Flixster website and app. To start the redemption process, follow the below-mentioned steps judiciously.
Firstly, you have to head over to either Fandango.com or Flixster.com. You can also download the Fandango app on your smartphone from the Google Play Store or Apple App Store.
Proceed to select your preferred showtime.
During checkout and under the payment section, click on the "Gift Card Or Promo Code" option. Then enter your gift card code and PIN.
If your order amount is more than the gift card value, then you have to pay the rest of your order value using an alternative form of online payment. However, if the order amount is less than the gift card value, you can use the remaining gift card balance on your next purchase.
Finally, complete your purchase and start enjoying your movie.
For any additional assistance regarding your gift card, you can raise a support ticket here.