The Washington State Patrol is responsible for controlling traffic, maintaining public safety, and handling emergency management in Washington, US. The organization also assists in criminal investigations, such as violent crimes, drug trafficking, and traffic accidents. Known for its excellent public service and integrity, the Washington State Patrol also handles safety protocols on all state and interstate highways.
Established in 1921, the Washington State Patrol currently employs more than 1,600 sworn officers while also offering specialized SWAT teams and bomb squads whenever necessary. In addition to that, the organization also helps in disaster response (natural disasters), crowd control, and other necessary emergencies.
Having said that, if you have recently been pulled over by one of the Washington State Patrol crew members and been charged with a traffic citation, then our extensive guide can help you pay the fine without much hassles.
Steps to Pay Citation Online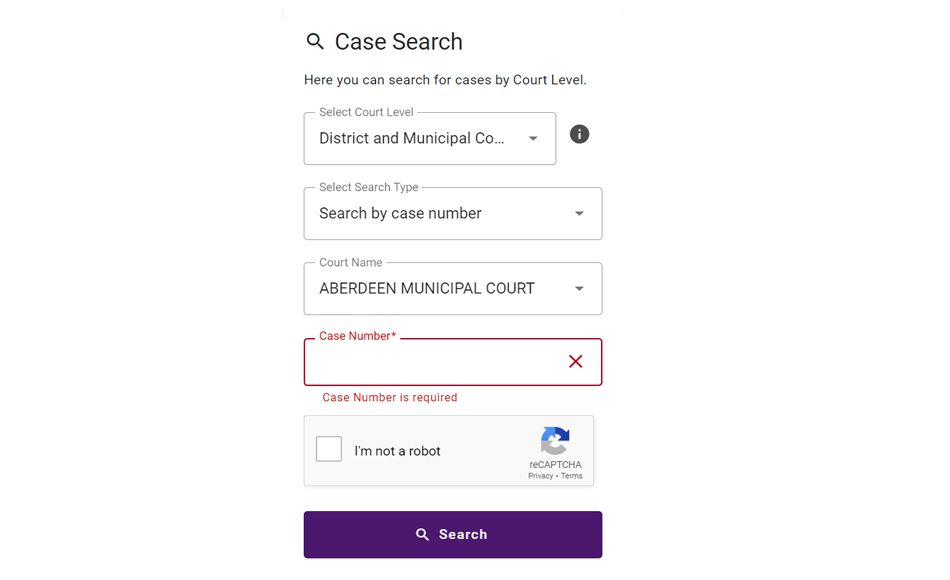 According to the Washington State Patrol, if you have been fined due to a traffic violation, then the same must be paid to the specific municipal or district court under whose jurisdiction the police agency issued the citation. To pay your fine online, follow the recommended steps mentioned below.
The primary step involves heading over to the official database website for Washington Courts here.
On the landing page, click on "Case Search," and you will be redirected to a new web page.
Proceed to select "District and Municipal Courts" as the court level, and then you can decide to search for your traffic citation by name, case number, or business name.
Once you have done that, select the court name. Keep in mind that the name of the court will be specified in your traffic ticket. Also, proceed to select the case type.
In the next step, you need to select the date after which the citation was issued. For instance, if the citation was issued in May 2023, then select the date as "01/01/2023".
After that, enter your name, case number, or business name, and hit "Search". The details of your traffic citation will be shown, along with the details of the respective court, on the right side of your screen.
Under the "Court Information" section, click on the "Visit Website" option, and you will then be redirected to the website of that specific Washington court.
Once you are on the court's website, proceed to pay for the traffic fine online. Proper directions will be outlined on the court's website, and the usual online payment options include debit and credit cards (Visa, MasterCard, and American Express).
Lastly, after paying your fine successfully, proceed to take a printout of the payment confirmation page for future reference.
Other Ways to Pay Citation
Apart from following the previously mentioned process for paying your traffic citation, you can also get in touch with the Washington State Department of Licensing (DOL) Customer Service via phone at (360) 902-3900. Phone lines are available from Monday to Friday, between 8 AM and 5 PM. Additionally, you can also look for a nearby office location for the Washington State Department of Licensing here.
Finally, traffic fines and citations can also be cleared or paid by physically visiting the district and municipal courts under whose jurisdiction the traffic ticket was issued. You can search for the relevant district and municipal courts either by city or by county.
Different Types of Offenses or Penalties
To ensure the safety of the citizens of the state, the Washington State Patrol has implemented a variety of penalties or offenses, especially for motor vehicle drivers who do not abide by the traffic laws established by the agency. To learn more about them, be sure to go through the below-mentioned list precisely.
Aggressive Driving/Road Rage: When two or more moving violations endanger the lives of other pedestrians or lead to property damage, it will be considered aggressive driving. On the other hand, road rage is defined as an assault using a motor vehicle on the driver/passenger of another vehicle on a roadway.
Alcoholic Beverage: According to the Washington State Patrol agency, it is unlawful to drink any alcoholic beverage when traveling in a motor vehicle, especially when transporting on a highway. However, passengers or drivers of motor vehicles are allowed to carry alcoholic beverages, provided that the package is sealed.
Auto Insurance: The state of Washington, United States, requires every vehicle to have insurance. These include motorcycles, police or government-owned vehicles, motor scooters and mopeds, and antique or collector vehicles. Vehicle operations without a license on roads or highways will lead to fines/penalties.
Distracted Driving: Distracted driving includes the use of cell phones while driving, or eating/smoking/grooming/reading while driving. It is always recommended to have a hands-free approach while driving, and failing to comply with this rule will lead to a fine of $136 for the first ticket, with subsequent tickets costing at least $234 (if issued within five years since the issuance of the first ticket).
Child Restraints: Children aged below 16 years should always be restrained while traveling in a motor vehicle through the state of Washington, United States. However, this rule only applies to personal vehicles and not to those designed to transport sixteen or fewer passengers operated by shuttle services, auto-transportation companies, or school bus services.
Emissions Inspection (Motor Vehicles): In high-emission contributing areas, motor vehicle emission inspections are required to keep effective environmental pollution under control. Some of the notable counties where this law applies are King, Spokane, Clark, Pierce, and Snohomish. Individuals living in any of the aforementioned regions are required to get their vehicles checked for emissions every two years. Failure to do so will attract hefty fines/penalties.
If you require any additional assistance, you can get in touch with the Washington State Patrol authorities simply by calling 911. You can also visit the official "Contact Us" page here to get additional support options based on your preferences.