For a peaceful nature retreat around Michigan's Upper Peninsula head to Pictured Rocks National Lakeshore. Located along the Lake Superior shoreline, Pictured Rocks is famous for its sandstone cliffs, beautiful beaches, waterfalls, lighthouses, and forest trails. It is an excellent destination for an exciting day trip with numerous outdoor activities.
Timings & Ticket Info
The Pictured Rocks National Lakeshore in Michigan is open all year round and 24 hours a day. Visitors can plan to go in any season as each season has its charm and exciting activities. In the spring, the wildflowers bloom to add to the area's natural beauty. Similarly, you can explore the lakeshore in the summers with pleasantly warm weather and abundant sunshine. Autumn is great to witness the colorful display of the hardwood forest and tamaracks. Lastly, in winter, the snow sets a different mood; however, many roads are closed for the snowfall this season.
Pictured Rocks has two visitor centers named Grand Sable and Munising Falls. These visitor centers have different operating hours than the lakeshore and are subject to change based on the season and structural issues. Check out the official website to know about the timings before your visit.
The entrance passes for Pictured Rocks National Lakeshore start from $5 for visitors entering by foot or snowmobile. The passes cost $10 for private vehicles and motorcycles, and these tickets are valid for seven continuous days and are non-transferrable. The Annual Pass for Pictured Rocks National Lakeshore is only $20. The ticket charges for commercial vehicles are different and mainly based on the seating capacity. The charges range from $25 for 1-6 seats to $100 for 26 or more. There are also five entrance fee-free days in 2022. To find the dates, check out the official website.
Note that the entrance fees do not include other activities, and you have to buy separate passes for drive-in camping, backcountry camping, or guided tours. The drive-in camping costs $25 per night, and the backcountry camping permit fee is $15 plus $5 per night.
How to Reach
The nearest airport to the Pictured Rocks National Lakeshore is Sawyer International Airport. Driving from the airport to the national lakeshore takes about an hour. Take the highways M-28 and M-94 that lead to Munising, the park's main visitor center. Apart from this, regional bus lines stop at Marquette and Escanaba. From here, you can hire shuttle services to reach your destination.
Things to Do in and Around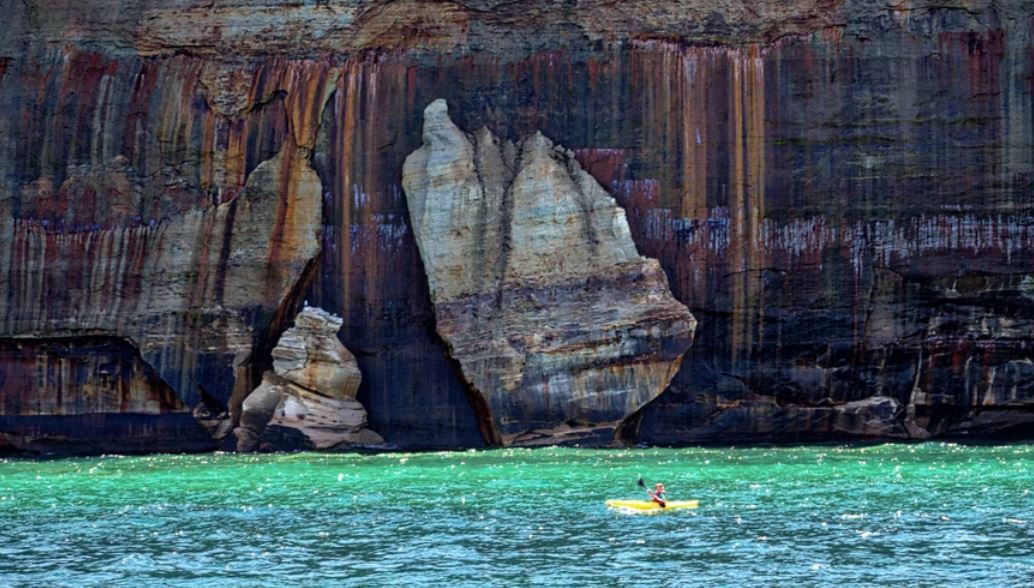 You can participate in outdoor activities in Pictured Rocks, such as hiking, camping, fishing, swimming and diving, hunting, and water sports like kayaking and boating. You can have the best hiking experience with over 100 miles of trails in the national lakeshore. Water sports are a lot more exciting and famous for their breathtaking views, and kayaking near the Miners Castle is an all-time favorite among visitors. Apart from these, you can catch glimpses of many popular destinations in and around the Pictured Rocks. For example, the Munising Falls and Miners Falls look beautiful over the sandstone canyon.
The Whitefish Point Lighthouse and Au Sable Light Station are other famous attractions near this area. If you want to grab some delectable meal on your visit to Pictured Rocks, try Brown Fisheries Fish House and Bear Trap Inn for fresh and delicious food.
How to Contact
The Pictured Rocks lakeshore is located at N8391 Sand Point Road, Munising, MI 49862-0040, United States. For queries or feedback, you can phone 906-387-3700 or 906-494-2660 (Grand Sable visitor center).