If you want your mobile phone to successfully connect to the internet or make a call to one of your loved ones, then having an activated SIM is crucial. This is because the SIM card forms one of the essential components of a mobile phone since it allows your cellphone to connect to your preferred phone network anytime, anywhere. However, it must be realised that not every telecommunications provider will have a similar SIM activation process, which is why you need to be wary regarding the same and ensure that you commit no error when following the activation process. Thus, we have created an in-depth guide containing all the important information you need to know about activating your Movistar prepaid SIM.
Owned by Telefonica, Movistar is a well-known telecommunications provider, functioning in Spain and Hispanic American countries. Since the company's establishment in 1995, it has become the largest broadband, landline and mobile services provider in Spain, with the second-largest being in Mexico. And as of 2020, the total subscriber base is calculated to be around 25.8 million.
How to Activate Movistar Prepaid SIM Online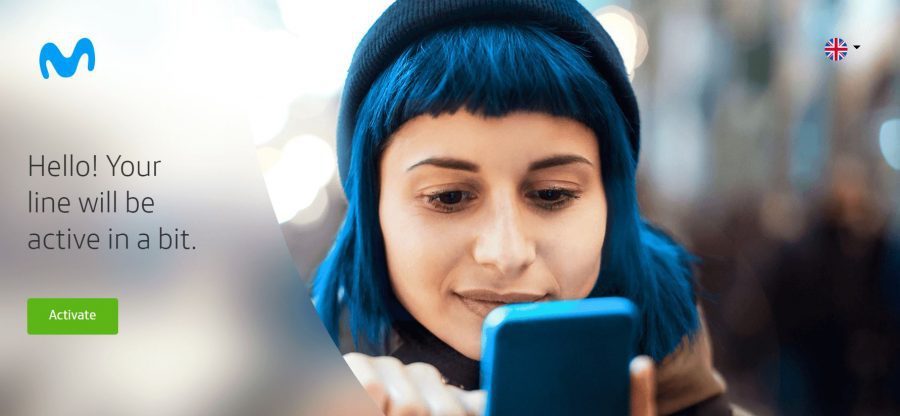 To activate your Movistar prepaid SIM online via your computer, follow the below-mentioned steps closely.
To start the activation process, you have to first head over to the official Movistar activation website for prepaid SIM cards.

You'll be asked to enter the last 13 digits of your SIM card number as well as the 7-digit alphanumeric activation code for the SIM. You can find the SIM number on the back of the SIM card, while the activation code can be found written on your purchase receipt or document.

Once you've entered the required information, the online system will validate the same and therefore successfully register the SIM card to the Movistar mobile network.

After successful activation, you can purchase your preferred cellular and mobile data plans for your SIM card. Once done, proceed to insert the SIM card into your mobile phone and start using Movistar's services right away.
How to Activate Movistar Prepaid SIM via Phone
When trying to activate your Movistar prepaid SIM via phone, ensure to follow the required steps below.
The first task is to insert your new SIM card into your mobile phone. Ensure that you use the correct physical SIM size that is supported by your mobile phone.

After that, turn on your mobile phone. Allow it to receive the cellular signal and thereafter launch the dialer application.

Proceed to dial 1004 and follow the activation process while on-call. Make sure you keep the activation code by your side so that you don't face any difficulties during the procedure. You can find the activation code written on your SIM purchase receipt.

Your SIM card will be activated within the next 24 hours, after which you can purchase your preferred cellular and mobile data plans according to your liking.
How to Activate Movistar Prepaid SIM via Official Store
In case you're planning to activate your Movistar prepaid SIM offline through the company's official stores, follow the procedure mentioned below.
Firstly, you have to visit the store locator page here.

Enter your preferred ZIP code or province name. The store locator will then suggest nearby store locations based on your entered information.

Select your preferred store and head over to the same with your mobile phone, SIM card, purchase receipt (for the activation code) and a supporting document for proving your identity.

The Movistar store representative will activate your SIM card on-spot and you can start using your mobile phone without any glaring difficulties.