Contact Hotels.com: Find below customer service details of Hotels.com, including phone and address. You can reach these below contacts for queries or complaints on Hotels.com services, online reservation, refund/cancellation, payment assistance, hotel locations or other questions. Besides contact details, the page also offers information and links on Hotels.com services.
Hotels.com Head Office
10440 North Central Expressway,
Suite 400, Dallas, Texas 75231,
United States
Phone: 469-335-1000
Hotels.com Customer Service
Phone: 1-800-2-HOTELS (USA)
Phone: 1-800-246-8357? (USA)
Phone: 0800 028 3906 (UK)
International Support
Below are phone numbers of Hotels.com worldwide. Reach these numbers for new hotel booking, changes for existing reservation or other questions.
Australia: 1800 846 835
Canada: 1-800-224-6835
China: 10-800-120-2345
France: ?01 57 32 33 96?
Germany: 0800-1012252
Hong Kong: ?+852 2840 0899?
Italy: 800-917957
India: 1800 102 1122
Indonesia: ?007-803-011-0155
Israel: 1-809 443 836?
Japan: ?0120-998-706
Malaysia: 1-800-814652
Mexico: ?001-877-789-4988?
Singapore: 800 120 5131
S.Africa: 1-809 443 836?
Spain: 900 814 000
Switzerland: 044 511 8478?
Thailand: 001-800-12-0666628
UAE: 8000 444 3685
_______
View/Cancel Booking
To view, modify or cancel your hotel booking click here.
Hotels Deals
To view latest deals and offers from Hotels.com click here.
Welcome Rewards
Welcome Rewards is Hotels' loyalty programme which enables customers earn credits for free nights. Before making the booking, login to the account to use free night. Credits towards a free night are automatically added to your account after you complete your stay. Welcome Rewards is available on over 65,000 hotels worldwide. There are no blackout for the nights earned. To enroll to the programme click here.
About Hotels.com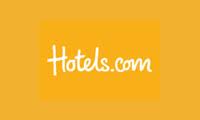 Hotels.com was founded as Hotel Reservations Network in the year 1991. Today it is a leading hotel booking portal, with over 135,000 hotels in more than 60 countries. Hotels.com website is available in over 34 languages and has over 3 million guest reviews. The website in fact has over 5.7 million unique visitors each month. In 2011, the company became part of the Expedia Group. Condé Nast Traveler selected Hotels.com as one of the best travel Web sites in 2008.
On the Hotels.com website, travellers can select a hotel through city, landmark, hotel name, address or post code. Further, the search results can be narrowed down by price, star rating, landmarks, accommodation type, themes, accessibility features or facilities such as free breakfast, gym, meeting facilities, pool, restaurant, internet access or pet friendly properties.
Some of the major countries where Hotels.com is available include Australia, Bangladesh, Belgium, Brazil, Canada, China, Colombia, Denmark, Egypt, Germany, Hong Kong, India, Indonesia, Israel, Japan, Malaysia, Maldives, New Zealand, Pakistan, Singapore, Sri Lanka, UK, Thailand, Turkey, Vietnam, among others.