Contact of Al-Shallal Theme Park, Saudi (phone, address)
Contact Al-Shallal Theme Park: Find below customer service details of Al-Shallal Theme Park, Saudi Arabia, including phone and email. Besides contact details, the page also offers a brief overview of the park. Reach the customer service below for queries, complaints or feedback.
Address
Al-Shallal Theme Park
Al Kurnaysh Rd,
Ash Shati, P.O. Box 118985,
Jeddah 21312, Saudi Arabia
Customer Service
Phone: +966 12 609 3993
_____
About Al-Shallal Theme Park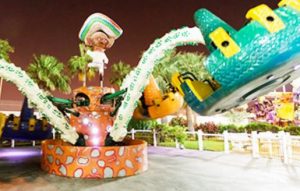 Al-Shallal Theme Park is an amusement park located in Jeddah, Saudi Arabia. The park was established in the year 2005 and is operated by Tarfeeh Fakieh. Spread across 60,000 sq mts, the theme park was voted as the best amusement park in KSA. Al-Shallal is open all days of the week, from 5pm to 1am. Visitors are not allowed to carry food or drinks. It is also a no pet park. To know events, schedule and other information, you can visit the website.
Some of the popular attractions and games at Al-Shallal include Pirate (large swinging ship), Samba Tower, Sombrero, Amazon (indoor boat ride), Bumper Cars, Merry Go Round, Roller Coaster, Sling Shot, Flying Carousel, Power Surge and Super Shot. There is also ice skating and arcade games for children. There is a beautiful lake in the outdoors as well. As for dining, you have the Aldaya Restaurant, Hainan restaurant, Al segala and Blue Ocean. Daily tickets cost SR 30. Boating, ice skating and sling shot has different tickets. For more information or queries on timings, tickets, games, parking, or others, reach the Al-Shallal Theme Park customer service.