Contact Lufthansa: Customer service, phone of Lufthansa
Contact Lufthansa: Find customer care details of Lufthansa airline, including phone and address. Besides contact details, the page also offers information and links on services of Lufthansa. You can reach the below contact for booking new flight, refund, cancellation, baggage claim, cheap airfares, deals or other queries on Lufthansa airline.
Lufthansa Head Office
Deutsche Lufthansa AG
FRA CI
Lufthansa Aviation Center
Airportring
60546 Frankfurt/Main
Phone: +49 69-696-0
Customer Care Phone (Germany)
+49-01805-805 805.
Customer Feedback
Lufthansa German Airlines
Customer Feedback Management Germany
Guetersloh 33322
Fax: +49 1805 838 005
Lufthansa Contact – USA
1-800-645-3880 (Reservations)
Lufthansa Contact – UK
+ 44 (0) 871 945 9747 (Reservations)
+ 44 (0) 871 945 9124 (Baggage)
Miles & More Contact (USA)
P.O.Box 946
Santa Clarita, CA
91380 USA
email: [email protected]
Phone:    +1-800-581-6400
+1-866-846-4283
– Germany
Postfach 12 00
Verl Germany 33409
Phone: +49 – (0) 18 05 – 59 59
Fax: +49 – (0) 52 41 – 80 60 200
Lufthansa Cargo
Germany: 01805 – 747 100
USA: 1-800 LH-CARGO (800-542-2746)
UK: 0871 522 1000 opt 3
_______
Flight Status
To check Lufthansa flight status online click here
Timetable
To check Lufthansa flight timetable online click here
Check-In
You can check-in online, from mobile or from airport desks. To check-in online click here
Manage Booking
To manage your boooking, including upgrade or cancellation click here
To check-in with your mobile phone, enter lufthansa.com into the web browser and click on check-in. After confirmation message the Mobile Boarding Pass will be sent directly to your mobile phone by e-mail or SMS link.
Baggage
Lufthansa allows one checked in baggage and hand baggage free of charge. These amounts may vary depending on the route, booking class, and Miles.
The allowances are:
First Class: 40 kg (88lb)
Business Class: 30 kg (66lb) –
Economy Class: 20 kg (44lb)
Excess baggage tariff applies if you are carrying extra bags.
For more details click here
To and From Airport
Lufthansa Airport Buses and  Lufthansa Airport Shuttles are available in Germany and France.
Lufthansa Airport Buses is available in Italy and Switzerland.
If you are starting your journey in Cologne, Siegburg/Bonn or Stuttgart and flying from Frankfurt Airport with Lufthansa, you can begin your journey with AIRail. Click here to read more
On Board
For details on food and beverages available on your Lufthansa flight click here
To check the in-flight entertainment click here
Miles & More
You can earn miles every time you travel in Lufthansa. You can also earn miles for hotel accommodation, car rentals and many others.  Miles & More status levels include Miles & More Member, Frequent Traveller, Senator and Hon Circle Member. You can start earning miles as soon as you have enrolled with Miles & More. To enroll right now click here
Destinations
China, Japan, South Korea, India, Vietnam, Israel, Jordan, Kuwait, Italy, Russia, Finland, Greece, Norway…click here to read more
About Lufthansa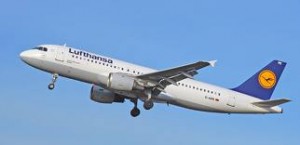 Deutsche Lufthansa AG was founded in the year 1926 and is one of the world's largest and oldest airlines that is based in Germany. It has its hubs at Düsseldorf International Airport; Frankfurt Airport and Munich Airport. The airline is the world's fifth-largest airline in terms of overall passengers carried. Currently it  operates services to over 180 destinations.
More than 76 million passengers fly with Lufthansa. This business segment includes Lufthansa passenger airlines (incl. Lufthansa Regional and Lufthansa Italia), Austrian Airlines, British Midland (bmi), SWISS and Germanwings as well as the equity stakes in Brussels Airlines, JetBlue and SunExpress. Together they serve 274 destinations in 104 countries.
Lufthansa is a founding member of Star Alliance, a global alliance that groups together 28 leading airlines. The Lufthansa Group employed some 118,000 personnel at the end of 2009. The group includes over 400 subsidiaries and associated companies.
Cargo – Lufthansa Cargo ranks among the world's leading cargo carriers. In the 2009 financial year, the airline transported around 1.5 million tonnes of freight and mail. The company currently employs about 4,500 people worldwide. The cargo carrier serves some 300 destinations in more than 100 countries.