Internet penetration in Canada is apparently even higher than the United States. About 96.3 percent of the population are online, and that without a doubt is an impressive number. The potential for higher e-commerce consumption has attracted large multinational corporations, as well as local players, to establish a foothold. The affluence of most Canadians with computers and mobile devices, along with an acknowledged habit of preferring online shopping, has got some of the e-commerce giants top the charts with enormous website traffic and therefore, the sales.
Amazon Canada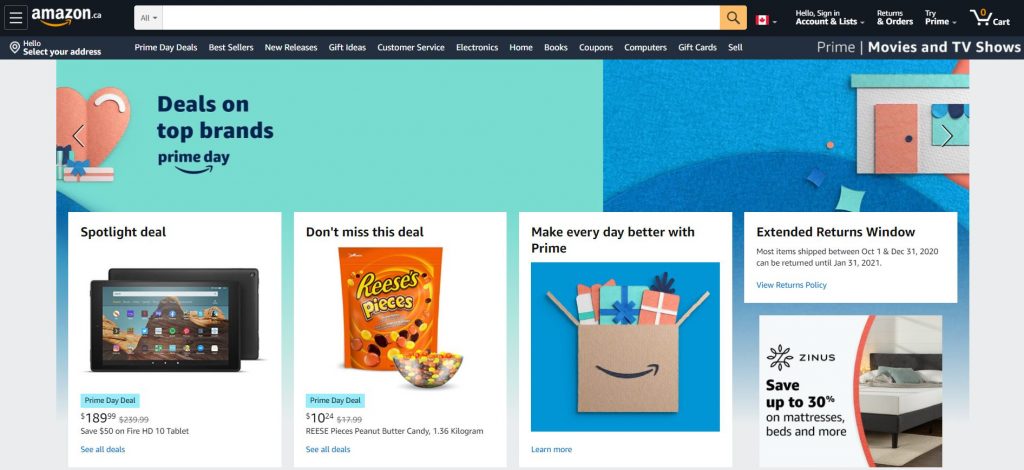 Amazon is one of the largest brands in the world. With its presence in every other country, it is no surprise that the portal is claiming the top spot in Canada too. With an estimated number of monthly visitors stranding at 160.45 million, Amazon operators across many categories. From electronics to apparel, computers to other machinery, the portal has got it all covered. The success of Amazon is a product of the diversity it offers. With the recent inclusion of streaming and books, amazon attracts Canadian audiences across the board. Amazon accepts all the major credit/debit cards for the payment.
Walmart Canada
Walmart is one of the biggest retail corporations in the world. With many departmental stores, hypermarkets, and grocery stores, the brand is one of the preferred portals across Canada. Walmart has topped the sales charts in the United States and has successfully engaged the Canadian audience as well. Walmart is in the market with diversified categories of products, ranging from fashion to pharmacy, food to electronics. The estimated traffic stands at 37.7 million website visits per month. Walmart processes payments via major credit/debit cards and bank transfers.
Kijiji
Among popular online destinations in the country is classifieds portal Kijiji. The platform allows buying, selling, and trading of a vast category of products. Canadians have recognized Kijiji as their go-to site for exchanging goods and services , and this has catapulted the platform to be the top classifieds in the country. As per the stats available, Kijiji is the world's 8th largest classifieds site. Kijiji is attracting an enormous audience looking to buy or sell used or even new items ranging from furniture to automobiles. Kijiji allows payments via PayPal, VISA, and MasterCard.
eBay Canada
eBay is considered a pioneer when it comes to e-commerce. The American online marketplace allows buying and selling via online auctioning. eBay was founded in 1995 and has since then expanded to more than twenty countries. eBay Canada organizes the sale of a wide diversity of products ranging from vehicles to fashion, home to electronics, and even into business and industrial product domain. With monthly estimated traffic ranging around 30.5 million visits, the platform allows payments via PayPal, PayPal credit, checks, bank transfers, and cards (MasterCard/ Visa).
Canadian Tire
Canadian Tire is a local venture which has an inspirational success story. The brand now owns more than five hundred retail stores across Canada, including three supplementary brands. Mark's specializes in men/women's apparel, FGL Sports caters to the sporting goods and related sportswear, and PartSource specializes in auto parts and accessories. Canadian Tire has covered a diverse range of hardware, automotive, leisure, sports, toys and food products. Accepted modes of payment include MasterCard, American Express, and Visa.