Sharp India Contact: Find below customer care, support details of Sharp in India, including phone and address. You can reach the below contact for queries on Sharp products whether TVs (LED/LCD), air conditioners, refrigerators, microwave ovens, washing machines, mobile phones or other consumer products. In addition, you can also enquire on Sharp stores, product warranty or service centers for repair. Besides contact details, the page also offers information and links on Sharp services.
Sharp India Customer Care
Phone: 1800 4254 322 (toll free)
Mobile: SMS "Sharp to 56161
Email: sharp@service007.com
Sharp India Head Office
Sharp India Ltd
Gat No. 686/4, Koregaon Bhima,
Shirur, Pune 412216
Phone: 02137-252417 (4 Lines)
Fax: 02137-252417
Sharp Service Centers
Reach the below contacts for information on repairing or replacing Sharp products whether TVs, air conditioners, ovens, phones or other products
Mumbai: 022-28507115 /6
Delhi: 011-28114536  /8
Chennai: 044-28170801
Hyderabad: 040-27652958
Kolkata: 033-23592680
Trivandrum: 0471-2331148
Ahmedabad: 079-26462628
Mumbai: 022-28110984 /27463646
_______
Locate Sharp Dealers/Stores
Looking to purchase a Sharp product? Click here to locate a dealer closest to your street to enquire on new products, rates or other questions.
You can contact a Whirlpool dealer to purchase LED / LCD Tvs, refrigerators, air conditioners, microwave ovens, vacuum cleaners, washing machines, mobile phones or other consumer products. Sharp dealers are found in all major cities across India, and that includes Hyderabad, Bangalore, Mumbai, Delhi, Kolkata, Goa, Guwahati, Raipur, Ahmedabad, Faridabad, Mangalore, Imphal, Bhubaneswar and Amritsar.
Locate Sharp Service Centers
Want to repair or replace your recently bought Sharp product? Click here to locate a Sharp service center nearest to your city.
About Sharp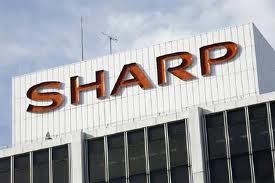 Sharp is a Japanese multinational founded in the year 1912. The leading consumer products manufacturer employs over 65,000 people and had sales of over 3,000,000 million yen as of 2010. Products manufactured include LCD TVs, DVD players/recorders, mobile phones, refrigerators, microwave ovens, ACs, washing machines, vacuum cleaners, electric heaters, computers, telephones, LCD monitors, softwares, among others. The company's operations in India were launched in 1989.
In India, the company sells LED Tv, LCD Tv, CTv, refrigerators (chang fan cool series, butterfly SJ, four door SJ, mango SJ series and T-Pro series), microwave oven (mid-convection, grill, oven), air conditioner (window AC, portable AC, multi split, normal split and more), vacuum cleaner, washing machine and mobile phones (alice, avatar 1, avatar 2, leia-V, tango, cyborg, blink and more).