Contact Tata Sky: Find below customer care details of Tata Sky, including phone and address. Besides contact details the page also offers information and links on products of Tata Sky.
Tata Sky Helpline
From MTNL/BSNL lines:
1860 425 6633
From other lines:
Western India: 020 6600 6633
Northern India: 0172 6600 6633
Southern & Eastern India: 040 6600 6633
Delhi: 011 6000 6633
Mumbai: 022 6000 6633
Kolkatta: 033 6000 6633
Chennai: 044 6000 6633
Bangalore: 080 6000 6633
Tata Sky Head Office
Tata Sky
Bombay Dyeing AO building
Pandurang Budhkar Marg
Worli
Mumbai 400 025
India
Phone: +91 (22) 6613 3000
Fax: +91 (22) 6613 3030
Email: [email protected]
Tata Sky's SMS number
Tata Sky's SMS number is 56633. You can SMS only from your Registered Mobile Number (RMN). To register, send RMN <space> <your 10-digit subscriber ID> to 56633 from your mobile phone.
SMS services for prospective customers
To buy Tata Sky: BUY
To locate dealer: DL <space> <pincode>
SMS services for subscribers
To recharge: RC <space> <16-digit recharge PIN>
To order a movie on Showcase: SC <space> <event code>
To get account balance and due date: BD
To subscribe to Optional packages: ADD <space> <Package code>
Tata interactive services
Actve Music, Actve English, Actve Mall, Actve Cooking, Actve Wizkids, Actve Learning, Actve Stories, Actve Games, Actve Sports, Actve STAR News, Actve Darshan and Actve Doordarshan.
For more details on Tata Sky interactive services click here
Channel Packages
Popular Packs – South Economy (Rs 150 pm), Economy (Rs 160 pm), State Pack (Rs 185 pm), Supreme Sports (Rs 240 pm), Grand Sports (Rs 380 pm).
Optional Packs – Music, Hindi Movies, Knowledge, Kids, Topper, English News, English Entertainment, English Movies, Sports 1, Sports 2, Sports 3, Ten Cricket, HD Gold, Actve Music, Actve Cooking, Actve English, Active Games, Fun Learning.
Regional Packs – Hindi, Punjabi, Gujarati, Marathi, Bengali/Oriya, Tamil, Telugu, Kannada, Malyalam (most of these packages cost Rs 25pm).
Mega Lite Pack – the Mega Lite Pack offers all channels and services on Tata Sky except the following – Chutti TV, Gemini Comedy, Gemini Music, Gemini News, Gemini TV, Kiran TV,KTV, Sun Music, Sun News, Sun TV, Surya TV, Udaya 2, Udaya Movies, Udaya TV, Udaya Varthegalu & Topper.
For more details and prices click here
How to recharge?
You can renew your Tata Sky subscription through internet, phone, local dealor or even cheque payment.
Recharge online – To recharge your account online visit www.mytatasky.com. All MasterCard, Visa, American Express and Diners Cards are accepted. In addition, debit cards of all leading banks are accepted.
Recharge through phone – To recharge through phone dial any of these numbers
1860 425 6633
Western India: 020 6600 6633
Northern India: 0172 6600 663
Southern & Eastern India: 040 6600 6633
Recharge through SMS –     Ensure that your Java MIDP 2.0 mobile phone is activated with GPRS.
SMS <atom> to 54959 from your mobile phone.
Tata Sky High Definition
Tata Sky brings you the latest digital revolution, Tata Sky HD. The new service has great picture quality, incredibly vivid colours, sharper images and stunning surround sound. To book now click here
About Tata Sky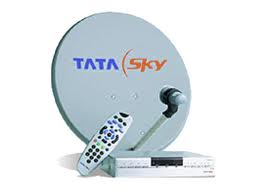 Tata Sky was launched in the year 2006 and is a joint venture between the Tata Group and STAR. In 2009, Tata Sky became the first Indian direct-to-home (DTH) service provider to be awarded the ISO 27001:2005 accreditation. Tata Sky delivers more than 100 television channels, movies and interactive services for games, learning, etc. It has a retail network that covers more than 4,500 towns in India.
Tata Sky envisions:
"Connecting every television home
Empowering every television viewer
Revolutionising home entertainment." It has engaged a field force of approximately 3000 service engineers working to offer a world-class television viewing experience.
The Tata Group is one of India's largest and most respected business conglomerates. It comprises diversified businesses in sectors such as materials, engineering, services, energy, information systems & communications, consumer products and chemicals.