Contact SingTel: Find below customer service details of Singapore Telecommunications, including phone and address. You can reach the below contact for queries on new SingTel mobile connections, billing or cancellation, internet plans, broadband complaints, exStream, Hi!Card, postpaid mobile, mio TV or other questions on SingTel services in Singapore.
SingTel Head Office
31 Exeter Road
Comcentre Singapore,
Singapore 239732
Phone: +65 6838 3388
Fax: +65 6732 8428
SingTel Customer Service
>Billing Support
Phone: 1688
Phone: +65 6235 1688 (international)
>Technical Support
Phone: 1606 (local)
Phone: +65 6796 1606 (international)
>Broadband / exStream Support
Phone: 1688
Phone: +65 6235 1688 (international)
>Hi!Card & Prepaid Broadband
Phone: 1800 482 2800
Phone: +65 64822800 (international)
>Online Shop Support
Phone: 6744 6766
>Business Customers
Phone: 1800 – 763 (SME) 1111
Phone: +65 6763 1111 (international)
_______
Locate SingTel Stores
Click here to locate a SingTel store nearest to your street. You can filter results by retail shops, customer service counters and authorised dealers. You can visit a SingTel store for new connections, enquiries on broadband plans or to make payment for your SingTel bills.
View/Pay Bills
To view or pay your SingTel bills online click here. You can pay your SingTel bills by GIRO, at 7 Eleven, at SingPost, internet banking, or by credit/debit card. Those having accounts with DBS, UOB, OCBC, Standard Chartered Bank, Maybank or HSBC can make payments from their banking accounts.
Online Shop
Click here to visit the online shop of SingTel to find best deals for mobile, internet and TV. You can find exclusive deals for iPhone, Nokia, BlackBerry, Samsung, LG, HTC and Sony Ericsson phones. Prepaid users can find Hi! Card with free 5MB data, free incoming calls, free 20,000 mobile content such as games & entertainment, and affordable surfer packs. You can top up prepaid for $10, $20, $55 and more.
There are also mobile data plans with USB modems or SIM-only plans. With Priority Pass, you can enjoy priority access on your data traffic. For home broadband, you can find 6Mbps, 10Mbps and 15Mbps plans. There is exStream for speed up to 200Mbps through high speed fibre. For television, SingTel has mio TV, a pay-TV service with a wide variety of HD channels, programmes and movies. Visit the website for programme guide or channels on demand. Also you can record programmes with a single click of a button. Mio TV users can subscribe to special content packs such as sports, cricket, entertainment, astro, Bharata pack and more. For a bundled service plan, you can find Mio Home that has 3 home services including mio TV, SingNet Broadband, and SingTel Home Line.
SingTel Rewards
Earn 1 Red Rewards point for every $1 on your bill. You can later browse and redeem your Red Rewards points for SingTel services.
About SingTel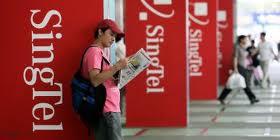 Singapore Telecommunications Limited began as a private telephone exchange in the year 1879. The leading telecommunications company in Asia was incorporated as SingTel and became a public company in 1993. Owned and operated by Temasek Holdings, SingTel has more than 416 million mobile customers in 25 countries. It had revenue of S$16,871 million in 2010. In Singapore, SingTel is the no 1 mobile service provider with 45% market share and 3.4 million subscribers. It also remains the leading broadband and fixed line operator. It's pay TV service and mio TV crossed the 300,000 mark. SingTel employs more than 23,000 people. In the postpaid market, SingTel added 40,000 customers. At 30 September 2011, SingTel had 37,000 fibre broadband customers in the consumer and business segments.
The SingTel Group has investments in India, Indonesia, the Philippines, Thailand, Pakistan and Bangladesh. It has offices in some 19 countries. SingTel's subsidiaries include NCS, SingNet, SingTel Mobile, TEPL and Virgin Mobile Australia. SingTel's services include mobile, internet, fixed line, calling cards and pay phones, security solutions, mio TV, and AMPed. Visit the website for more details.